'The Office': How Rainn Wilson Knew He Was Meant to Play the Role of Dwight
Dwight K. Schrute is one of the most iconic characters on The Office. Rainn Wilson's interpretation of the devoted Dunder Mifflin employee captivated audiences everywhere thanks to his unique hobbies, desire for authority, and quirky haircut. 
Find out what it was about Dwight that made Wilson feel like he was meant to play the part.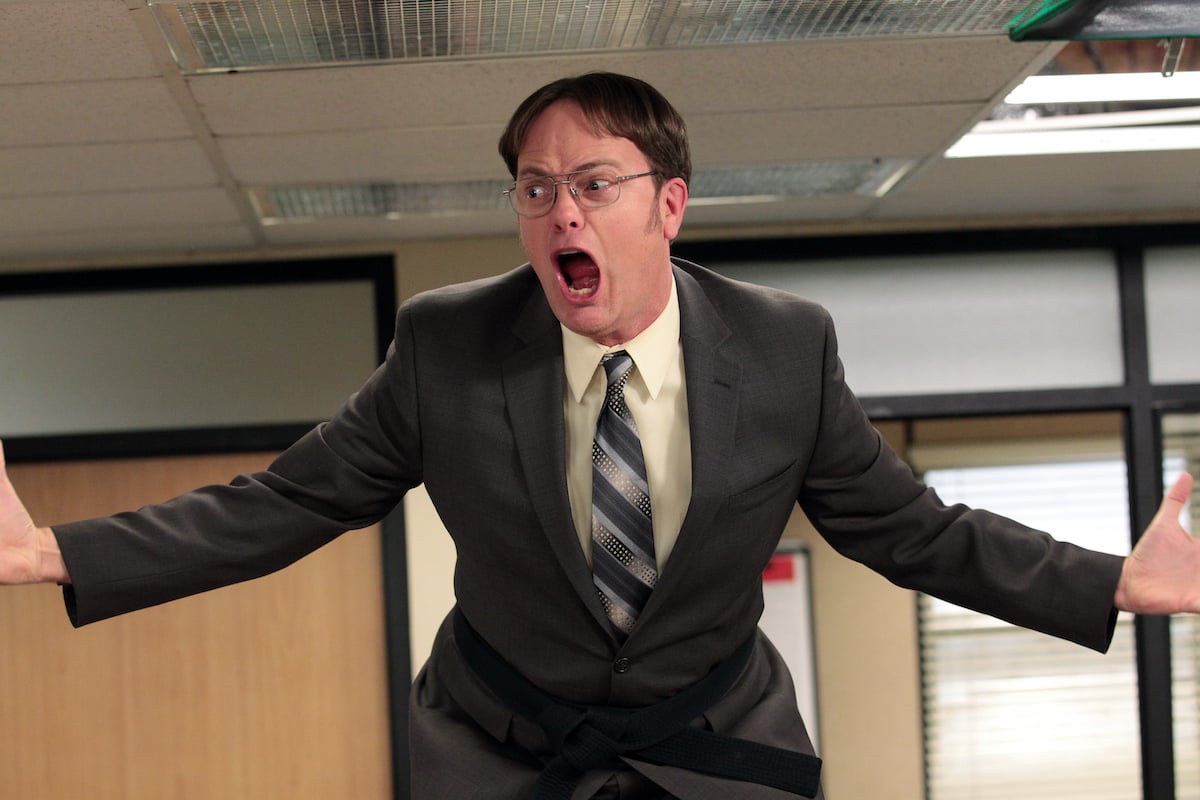 Not everyone can play Dwight Schrute
The Office is based on a British series of the same name. Having a baseline idea of who Dwight was made it easier for showrunners to cast the role.
According to Brian Baumgartner's new podcast, An Oral History of The Office, several notable actors auditioned for the role of Dwight. Despite their acting ability, people like Seth Rogen and Patton Oswalt missed the level of nerdiness required in a role like Dwight. 
Eventually, showrunners saw Wilson audition. Off the bat, they knew there was something special about his portrayal of Dunder Mifflin's Assistant [to the] Regional Manager. 
Rainn Wilson did Broadway before becoming Dwight Schrute
Dwight wasn't Rainn Wilson's first acting gig. After he graduated from the Tisch School of the Arts at N.Y.U., Wilson began his career as a stage actor.
During that time, he worked on several off-Broadway productions. After years of hard work, Wilson landed a leading role in the Broadway production of Shakespeare's The Tempest in 1995.
When Wilson realized he wasn't earning enough money to live off of, he decided to make the leap into T.V. One of his first roles was on the soap opera One Life to Live. He played a psychotic stand-up comedian — sound slightly familiar? 
It turns out many of Wilson's early roles had experiences that lent themselves to who Dwight Schrute would become. "I was on like, Charmed and C.S.I.," Wilson recalled of the parts he had before landing a gig on The Office. "I was [the] creepy guy in [a] supermarket."
As Baumgartner pointed out, it's not so much of a stretch to go from "creepy guy in [a] supermarket" to the one and only Dwight Schrute. 
Rainn Wilson felt a personal connection to Dwight 
Wilson reminisced getting the part of Dwight on episode 2 of Baumgartner's podcast, "Ordinary Looking Losers." 
"It was one of those rare moments where I knew this part was mine," Wilson explained to Baumgartner. "No one knows this world of total nerdom and white-trash bullydom, heavy metal dungeons and dragons…authoritarian creepy weirdo better than me. This is my thing."
Wilson's portrayal of Dwight Schrute feels all too natural because, well, it's rooted in who he is as a person. "The posse I traveled with in my Shorecrest [High School] days were not exactly the popular crowd," he told The Seattle Times in 2006. "I just have an affinity for the outsiders and losers and misfits of the world."
Baumgartner believes "Rainn just understood Dwight." Wilson recalled how part of his audition was completely improvised. Showrunners loved Wilson's improvisation so much, they included it in a later episode of the show.
"I just completely improvised it off the top of my head," Wilson explained. "And it later ended up in an episode. I said 'Dwight Schrute, named after my father, Dwight Schrute, named after his father, Dwide Schrude — Amish.' So somewhere back in Dwight's ancestry was someone named 'Dwide Schrude,'" Wilson chuckled. 
Wilson's personality and life experiences shine through in his portrayal of Dwight K. Schrute, which allowed him to become one of the most beloved characters of all time.