'The Office': What Rainn Wilson 'Stole' From the British Version to Play Dwight Schrute
Rainn Wilson stole certain aspects of Gareth Keenan from the British version of the show to play Dwight Schrute on 'The Office.'
Dwight Schrute is one of the most beloved characters on The Office, a comedy series based on the British version of the same name. When NBC obtained the rights to bring the show to America, the cast had some big shoes to fill. Actors like Rainn Wilson knew they had excellent source material to base their characters on. Find out what Wilson "stole" from the British version of The Office when bringing Dwight Schrute to life.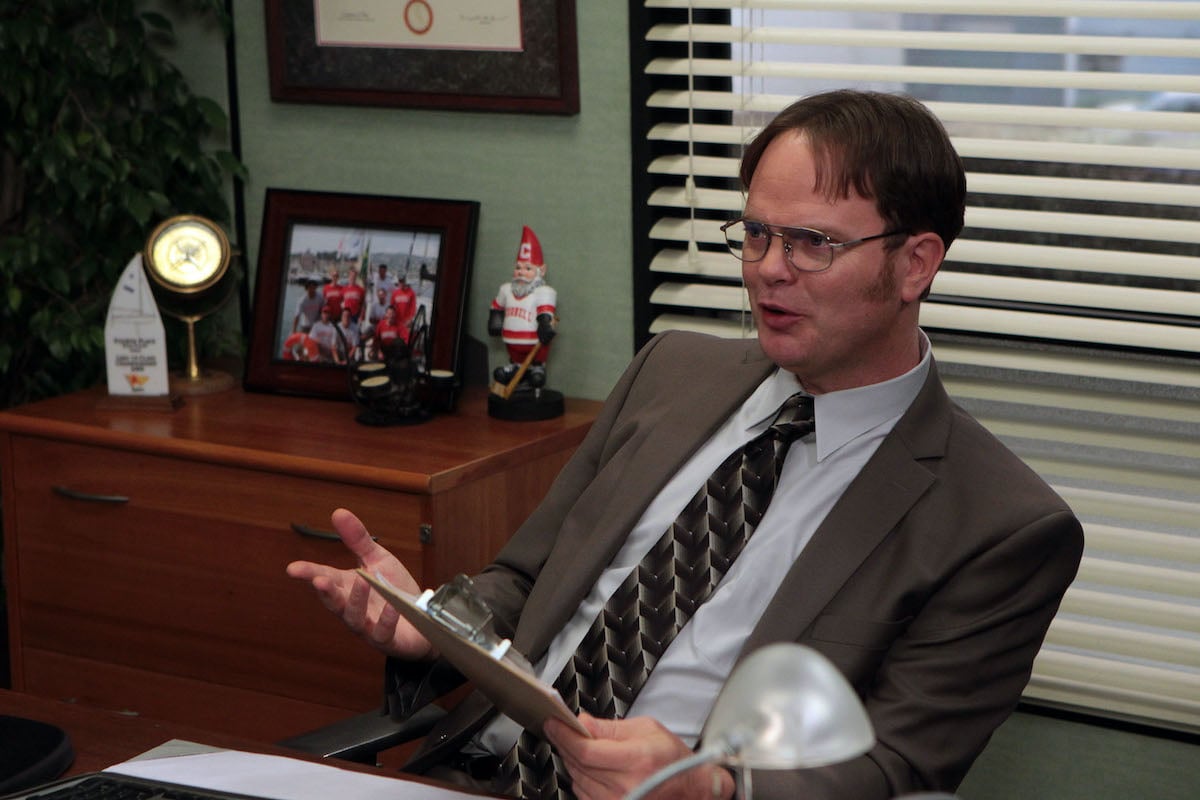 Dwight Schrute is a lovable 'muscle car nerd'
During a conversation with his former co-star Brian Baumgartner on The Office Deep Dive podcast, Wilson dissected what fans love most about Dwight. "I think my goal was to make Dwight very specific," Wilson said. "Having Dwight have a pager or stand a certain way, drive a certain way, sit in his chair a certain way — [I wanted Dwight to] have certain attitudes about certain things that are very specified." Those specific choices are part of what makes Dwight such a lovable character — they make him human. Plus, there wasn't another character on television at the time that fit into the "muscle-car nerd" category, making Dwight unique and relatable. 
Dwight Schrute more is 'authoritarian' than Mackenzie Crook's Gareth Keenan 
During the podcast, Wilson also discussed some of the differences between Dwight Schrute and his British counterpart. Initially, Wilson auditioned to play Michael Scott and Dwight Schrute. But his audition for Michael was strictly an impersonation of Ricky Gervais — Wilson said he had an "affinity" for the Dwight role. "I felt it in my bones," Wilson told Baumgartner. "[Dwight] is exactly my kind of weird."
While Dwight is based on Gareth Keenan (Mackenzie Crook), the roles are different in many ways. As Baumgartner pointed out, the British version of Dwight is more "backstabby," whereas Wilson's take was "authoritarian" and willing to do anything to obtain a position of power at Dunder Mifflin. Still, there were a few major similarities between the characters. 
Rainn Wilson 'stole' Gareth Keenan's 'best stuff,' including his hairstyle 
While Dwight and Gareth have some differences, the two characters have a lot in common. In talking with Baumgartner, Wilson mentioned basing much of Dwight on Gareth. "I get to steal all of his best stuff, and then there's maybe stuff that I can add that's more my own, so it's win-win all around," Wilson said. 
One of the things Dwight became best known for is saying "absolutely ludicrous things" with a straight face. That trait was taken from Crook's portrayal of Gareth. "I frankly stole that from him," Wilson admitted on the podcast.
"Another thing I stole from him was the haircut." Wilson recalled reading an interview with Crook where he talked about getting the famous hairstyle. "He got the haircut that would be the least flattering for his head [and] the most ridiculous," Wilson explained. Wilson spent a lot of time in the mirror considering the hairstyle that would make him look "so ridiculous" and landed on the famous style Office fans know to be Dwight's. "I have a huge forehead," Wilson added. "I was like 'I'm going to frame my forehead perfectly with these little draperies of hair that will highlight the enormity of my carapace and then really short on the sides and intense." 
Though Wilson based much of Dwight on his British counterpart, many fans can still appreciate and celebrate the differences between Wilson's character and the British role that started it all.