'The Office': Rainn Wilson's Secret To Playing Dwight Schrute
Rainn Wilson is the actor who plays the lovable yet annoying Dwight Schrute in The Office. Wilson recently shared his secret to playing one of the funniest and most relatable characters from the NBC comedy series.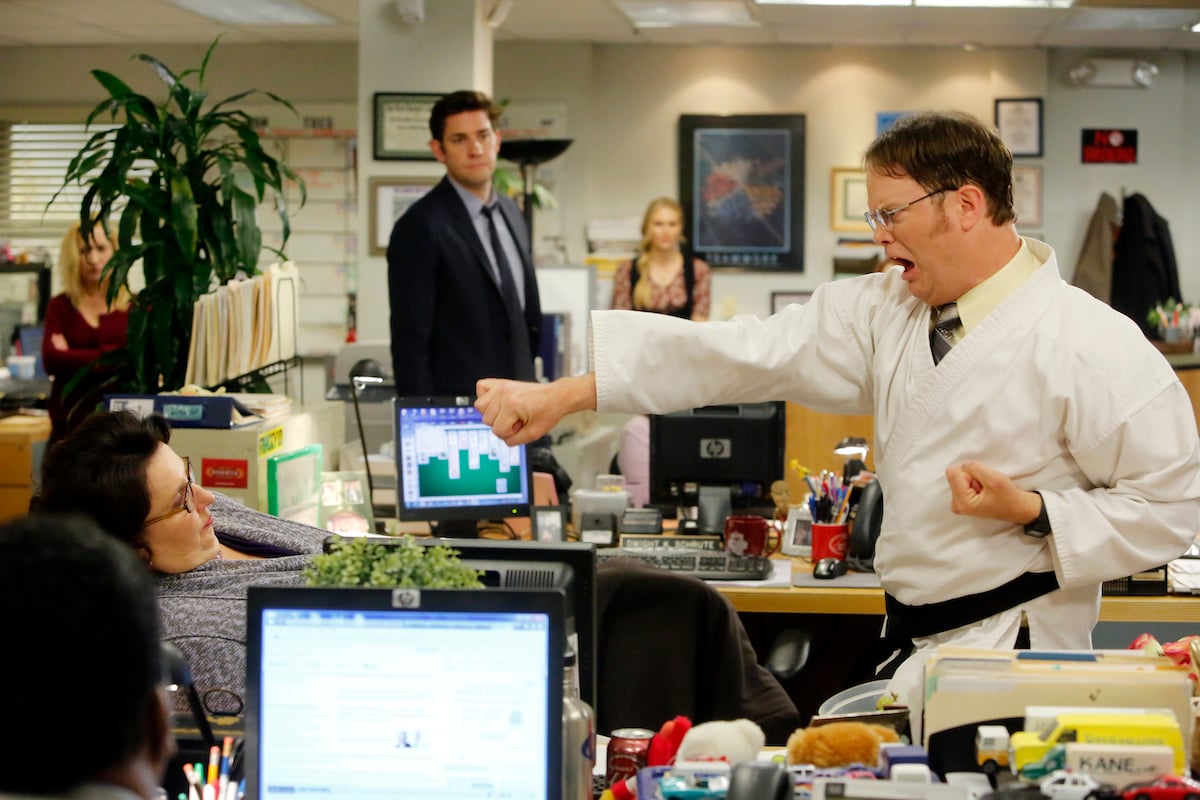 Rainn Wilson is a fan favorite
Fans of The Office likely find many of Dwight's moments from the show hilarious. From "Mega Desk" to having "wigs for every single person in the office," Dwight was a strange guy. And yet, fans found so much of his character relatable and hilarious. There's a reason those moments are so funny, and it's all thanks to Wilson.
Dwight Schrute is a particular character on 'The Office' who loves 'nerdom and muscle cars'
"[When] people ask me about playing Dwight, I always say that I think my goal was to make Dwight very specific," Wilson explained in an episode of his co-star Brian Baumgartner's new podcast The Office Deep Dive.
"Having Dwight have a pager or stand a certain way, drive a certain way, sit in his chair a certain way — [I wanted Dwight to] have certain attitudes about certain things that are very specified."
Ultimately, these characteristics are what allowed Wilson to become Dwight on-set. What's more, these elements turned Dwight into one of the most uniquely relatable roles on television. After all, no one had a character that fell into the "muscle-car nerd" category at the time.
Rainn Wilson's secret to playing Dwight Schrute
In many episodes of The Office, Dwight is often part of the joke. But what makes him such a funny, relatable character is that he doesn't know he's being funny.
"We talked earlier about the specificity of Dwight," Wilson told Baumgartner when he questioned why people love the role so much.
"[We discussed] how his glasses are and how his beeper is and the certain colors that he wears and the car he drives and how he sees the world…" Wilson continued. "But the thing I hate the most about comedy is when someone knows that they're being funny." With that notion top of mind, Wilson avoided coming off that way while he was playing Dwight. 
RELATED: 'The Office': The Feedback Rainn Wilson Received That 'Kept Him up at Night'
"That's one of the keys to the comedy of The Office," Wilson added. "None of the characters thought of themselves as being funny." The documentary element of the comedy series helped immensely in that regard.
"I tried to play Dwight as outrageously and as grounded and realistic as possible," Wilson added, challenging fans to go back and look at any scene with Dwight and take notice.
Rainn Wilson used specific internal motivators to help him play Dwight Scrute
"You can always tell there's a big kid in there," Wilson said of his role on The Office. "He could do some preposterous things, but I always tried to motivate them internally with some internal drive." In this way, Wilson was demonstrating how Dwight saw the world.
"You always knew how Dwight felt," he concluded. "You could always tell what Dwight is feeling and going through on the inside. I think that allowed people to relate to him."