'The Office': The Sweet Reason Behind Jim and Pam's Assigned Desks in the Office
One of the most important relationships on The Office was between Jim (John Krasinski) and Pam (Jenna Fischer.) In the beginning, it was a big deal to figure out where they'd sit to tell their story. Find out the sweet reason behind Jim's desk and more.
'The Office' was decorated to give a shout out to crew members
If you look closely, you'll notice certificates and plaques hanging on the walls of the office. They don't have names of characters on them, but crew members.
"This is one of my favorite things about our set," Fischer said on the Office Ladies podcast. "In an effort to give just like a fun personal touch, they would include the names of real crew members," she explained.
"For example, we also had a Salesman of the Year and a Humanitarian of the Year plaque and those plaques feature our crew members' names as well," Angela Kinsey explained.
Jim and Pam's home was never showed for a reason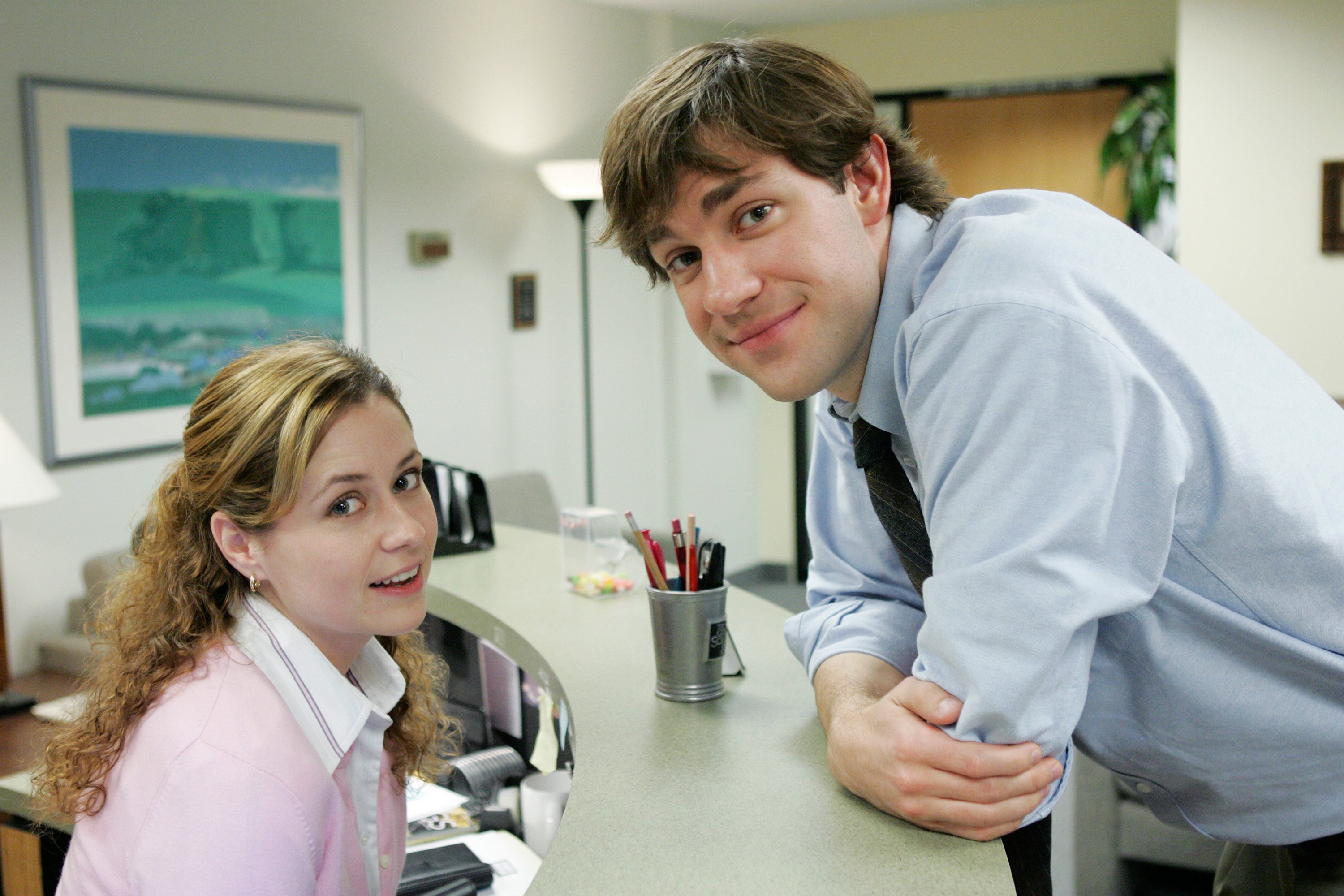 Fans are very familiar with where Jim and Pam's sat in the office throughout the run of the show. But they never got to see the home they built together. Rainn Wilson and Kinsey talked about asking for more scenes in their homes on Office Ladies.
"I'm with you Rainn. I pitched a few times that we would follow characters home and I was told pretty quickly, 'But it's The Office. It's called The Office. We're not going other places," Kinsey said.
B.J. Novak was also a guest on that episode and talked about his approach to writing the characters. "We would also say 'you'd never see Jim (John Krasinski) and Pam's bedroom because they would never invite the cameras there. Are you crazy?'" he said. What we did see is how they interacted in the office.
Their chairs were placed to help tell their story
Director Ken Kwapis talked to Fischer and Kinsey about the episode, "Casino Night." He talked about helping create the look of the office in the beginning of the show's run.
Kwapis revealed the sweet reason behind Jim and Pam's assigned desks on the Office Ladies podcast. "I do remember spending a lot of time thinking about the relationship between Pam's chair and Jim's chair," he said.
He said that Pam's reception area always stayed the same. But he tried different things for Jim's chair. "And it seems now how could it not be what it was? But I love the idea that you always look at Jim and Jim has to turn to look at you," Kwapis said to Fischer. "It's like the simplest thing but I thought that somehow the way your desks were related would help tell the Pam/Jim story."
The director added, "Nothing makes me happier than some of the shots we did where like John's in profile in the foreground and you're in the background, Jenna, like gazing at him. And he either is unaware that you're looking at him or is completely pretending to be unaware and he knows very well that you're looking at him."
Those shots do show the characters longing for each other. After they got married and Pam got her promotion, they sat closer to each other.