'The Office' Spinoff Never Happened After Being 'Shamelessly Copied' By An ABC Sitcom
Critics and producers of 'The Office' weren't thrilled when a popular ABC comedy copied their 'mockumentary' format.
The Office originally had a hard time finding its audience when it debuted in 2005. Replicating the British series created by Ricky Gervais and Stephen Merchant, the sitcom in the United States was received tepidly at best after NBC aired the pilot.
Soon The Office became must-see TV, where fans grew to love its offbeat 'mockumentary' format. When talks began of creating a spin-off series, producers of the NBC comedy weren't thrilled when another network beat them to the punch.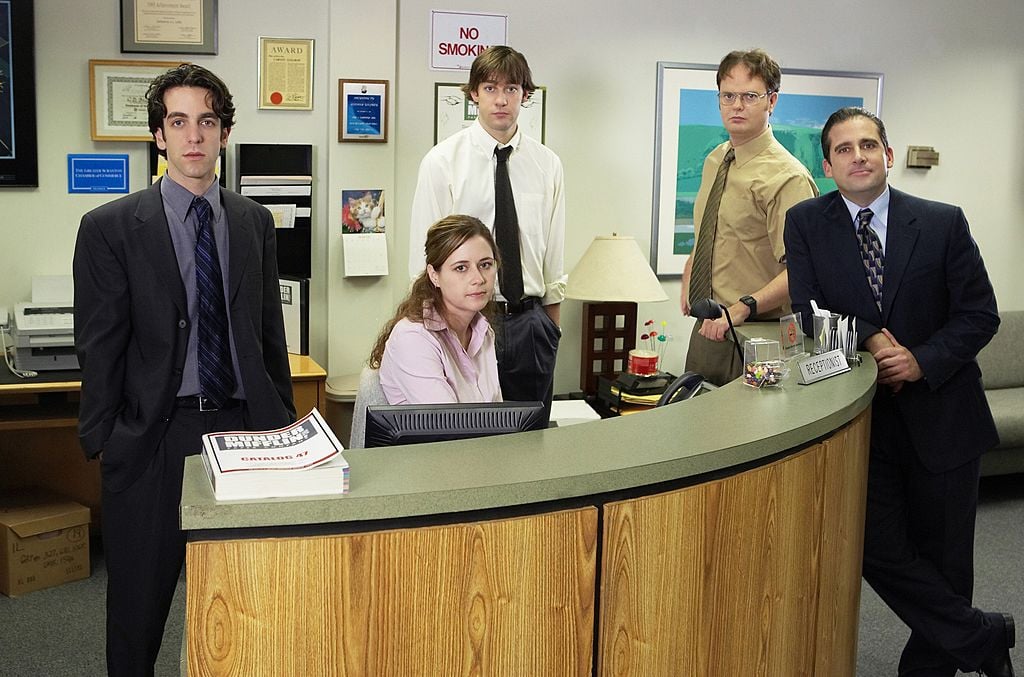 'Parks and Rec' – spin-off or standalone?
With The Office hitting its stride as a success, NBC execs and show producers began batting around ideas for a spinoff show. Writer Justin Spitzer recalled when the idea for Parks and Recreation started developing.
"One of [writer] Michael Schur's favorite books was The Power Broker [about] Robert Moses," Spitzer told Andy Greene for his book The Office: The Untold Story of the Greatest Sitcom of the 2000s. "He was essentially head of the parks department in New York in the early twentieth century. I think some of Parks and Recreation came from that."
They immediately cast Saturday Night Live alum Amy Poehler and Rashida Jones in starring roles for the new sitcom. Yet some on the production team felt that Parks and Recreation couldn't be considered a spin-off due to Jones' having been on The Office as Jim's former love interest.
"I think in the casting Rashida Jones as a different character on Parks and Rec, that was them saying, 'This is definitely not a spin-off. We have the same actor playing two different parts,'" Spitzer remembered. "'These two shows can't even exist in the same world."
'The Office' showrunner considers a series centered around a family
Intending on Parks and Rec being an official spin-off of The Office, network exec Ben Silverman wasn't thrilled that his plan didn't work out.
"When I took over as the chairman of NBC [in 2007] I was like, 'We should be doing a spin-off for The Office,'" he told Greene. "And Parks and Recreation should have been one… I wanted it developed as a spin-off and I'm annoyed that my voice wasn't heard."
Since Parks and Rec took on its own identity, showrunner Greg Daniels began batting around possibilities for a show involving a family.
"Greg had in mind to maybe do a family mockumentary show, but I don't know if that would have been a spin-off or its own show," Spitzer recalled. "But I know Greg had that idea."
Spitzer revealed why Daniels' idea never came to fruition, saying, "Then Modern Family came along."
'Modern Family' hits the airwaves
ABC's hit sitcom Modern Family debuted in September 2009. Following the same "talking heads" style as The Office, producers at NBC felt that they were ripped off.
"Modern Family shamelessly copied The Office," critic Alan Sepinwall told Greene. The reviewer wasn't alone in his opinion, where Silverman once again felt that his plans were thwarted.
"I was really bummed about that," Silverman admitted. "It annoyed me. Modern Family is about a family the way The Office is about an office. All I'd wanted to do was a family spin-off. I was so bummed not to be able to pull that off."
Writer Aaron Shure noted that the ABC comedy never felt the need to explain the mockumentary setup. "We always put so much thought into why a camera would be present for certain scenes," he said. "And then Modern Family came along and did all the same stuff we did with zero justification about whey the camera would ever be anywhere and America just loved it."
Though there is a good chance that The Office paved the way for Modern Family's success, both sitcoms are sure to make history as legendary television.