'The Office' Star Rainn Wilson On Near-Death Experience: 'This Is How I'm Going to Die'
Rainn Wilson may be known as the affable Dwight K. Schrute in the NBC favorite, The Office. The actor has also appeared in numerous other projects including Mom, Utopia, and (forthcoming) The Power. While the audition process might still rattle Wilson's nerves, it's nothing compared to the day he had a near-death experience.
Rainn Wilson said this is the 'best way to go'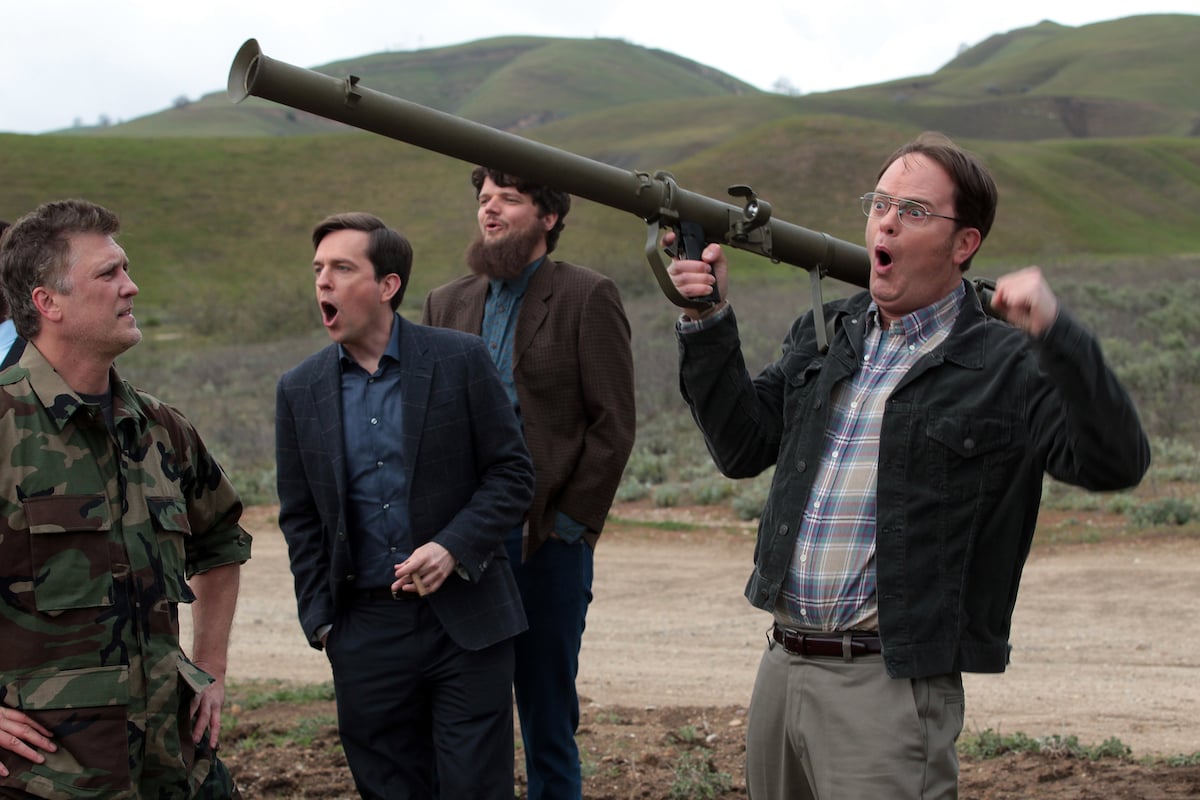 Five years after Rainn Willson ended his 8-year stint on The Office, he appeared in the feature-length film The Meg. The movie, as IMDb describes, is about a "deep-sea submarine is attacked by a Megalodon: a 75-foot living fossil and the largest shark to ever exist."
Wilson, who played Jack Morris in the movie, told USA Today about his movie death.
"I hope that mine is up there among the greatest shark deaths of all time," Wilson said. "If you don't get eaten in a shark movie, there's a possibility you're in the sequel. But if you do get eaten, well, what a way to go."
His final scene in The Meg was cut — something the actor didn't yet know.
"The cut I saw, I was in half," Wilson said. "I'm disappointed. Especially since I'm finding it out from a reporter. But I guess they couldn't show half a corpse hanging from a bloody whale. Maybe it will be on the DVD."
That said, he explained in another interview with the same outlet what his ideal way to "go" would be.
"Being eaten by a shark would be a good way to go," he said. "Think of all the embarrassing, humiliating ways to go."
As terrible as that sounds, Wilson had a near-death experience (in which no sharks were involved) that left a lasting impression.
'The Meg' traumatized Wilson for this reason
Despite the jokes, Wilson revealed while filming The Meg, he couldn't help but think of the 1978 film, Jaws. All of the scenes Wilson filmed in the water, he said, didn't require much acting. The fear was real.
"Still to this day, if anything brushes my leg in a body of water, it could be a branch in a lake, I immediately think it's a shark about to bite my leg off. Thank you, Mr. Spielberg," he said.
"Acting that a shark the size of a Greyhound bus coming at you, you just tense up and scream."
A look at Wilson's 'near-death experience'
Wilson's death in The Meg is the work of Hollywood magic. In real life, however, The Office star came face-to-face with death in a completely different way.
During a typical drive to Home Depot, Wilson attempted to adjust the seat as he merged onto a traffic-laden Los Angeles road. Just them, the seat rolled over his hand.
"I was pulling out into traffic and got my hand stuck when the seat slid forward onto my finger. So I was trying to drive down Van Nuys Blvd, but I was in excruciating pain," he recounted. "It was awful." 
He went on to explain that while his hand remained stuck, he was unable to pull the van off to the side of the road and, with all the traffic, feared the worst.
"I couldn't stop the van so I'm thinking, 'This is it, this is how I'm going to die. I'm going to die in this (expletive) van with my hand stuck underneath the seat,'" he said.
"I'm not scared of a shark attack because it would an amazing way to go. I'm ready to meet my maker. I've had a good run," he added.