'The Office': Steve Carell 'Knocked Down a Lot of Jokes'
Steve Carell was a huge part of why 'The Office' became such a successful show. The actor was always contributing to help make the show even funnier.
Even though he left the show after Season 7, Steve Carell is still synonymous with The Office. The talented actor played Michael Scott with flawless precision. His ability to utilize a wide variety of comedic skills made his character incredibly nuanced. Furthermore, he was able to lean into his dramatic side to make sure that Michael, despite all of his absurdity, was still a grounded character.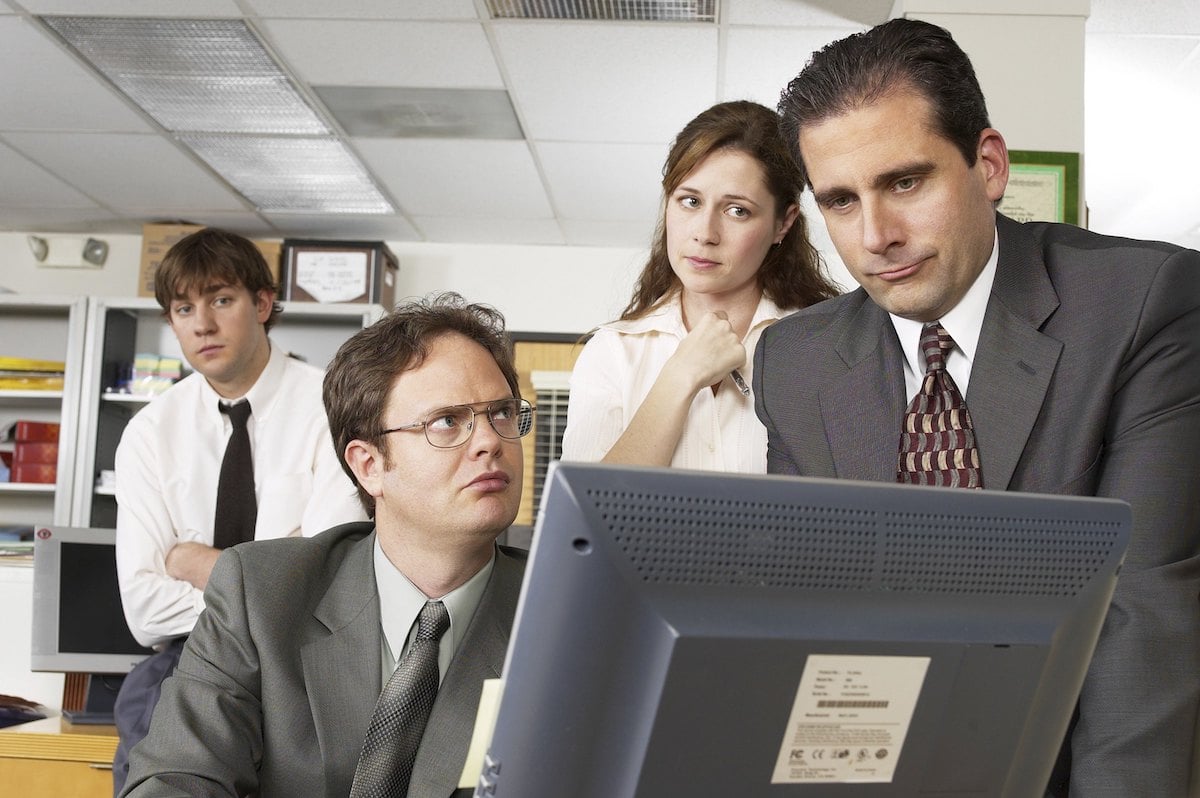 A graduate of The Second City, Carell is a master of improvisation. And fortunately, he was able to bring those skills to quite a few scenes in The Office. One improvised moment that fans are sure to remember comes from the Season 3 premiere.
Steve Carell improvised a lot of great moments on 'The Office'
In "Gay Witch Hunt", Michael learns that one of his employees is gay. In an effort to "prove" he isn't homophobic, Micahel kisses Oscar on the mouth in front of the entire company. Fans may be surprised to learn that the kiss wasn't scripted at all. Instead, it was something Carell dreamed up on the fly. Fortunately, Oscar Nunez (who played Oscar on The Office) was notorious for not breaking character, so the moment was usable.
But Carell didn't just limit his comedic expertise to his screentime. He also gave his opinions about writing behind-the-scenes as well. The Crazy, Stupid, Love star was a great sounding board for dialogue that had the potential to make it into the show. In an interview with NPR, B.J. Novak revealed that he learned a lot about what comedy should be from Carell.
B.J. Novak revealed that Carell taught him a lot about comedy
"Steve knocked down a lot of jokes, in the best way. I'll always remember, like [as] a real eager 25-year-old comedy writer, I brought down a bunch of jokes to set when a scene wasn't working," Novak shared about Carell. "That was often the young writer's job, 'go write alts.' I ran a bunch down to [The Office] set. And I was really proud of them, and he said, 'I don't know. These all seem like jokes.' And I thought, Well, yeah, that's my job! These are jokes. And he meant that it all had to come from character and truth and feeling, that was really his school of comedy."
Carell also wrote two episodes of 'The Office'
Novak shared that Carell taught him that the truth was more important than trying to prove how clever he was when it came to comedy. And while writing is a challenging job, Carell managed to prove that he could succeed at that also. During his tenure on The Office, he also wrote two episodes of the show. Fans have the actor the thanks for both "Casino Night" and "Survivor Man." Clearly, Carell is something of a jack-of-all-trades. Certainly, The Office wouldn't have been the same without his talents.