'The Office:' Steve Carell Said This Co-Star 'Keeps Me On My Toes'
The Office premiered in 2005, soon catapulting several of its cast members to fame. Steve Carell, John Krasinski, and Jenna Fischer quickly became bona fide celebrities during their rise on the show.
While the sitcom maintained its core cast, there were several other actors who appeared as a guest star or a recurring character. One actor in particular impressed all his co-stars including Carell.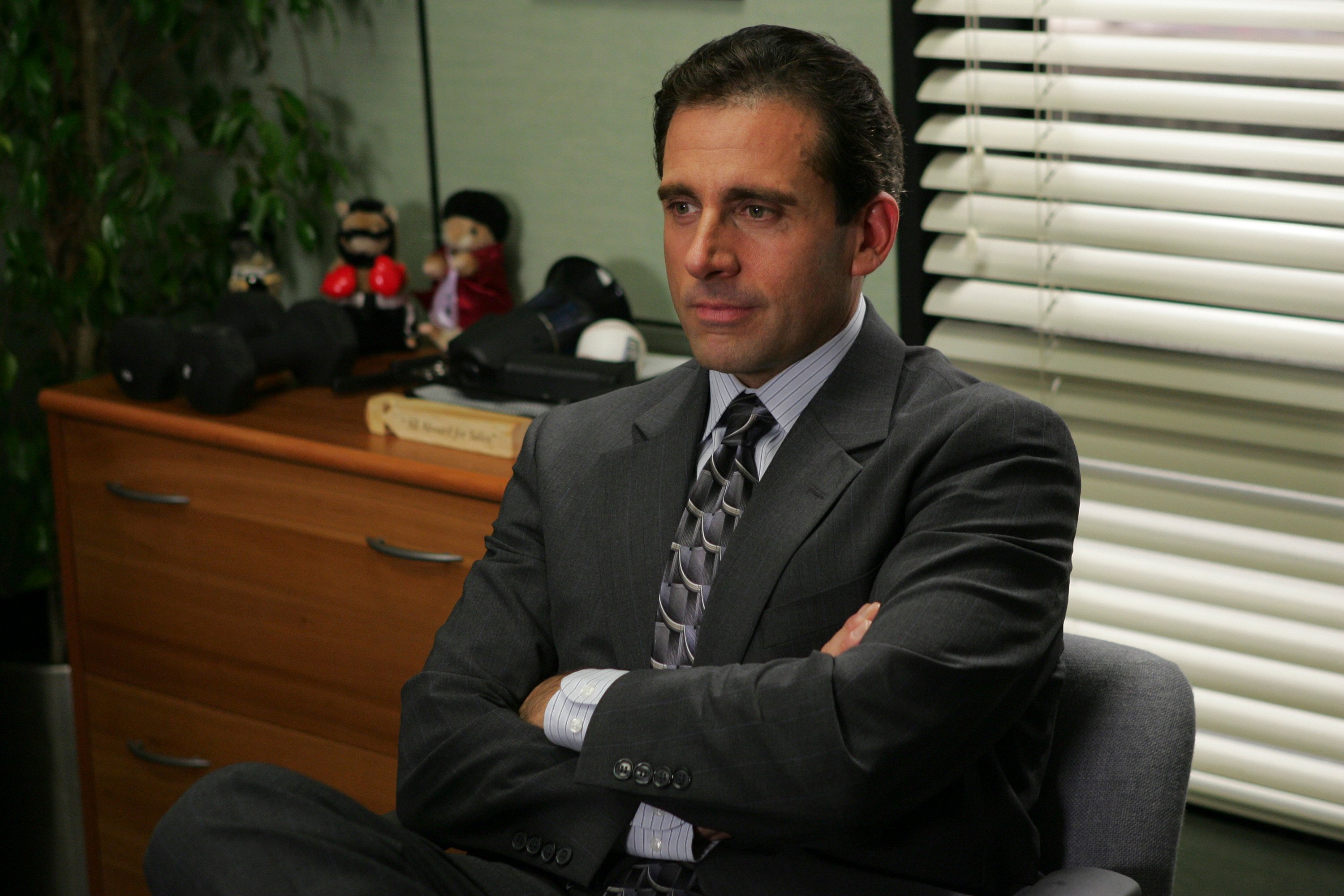 Dunder Mifflin gets a new receptionist
One addition to the cast arrived in season five when new receptionist Erin Hannon, played by Ellie Kemper, replaced Pam Beesly (Fischer) at the reception desk after she joined the Michael Scott Paper Company. Kemper signed on as a regular cast member in the sixth season and recalled her start on the legendary sitcom.
"My first day literally felt like walking into a television," Kemper told Andy Greene in his book The Office: The Untold Story of the Greatest Sitcom of the 2000s. "It's a weird feeling that I can't totally describe knowing people that you feel you sort of already know because you watch that TV show."
Producers wanted to make sure Kemper's character was clearly different from Fischer's.
"The concern off the bat was that she was going to be too much like Pam," writer Warren Lieberstein recalled. "What we came up with is that she's a huge people pleaser and sometimes she's just a step behind everyone else in figuring things out. Also, she's so impressed by Michael (Carell) and no one else in the office is. … she just absolutely adores him."
Sabre takes over 'The Office'
When the storyline was implemented of Dunder Mifflin having Sabre as its parent company, The Office brought on Oscar winner Kathy Bates as CEO Jo Bennett.
"Her presence on the set was that of a total pro and she got the humor of it," director Jeff Blitz recalled of Bates. "Sometimes they would bring people from a world of drama that just didn't quite get the rhythm of the comedy of it; she did."
Producers also had to cast a Sabre representative, which is where actor Zach Woods joined The Office.
Zach Woods earned praise from 'The Office' star
Woods signed on in season six playing ambitious exec Gabe Lewis from Sabre. "Gabe was just ego," Woods told Greene. "The only thing that mattered to him was supremacy and dominance and power and popularity, and he was so ill equipped to attain any one of those things."
The young actor won over his colleagues with his quick improv skills and comedic timing. "He used to go on these riffs that were just shockingly funny," writer Justin Spitzer remembered. "It couldn't have been easy for him to come six years into a show… And he wasn't a selfish actor at all. He would just find ways to give people things, improv gifts and things like that."
Co-star Kate Flannery, who played Meredith Palmer, was clearly a fan of Woods. "He was so beautifully fearless, so dry and terrific," she raved. "He always seemed to have five completely different takes on what he was doing."
Boom operator Brian Wittle compared Woods to the sitcom's star. "They couldn't have picked a better guy," Wittle remarked. "He's not just funny, he's super sweet and ridiculously nice. He's gonna be like Steve Carell… that's his disposition."
Perhaps the biggest praise came from Carell himself. "He was an amazing improv. Steve even said, 'That guy keeps me on my toes,'" first assistant director Rusty Mahmood revealed. "What a great compliment."
After The Office, Woods appeared in several TV shows including Silicon Valley, The Good Wife, and Veep.