'The Office': The 1 Thing Ricky Gervais Is Most Proud of After Failing at This Career
Most people know Ricky Gervais for playing David Brent, the boss of the British version of The Office. But before he became a writer and actor, Gervais had another career in the spotlight that "failed miserably." 
Fortunately, his past doesn't haunt him. Gervais is celebrated as the co-creator of a comedy series that continues to grow in popularity. Despite his failed career prior, there's one thing Gervais is most proud of regarding The Office — and it's personal.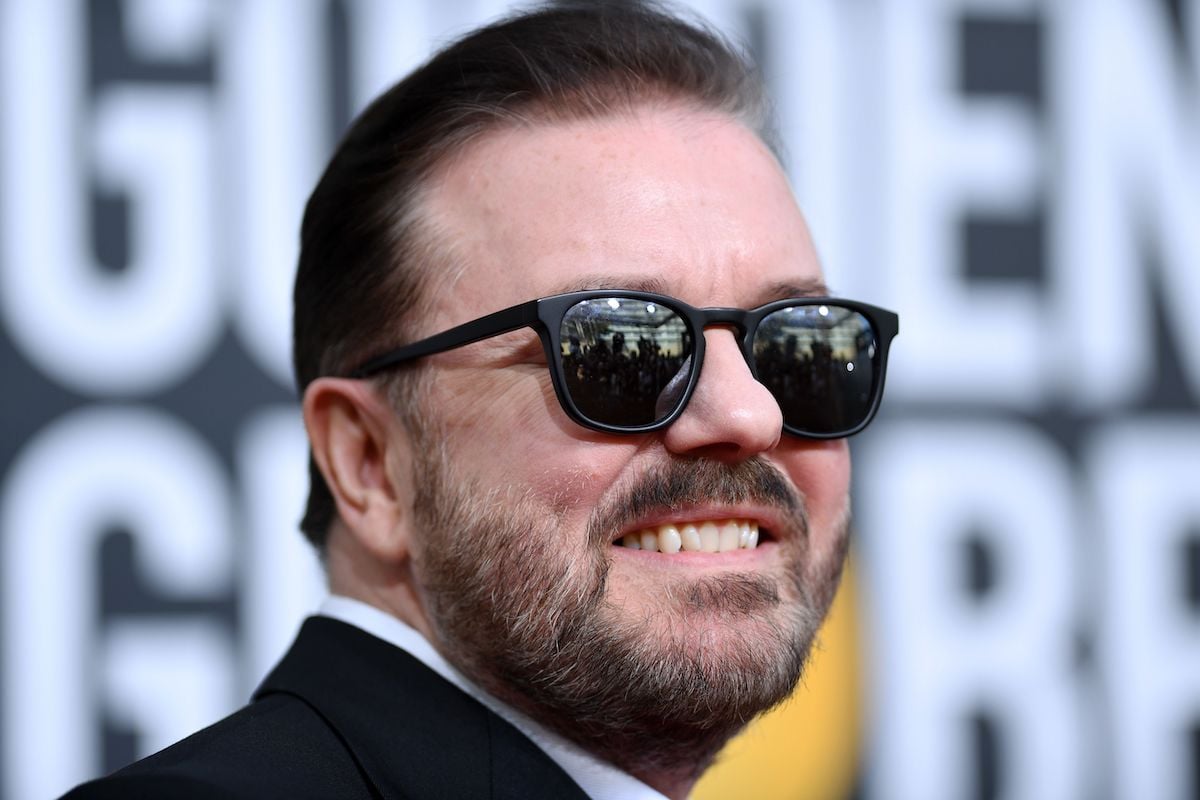 Ricky Gervais was a pop star in the 1980s
Before he became David Brent on the British version of The Office, Gervais was a member of the group Seona Dancing. According to Time, Gervais formed Seona Dancing with his friend Bill Macrae in June 1982 during their final year at University College London. 
Macrae played the keyboards while Gervais sang. Their highly stylized and synth-heavy music feels like something straight out of a John Hughes movie, but the group never took off. The duo only released two singles: "More to Lose" and "Bitter Heart." 
After a few television appearances, Seona Dancing was branded a "rip-off of David Bowie." Despite the success of their music in the Philippines, Seona Dancing split up in 1984 (via Salon). In 2001, everything started to change for Gervais when The Office debuted. 
'The Office' remains a popular show despite ending in 2013
According to Office star Brian Baumgartner, the American version of The Office has been the number one streaming show globally since 2017. "It has over 135 billion minutes that have been streamed in essentially two years," he explained to Gervais on The Office Deep Dive With Brian Baumgartner. 
Baumgartner wants to know why a show that has been off the air since 2013 is still so popular. First, Baumgartner brought Office fans An Oral History of The Office. His breakout podcast featured interviews with the writers and cast of the series, who pulled back the curtain on what they thought made the show so special.
Now, Baumgartner gives fans of The Office an even deeper dive into what keeps people coming back for more. During his chat with Gervais, the co-creator of the original series and inspiration behind the American version, Baumgartner uncovered what Gervais is most proud of regarding the show.
'The Office' is a project Ricky Gervais 'tried the hardest on'
When asked what he is most proud of regarding The Office legacy, Gervais struggled to answer at first. "That's so difficult, he started. 
"I [would] say [The Office] was the first time I tried my hardest at anything," Gervais admitted. "I'm very proud of that, and I got addicted to that."
Gervais mentioned "cruising" through school because he was smart but never being truly dedicated to something. "I wore it like a badge of honor — that I didn't need to try hard," Gervais explained. "I realized that's not a good attitude." 
RELATED: 'The Office': Ed Helms' Starring Role in a Mockumentary Helped Him Land the Role of Andy Bernard
Working on The Office allowed him the chance to change that mindset. "I tried to become a pop star and failed miserably," he continued. "My mistake was wanting to be a pop star, and I should have wanted to be a songwriter." 
Later, Gervais realized his talents in writing and directing. He recalled the desire to be famous, but he didn't want to be famous for just anything. "If I'm going to be famous, it [had] better be for something I'm proud of," he explained to Baumgartner.
"Writing The Office, that was the first time I really tried my hardest and it was a great feeling," Gervais concluded. "I don't think you can have success without hard work."