'The Office': The Casting of Jim Halpert's Tall Brothers Gave a Nod to John Krasinski's Real Family
The Office sometimes gave a peek into the characters' lives outside of work. There was an episode where fans saw Jim Halpert's (John Krasinski) brothers. This is how the casting of those actors were a nod to Krasinski's real family.
Pam meets Jim's brothers in 'The Office'
RELATED: 'The Office' Star, Jenna Fischer Shares Which Couple Name She Uses for Jim and Pam
Pam and Jim's relationship is serious by season 5. Pam Beesly (Jenna Fischer) is seen meeting Jim's brothers, Pete and Tug, in "Employee Transfer." The Halpert family loves pranks, so she decides to do one on Jim with Pete and Tug to impress them.
Sadly, this plan backfires. They don't want to do her prank where she loses her engagement ring. Instead, they want to pretend not to like Pam and insult her career as an artist. This obviously hurts Pam's feelings.
Fans later can see that Jim is like his brothers. They also look directly at the camera and make faces during awkward moments. 
The casting of Jim Halpert's tall brothers gave a nod to John Krasinski's real family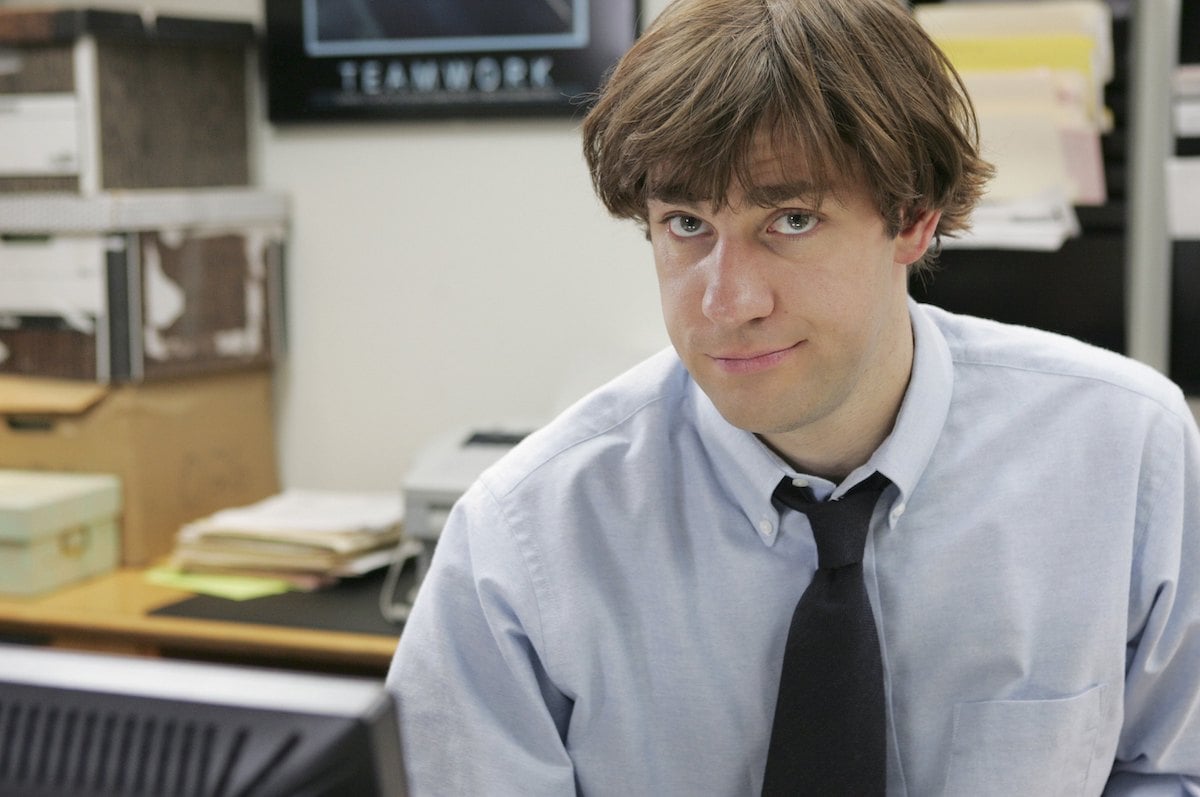 RELATED: 'The Office': Jim's Line After Pam Rejects Him Was Improvised, Jenna Fischer Says 'It Wrecked Me'
The Office didn't often show the home life of the characters. But when they did, they tried to get it right. Halpert's brothers were tall for a reason.
"Very tall, there's a reason for that. John Krasinski has two very tall brothers in real life, and they thought this would be a fun nod to his family," Fischer said on the Office Ladies podcast. The casting call for the roles called for actors who were 6'1 or taller with brown hair. But it wasn't revealed to the potential guest stars that they would be playing Jim Halpert's brother. 
Pete Halpert was played by Tug Coker, who was 6'5. He was told at his audition that he looked like he could play Krasinski's brother. He got the job. Blake Robbins played Tom Halpert.
Krasinski's real brothers are taller than him, and the star is 6'3. So it sounds like casting did a great job with casting these roles.
Do we see Pete and Tom again on 'The Office'?
RELATED: Why 'The Office' Writers Had a Rule of Not Showing Characters in Their Homes
The brothers are seen again after the season 5 episode. They appear in season 6 with their wives in the "Niagara" wedding episodes. They're seen again in a flashback to the wedding episode in season 9.
Coker might not have been in that many episodes of The Office. But Fischer said he still gets recognized for his role as Pete.
Fischer also explained that "Employee Transfer" also helps push Pam's story forward. She decided to go to art school, but the brothers helped needle her insecurity about it. "It was meant to discourage her momentum," Fischer said on the podcast. Pam does go on to struggle with her confidence after that, but luckily her relationship with Jim isn't ruined.