'The Office': The Feedback Rainn Wilson Received That 'Kept Him up at Night'
Rainn Wilson is best known for playing Dwight Schrute on The Office. But before he landed the part on the NBC comedy series, Wilson had to get comfortable with improvising — something he had minimal experience with in the past. Thanks to some feedback from Office writer Greg Daniels, Wilson was able to do that, but not before losing some sleep first.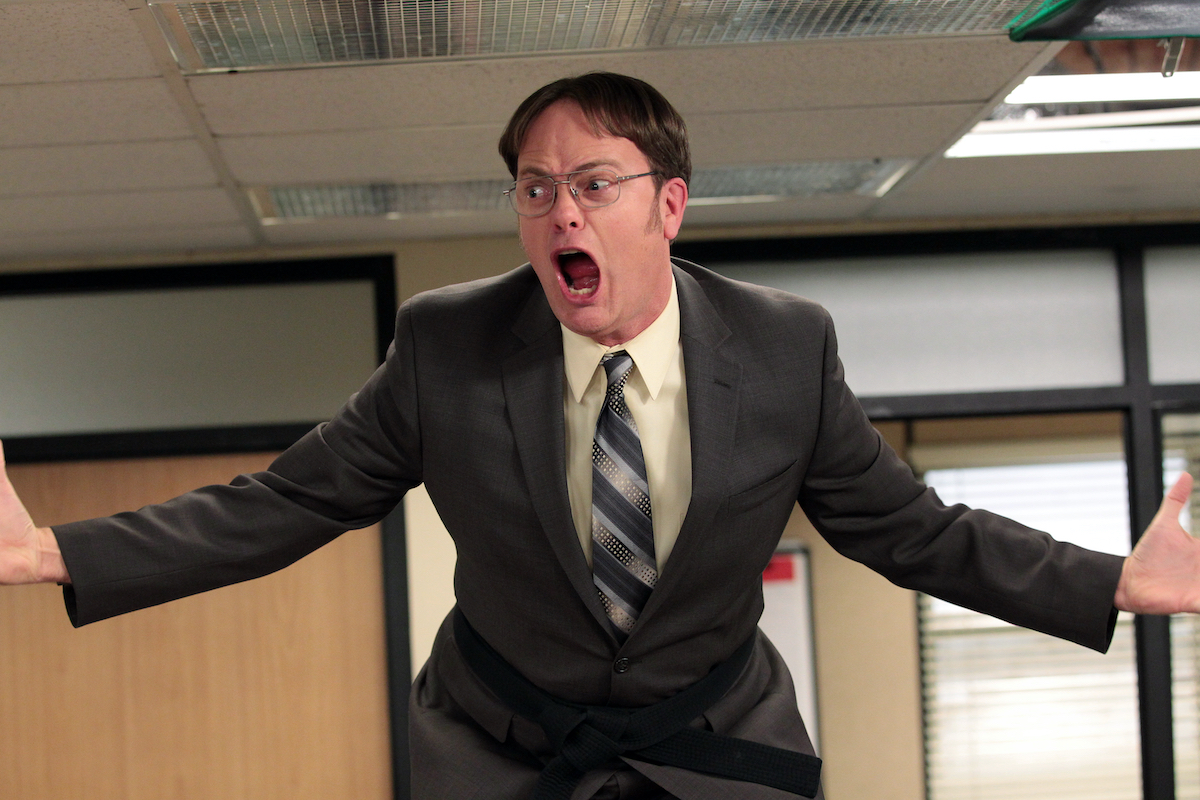 Brian Baumgartner brings fans another podcast about 'The Office' 
In the summer of 2020, Brian Baumgartner — who played Kevin Malone on The Office — introduced the world to the podcast An Oral History of The Office. Fans loved reliving the show so much that they wanted more. 
Now, Baumgartner is giving fans full-length, in-depth interviews with the cast and crew from the show in his new podcast, The Office Deep Dive.
Rainn Wilson's theater background helped him become Dwight Schrute
During the first episode of Baumgartner's podcast, Wilson talked about his time studying theater at NYU, which included "physical theater" and "clowning." Much of his training required finding the character within his body, which became extremely important when playing Dwight on The Office. 
"There were certain elements of Dwight that if I needed to get into character, I could just put my focus on certain parts of my body, and I would immediately be Dwight," Wilson explained. That included a straight neck, hips forward, and "big hips."
"Dwight always stands too close to people," Wilson also pointed out, laughing. "There's kind of a ramrod in the neck, a little bit of swagger in the shoulders. Those are some of the elements of Dwight that [helped early on]."
Rainn Wilson learned to improvise on 'The Office'
After waiting months for a callback, showrunners brought Wilson in to improvise with some of his potential castmates.
"That was not really my gig," Wilson said of improvising scenes. "I wasn't really an improv guy, but I'm good at improving in character." It wasn't until after he was cast that Wilson knew he had to work on his improvisational skills.
"After I was cast, writer and creator Greg [Daniels] came to me and gave me kind of a little bit of a warning talk," Wilson revealed. "It kind of scared me." 
'The Office' made Rainn Wilson better at improvising than 'regular acting'
What Daniels told Wilson in a "very diplomatic way" was:
You improvise better than you act when you're on the script.
Confused, Wilson sought more explanation from Daniels, who said it was more natural for Wilson to improvise within Dwight's scope.
"The scripted stuff feels a little heavy and a little forced," Wilson recalled Daniels saying before the pilot was filmed. Suddenly, Wilson was stressed beyond belief. He reviewed his audition tape, and sure enough, Daniels was right. 
RELATED: 'The Office': Why James Spader Didn't Fit in With the Rest of the Cast in Season 8
"When I improvised, it was looser, a little more off the cuff, a little weirder," Wilson explained. "When I was doing scripted stuff — I don't want to say it sounded like a theater actor, but it sounded a little more scripted. It didn't have that documentary feel that The Office had to have."
Wilson called Daniels' feedback a good learning experience but admitted his feedback "kept him up at night."
"I was like, 'Oh sh*t, what does that mean? I'm a good improviser and a terrible regular actor…'"
Obviously, Daniels' advice for Wilson worked. He is one of the most beloved characters on The Office.