'The Office': The Heartbreaking Reason Ed Helms Didn't Like Shooting These Scenes
When you think of couples on The Office, your mind probably goes to Jim Halpert (John Krasinski) and Pam Beesly (Jenna Fischer) or Dwight Schrute (Rainn Wilson) and Angela Martin (Angela Kinsey). But for some, the most memorable couple on the show was Andy Bernard (Ed Helms) and Erin Hannon (Ellie Kemper). Helms loved playing Andy on The Office, but certain there were certain scenes involving Erin that he didn't like to shoot.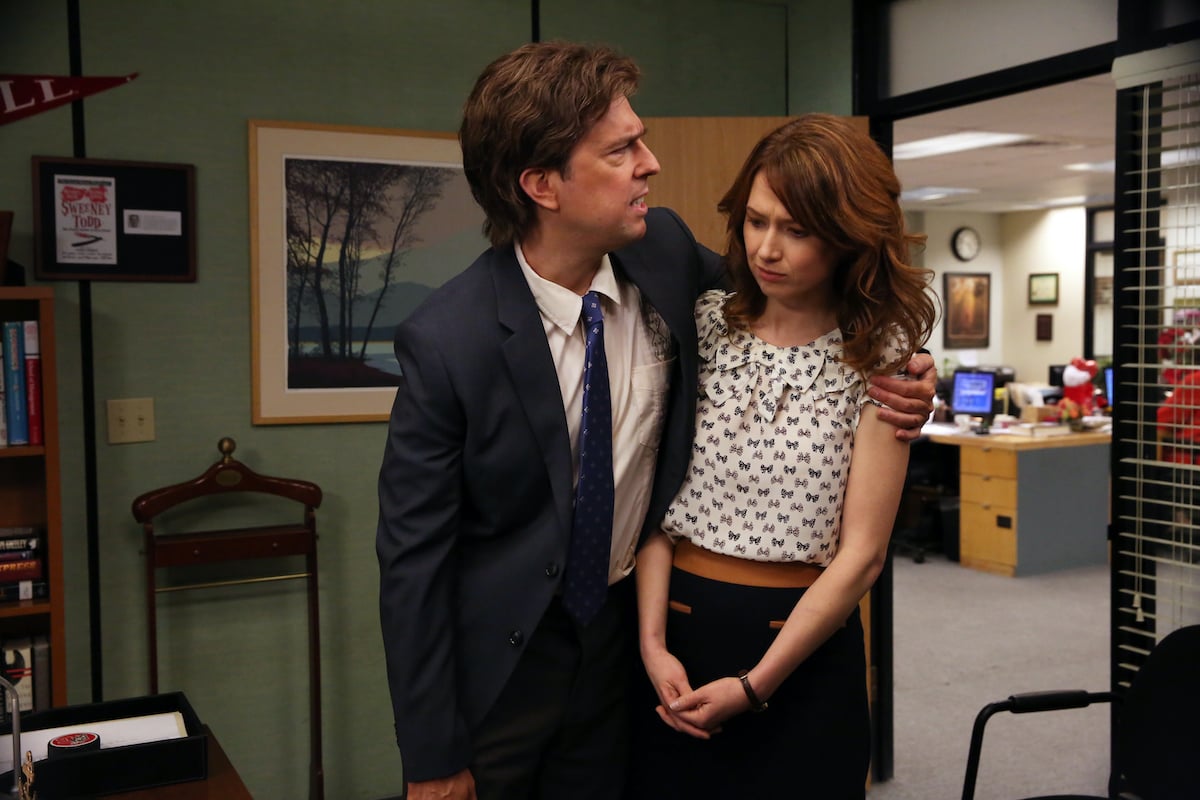 Erin Hannon was a coveted role in 'The Office' writers room 
In season 5 of The Office, Pam went off to work for the Michael Scott Paper Company. Dunder Mifflin needed a new receptionist, and after Kevin Malone (Brian Baumgartner) failed miserably at the task, Erin stepped in. After introducing herself as Kelly, she agreed to go by Erin to avoid confusion between herself and Kelly Kapoor (Mindy Kaling).
"She just wanted to be there," Kemper explained to Baumgartner in his previous podcast An Oral History of The Office. Erin's willingness to go by any name demonstrated that. "Erin lived for [work]. She loved being [at Dunder Mifflin]." Behind the scenes, the writers were eager to create jokes and story arcs for Erin because of how different she was from the existing cast of The Office. 
"Ellie was one of those guest characters who the writers all instantly wanted to write for," writer Brent Forrester told Baumgartner. "Everybody started pitching stories for her — it was like this shot of adrenaline to us." Editor Claire Scanlon agreed, adding how Kemper stood out from a sea of iconic and established characters. Erin also got to stand out in terms of women Andy dated at Dunder Mifflin.  
Erin Hannon and Andy Bernard's relationship on 'The Office' 
Within her first few appearances, it was clear Andy and Erin had a connection. "Both of them being kind of left-footed made them perfect for each other," Helms explained on Baumgartner's new podcast, The Office Deep Dive. Erin and Andy's on-screen romance began in season 5, but it didn't last very long. They broke up in season 6 but still had lingering feelings for one another until Andy decided to run away on a boat. 
Ed Helms didn't like playing Andy Bernard when he and Erin Hannon's relationship got tense
Helms said showrunners didn't spell out an arc for Andy and Erin initially. But he recalled not enjoying the role as much when things went sour between the characters. As Helms explained on the podcast, Erin and Andy's "left-footedness" made them an ideal match. But it also caused "lots of stumbling [moments]," in Helm's words. "It felt right and fun, and then there was a lot of complication that emerged in ways that Andy and Erin sabotaged their own relationship." 
Andy and Erin's relationship was one of Helm's favorite "chapters" of the show. And while he couldn't recall exactly how their relationship ended, Helms wasn't too happy. "I think I remember not enjoying shooting the episodes as much when we were in conflict," Helms admitted. "There was something so breezy and simple and natural about goofing off with Erin," he added. For Helms, tapping into the "darker part" of their relationship felt harder to make funny.