'The Office': The Iconic Scene Between John Krasinski's Jim and Rainn Wilson's Dwight Was Unscripted
The Office was a show that started on NBC in 2005, ending in 2013 and is known for some iconic moments. Some of these favorite moments were unscripted, including the ending to a sweet moment between two of the main characters, Jim (John Krasinski) and Dwight (Rainn Wilson). These two were often seen pulling pranks on each other or bickering, but this specific moment on The Office showed a softer side to both of them.
What was 'The Office' about?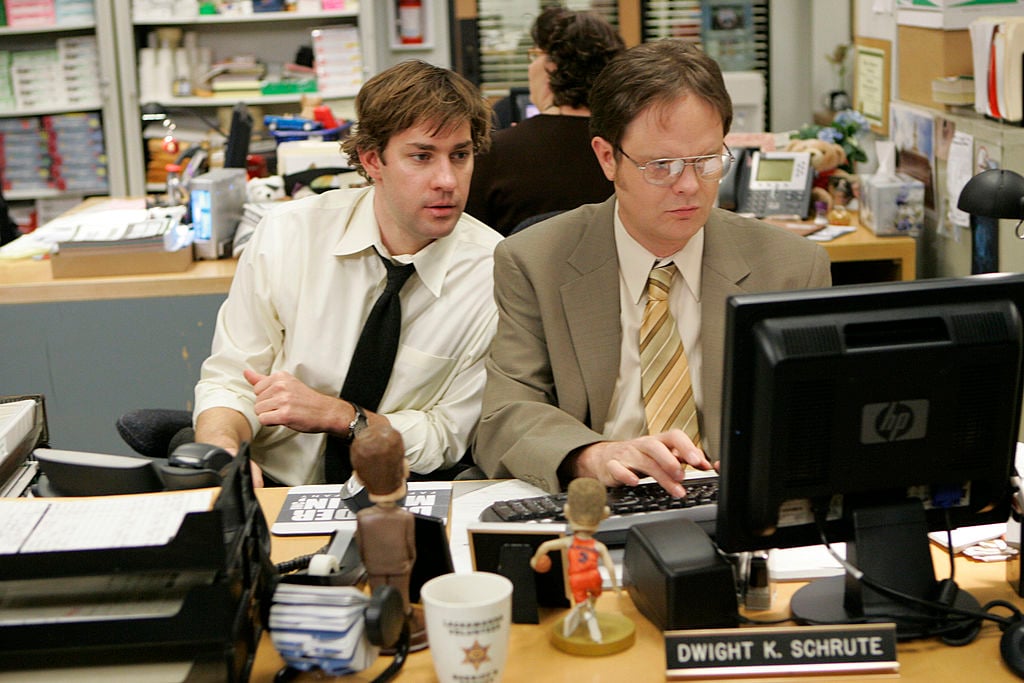 RELATED: John Krasinski's Relationship With Emily Blunt Mimic's 'The Office' Jim-Pam Romance In a Big Way
The Office is an American adaptation of a British show with the same name. The American version was created by Greg Daniels, who went on to later to co-create the show Parks and Recreation.
The Office takes place in the fictitious office of Dunder Mifflin Paper Company in Scranton, PA. It tells the stories of the office workers, their relationships, and their everyday lives.
The show is filmed as a mockumentary with a single-camera setup and ran for nine years. In this style of the show, the characters give interviews and occasionally glance at the camera. There is also no laugh track in order to make it feel more authentic to a documentary.
This way of filming is unusual for a sitcom, but it built a foundation for other shows, like Modern Family, Parks and Recreation, and 30 Rock to name a few. While The Office didn't do so well in the beginning, it is now seen as a success.
Jim and Dwight's relationship
RELATED: 'The Office': John Krasinski Broke Character As Jim Halpert in Season 4 But Fans Missed It
There are a few significant relationships that take place throughout the show. One of the most iconic duos is the "frenemy" one between characters Jim Halpert, played by Krasinski, and Dwight Schrute, who was portrayed by Wilson.
In the first episode, viewers get to know the two desk mates, who are sales representatives for the paper company. Jim makes it known how bored he is with his job and when he's not flirting with the receptionist, Pam Beesly, he pulls pranks on Dwight, such as putting Dwight's stapler in jello.
Jim is the more laid back one and is just trying to get through the workdays. Dwight, on the other hand, is the opposite of Jim. He is always trying to be promoted and often refers to himself as the "Assistant Regional Manager."
These two are constantly going head to head with each other. However, as the show progresses, so does their friendship.
According to a BuzzFeed article, which lists facts about The Office you might not know, the ending to one of the most enduring scenes between Jim and Dwight, was unscripted. In the episode "Money," season four, episode four, Dwight deals with heartbreak and is seen crying in the stairwell.
Jim comes in and attempts to comfort him. The unscripted part is after Jim leaves, Dwight reaches out for a hug, only to realize Jim is not there.
In real life, Krasinski and Wilson are really friends and recently, Wilson made an appearance in an episode of Krasinski's YouTube series Some Good News. In addition to this, Wilson wrote in his memoir: "To the very end there was no one I had better chemistry with than John." He also mentions that he and Krasinski often gave each other lines to try out, and some of Dwight's funniest moments actually came from Krasinski.
Going off-script
The Office was a scripted show, and a few of the actors on the show wrote some episodes, like Mindy Kaling, BJ Novak, and Paul Lieberstein. However, the actors were encouraged to make up day-to-day office work and smaller moments and lines to make it seem natural.
According to an article on The Things: Celebrity, Entertainment and all things Hollywood, it was important for the actors to have a background in improvisation. A couple of other iconic moments that were unscripted include Michael and Oscar's kiss and when Dwight asks Toby about the female body during the "Sexual Harassment" episode. Also in Wilson's memoir, he highlights some of his favorite improvised lines.