'The Office': The Important Message Hidden in the 'Gay Witch Hunt' Episode
The Office might have been a hilarious comedy, but it also touched on important social issues. In one of the show's funniest episodes, "Gay Witch Hunt," showrunners were able to incorporate an important message on a relevant social issue. Did you catch it?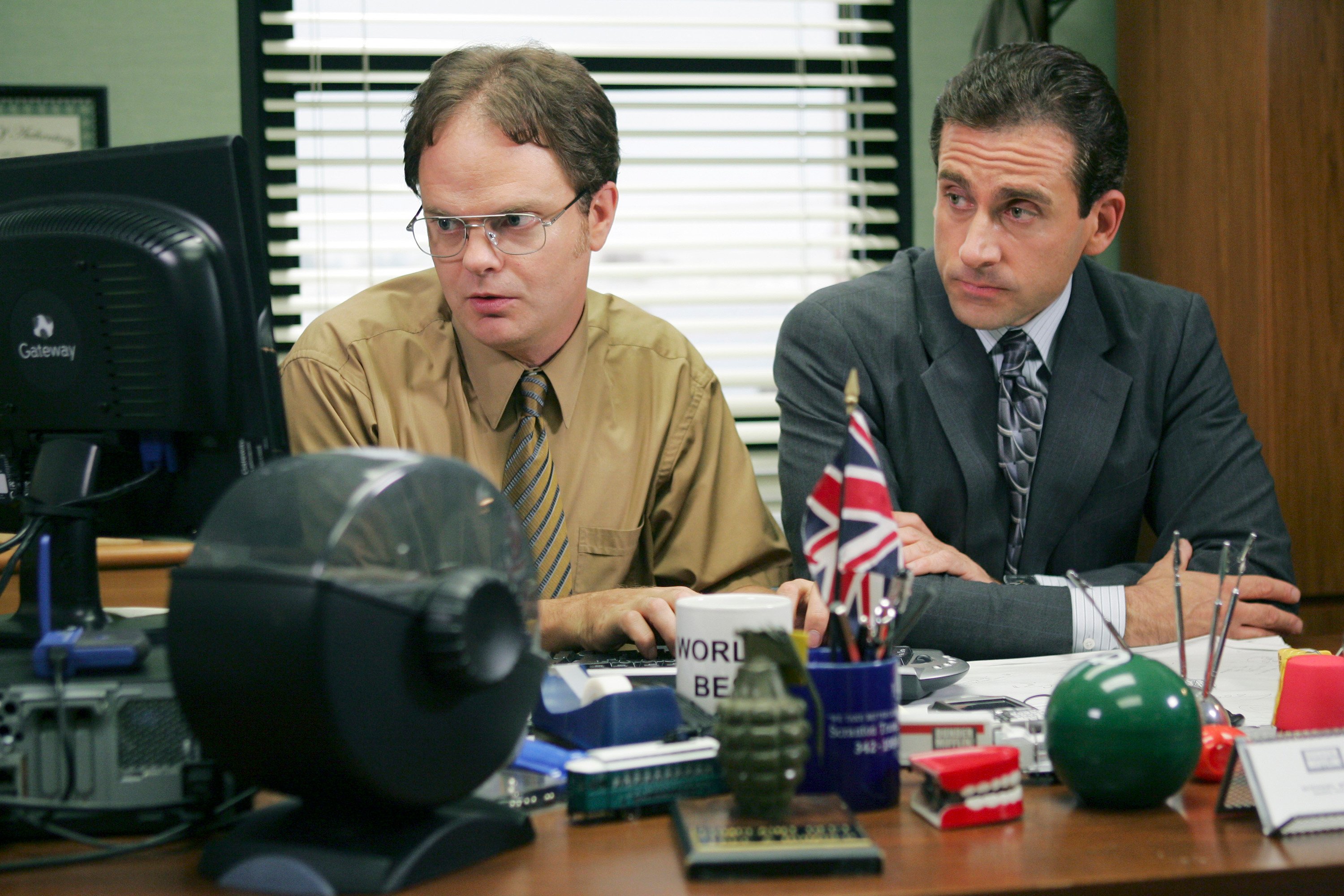 'Gay Witch Hunt' is a hilarious episode
The "Gay Witch Hunt" episode of The Office opened the third season of the series.
After Jim (John Krasinski) professed his love to Pam (Jenna Fischer) in "Casino Night," he packed his things and moved, transferring to the Dunder Mifflin branch in Stamford, Connecticut.
Meanwhile, back in Scranton, Pennsylvania, Michael Scott (Steve Carell) discovered accountant Oscar Martinez (Oscar Nuñez) was gay. Michael tried to demonstrate he was accepting of Oscar's lifestyle in the only way he knew how — by kissing Oscar in front of the entire office.
Steve Carell improvised his kiss with Oscar
"Steve had an ability to understand subtext," writer Jen Celotta explained on Brian Baumgartner's podcast. She referenced his improvised kiss in "Gay Witch Hunt," calling it "one of the best moments of the whole show."
As Celotta pointed out, that kiss worked because "it was on story, it was on theme, and it was funnier than what was scripted." 
Nuñez added how, before the kiss, the scene was written with Carell just hugging him — which was "nothing for an Office scene."
Carell said the hardest part of his job was "servicing the script" and making sure he didn't screw it up. His goal was always to make what Michael was doing feel as organic as possible. And in "Gay Witch Hunt," that meant kissing Oscar.
There is a strong message of tolerance within 'Gay Witch Hunt'
In addition to being one of the funniest episodes in The Office, "Gay Witch Hunt" serves as an important commentary on homophobia in the workplace.
"The writers did that a lot," Baumgartner pointed out. "[They would] poke at social issues that other shows would not."
At the time the episode aired, a "Don't ask, don't tell policy" was often observed in corporate America. Same-sex marriage was a decade away. And "that's so gay" was a common insult.
Addressing those sharp issues meant walking a fine line in the writing room.
For Nuñez — the first person of color to play a gay man on prime time television — The Office could make anything funny as long as the writing of a high quality.
RELATED: 'The Office': John Krasinski Laughed 'the Hardest' on Set Filming This Epsiode
"The show was intelligent [and] the show was very funny," Nuñez said. "It came from the right place."
Audiences and critics alike raved about "Gay Witch Hunt," both for its ability to touch on a sensitive issue that no other show was talking about at the time and for being hilarious.
"The reason that episode works is because it's reinforcing the belief that it's totally fine to have gay friends in your life," critic Emily VanDerWerff pointed out.
The gay guy in your office is just like you. There is a joke buried in that episode that is very progressive in its values and the way it talks about what it means to be a gay man in America. But also the joke on its surface is 'Oh my god, Michael Scott is going to try and kiss Oscar.
The Office did this on numerous occasions — brought social issues in the workplace to light, but in a lighthearted and comedic way. In doing so, The Office opened a dialogue and inspired others to adopt a new way of respect at work.