'The Office': The Jim and Pam Moment That Made the Director Tear up During Filming
The Office is filled with heartfelt Jim and Pam moments. From their first kiss to Jim's proposal at a gas station, to moving to Austin, Texas to start a new life, Office fans get to watch PB&J live out their biggest moments.
There were some Jim and Pam moments that were so emotional to film that the crew couldn't help but get wrapped up in the love story. One moment, in particular, brought the director to tears.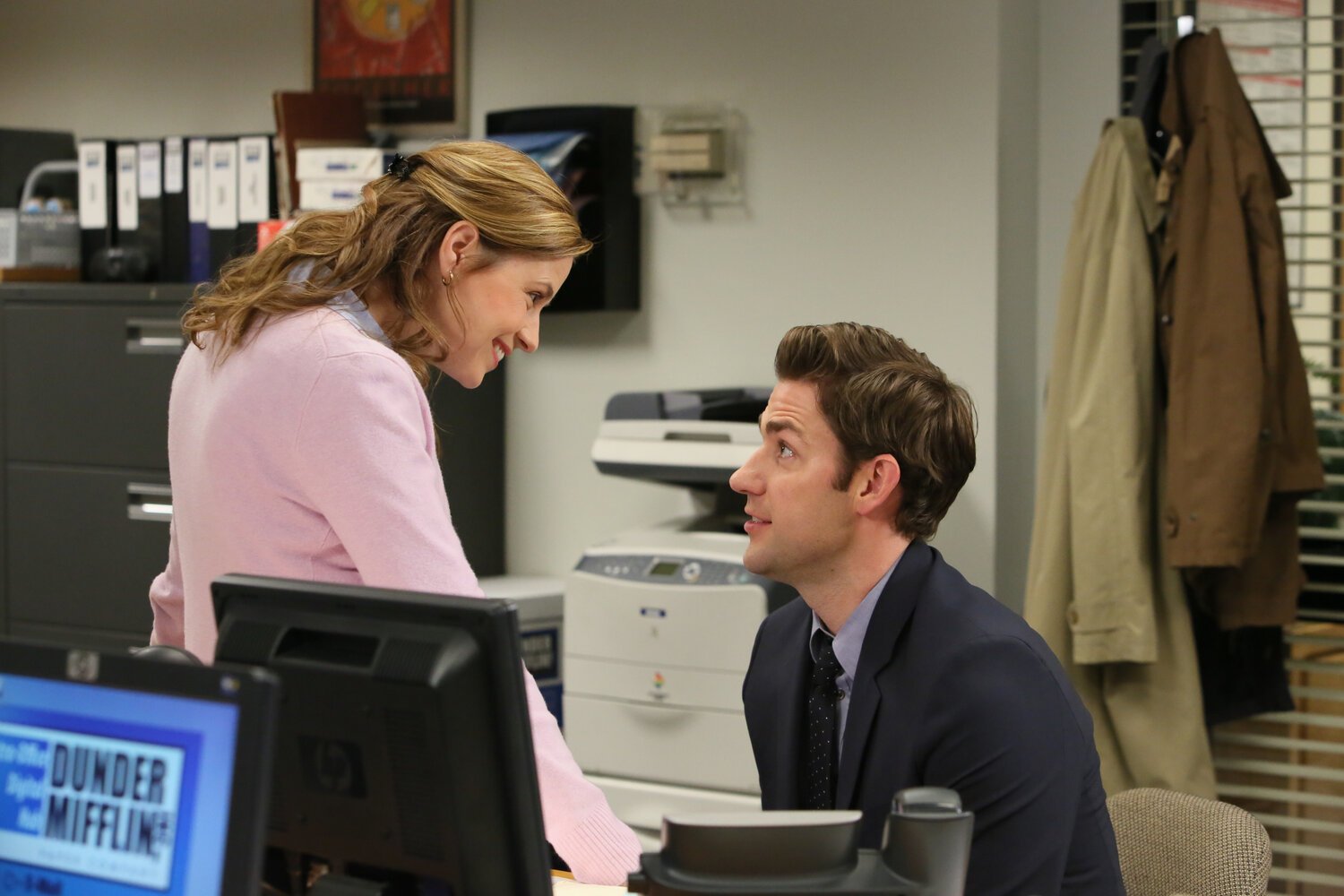 Jim finally asks Pam out on a date
Ken Kwapis directed the very first episode of The Office and came back to direct several more. The actors, Fischer especially, became "particularly attached" to him.
"Last year, he directed the finale," Fischer told NPR in a 2008 interview. "And he's always taken a particular interest in Pam and her journey. So I feel very close to him."
One moment that really touched Kwapis was when Jim left his interview in New York to ask Pam on a date for the first time.
"When Jim burst into the conference room while Pam's giving an interview, and he finally asks her out on a date, I turned to the camera," said Fischer. "And in the moment that they used, I'm sort of tearing up. And the reason that I teared up was because when I looked back at the camera, I saw Ken Kwapis. And he – his eyes were full of tears. And he smiled at me and gave me a little wink, like, that's right. You finally got what you wanted, sweetie."
"It was a really powerful moment between me and the director," she added.
Jenna Fischer and John Krasinski had chemistry from the beginning
In the same interview, Fischer said that she and Krasinski had chemistry from the moment they first auditioned together.
"When it came down to the end of the audition process, they took four Pams and four Jims and four Dwights and four Michaels, and they brought us into a real office," explained Fischer. "And they filmed us with a camera for two days, mixing and matching us. And over the course of that two days, I was mixed and matched with John several times. And after the second day, we were walking out of a scene, and he turned to me and he said, 'You're my favorite Pam. I hope you get this job.'"
Fischer was touched by her future co-star's comment.
"I smiled really big, and I said, 'I'm so glad you said that because you're my favorite Jim, and I don't think anyone could do it except for you,'" she shared. "And when they called and told me that I got the job I said, 'Please tell me that John Krasinski is playing Jim.' And they said, 'He is and we're so glad to hear you say that because we thought you two had amazing chemistry. And we're glad you think so, too.'"