'The Office': The Origin Story Behind Michael Scott's Prison Mike Character Explains So Much
The Prison Mike character on The Office was Michael Scott's attempt to get his message across to the staff. The origin story explains a lot about Michael.
One of Michael Scott's most memorable characters appeared during season 3 of The Office: Prison Mike. Fans loved Michael's "scared straight" character who attempted to show the Dunder Mifflin employees that life in the office was a lot better than being in prison. During the Office Ladies podcast, hosts Jenna Fischer and Angela Kinsey dug into Prison Mike's origin story.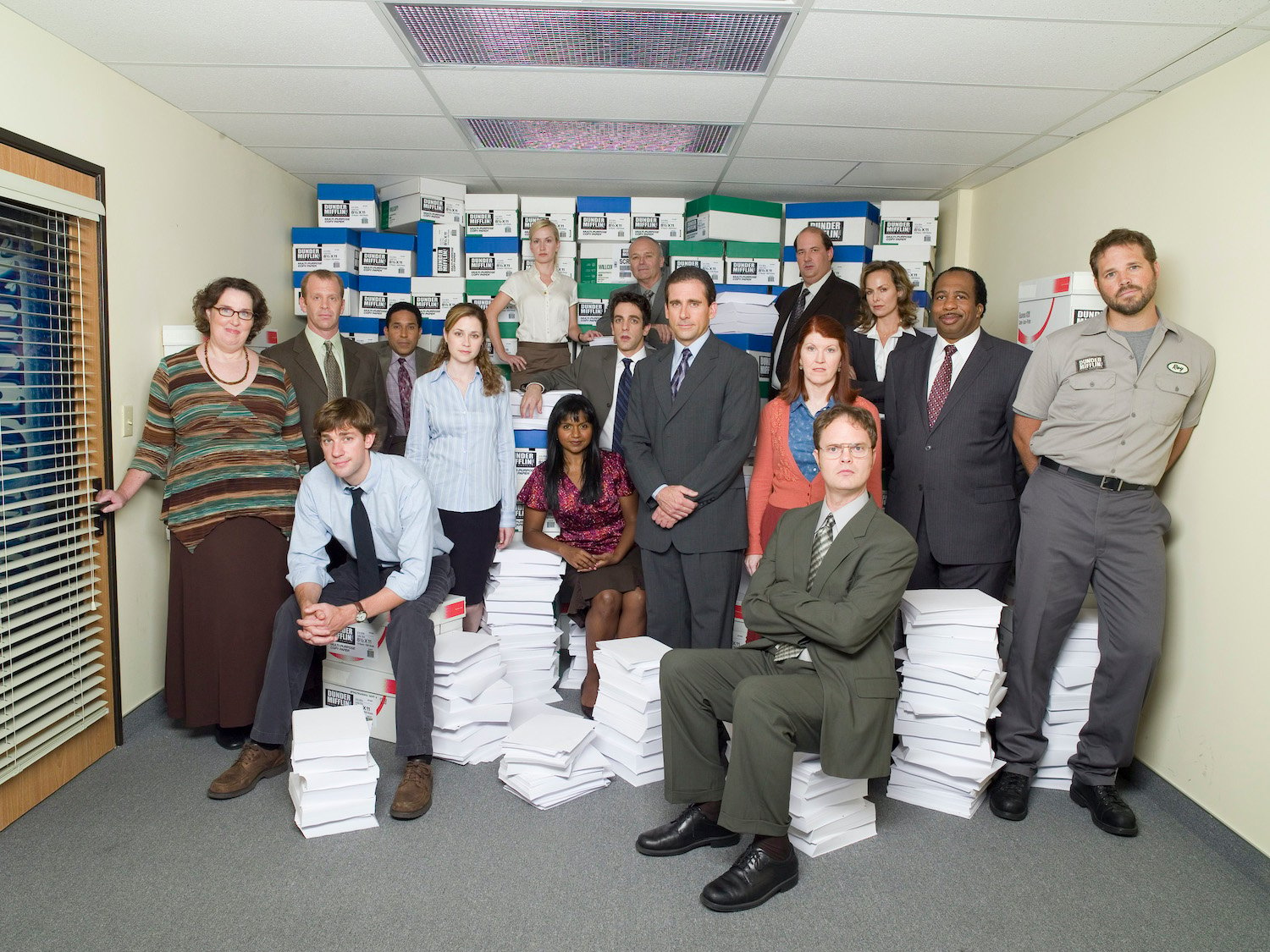 Prison Mike was a fan favorite on 'The Office'
During season 3 episode 9 "The Convict," it's revealed that one of the Stamford transfer employees, Martin, had been in prison. Martin's account of his prison experience for a white-collar crime sounds more appealing to the office employees than being at Dunder Mifflin.
Michael Scott, upset that his employees would rather be in prison than at the office, brings everyone to the conference room to reveal the character Prison Mike, who is there to set the record straight about how bad prison actually is.
Fans loved the hilarious character, as Michael donned a purple bandana and a New York accent to recall his time in the clink and paint a picture that's not as rosy as Martin's.
The Prison Mike scene was hilarious
In the conference room, when Michael "becomes" the character Prison Mike, the scene plays out hilariously.
"I'm prison Mike! You know why they call me prison Mike?!," he asks, with Angela challenging him, "Do you really expect us to believe you're somebody else?"
Prison Mike gets tough, telling her, "Do you really expect me to not push you up against the wall, beeyotch?!," explaining, "that's just the way we talk in the clink."
He continues, "Been a lot of fun talk about prison today, but I am here to scare you straight. I AM HERE TO SCARE YOU STRAIGHT! In prison you are somebody's b*tch. Oh, and you. [points to Ryan] You, my friend, would be da belle of da ball. Don't drop the soap! Don't drop the soap!"
When asked how he ended up in prison, he explains, "I stole. And I robbed. And I kidnapped… the president's son. And held him for ransom."
When Pam asks, "What was the food like in prison?," Prison Mike paints a grim picture. "Gruel. Sandwiches. Gruel omelettes. Nothing but gruel. Plus, you can eat your own hair."
When Dwight asks the worst thing about prison, Michael digs deep for something truly terrible. "The worst thing about prison was the… was the Dementors. They… were flying all over the place and they were scary. And they'd come down, and they'd suck the soul out of your body, and it hurt!"
Prison Mike's origin story explains a lot about Michael
During the July 29 Office Ladies podcast, the hosts explained that Prison Mike is "one of the most famous characters" on the show. There's more to the story behind the character, however, as Kinsey said that there's a deleted scene where Michael discusses the origin story of Prison Mike.
In the deleted talking head scene, Michael says he attended a school assembly as a kid, "where a giant owl came out and gave a very impassioned speech about 'giving hoots and not polluting.' And you know what? I never polluted again."
The experience was memorable making Michael realize "the power of saying things as a character. People listen to you when you're wearing an elaborate costume or speaking in a voice that is not yours." He developed the character in his improv class because he wanted people to pay attention to him.
Fischer noted that the origin story explains a lot. "I am so sad that this was deleted because not only does it speak to Prison Mike, it speaks to every character Michael has ever done or ever will do," she said.
Who came up with Prison Mike?
Which of the writers came up with Prison Mike? While Ricky Gervais and Stephen Merchant wrote the episode, Fischer explained that there were always rewrites of the script that the writing team worked on.
B.J. Novak gets credit for coming up with Prison Mike, but he said it wasn't really his idea. When he, Mindy Kaling, and Paul Lieberstein were brainstorming how to punch up the scene, Lieberstein threw out the idea of the Prison Mike character. Novak later brought up the idea again during the meeting and his co-writers thought it was "a brilliant idea," even though he didn't come up with it originally.