'The Office': The Real Reason Ryan Was Chosen to Be Michael's New Boss
One of the big cliffhangers from the end of season 3 was when Ryan (B.J. Novak) got a promotion. There were multiple characters on The Office who were hoping to get it. But there are a few reasons why Ryan got it in the end.
Karen was always supposed to be temporary on 'The Office'
RELATED: 'The Office': This Actor Became a Contestant on 'The Bachelor'
Karen (Rashida Jones) joined The Office in season 3. Jim (John Krasinski) meets her when he switches to the Stamford branch. They form a friendship and eventually start dating.
Jones knew it would be a temporary role because Jim and Pam (Jenna Fischer) were destined to be together. But she talked about being sad once she was officially written off the show.
"I knew it was going to happen because there was emotionally nowhere else to go with my character. But I was pretty crushed," Jones said on Off Camera.
She also said knowing her character would stick around affected her time on the show. "I always felt like a guest star on The Office. Everybody was so nice to me but I always felt like a guest star. I never felt comfortable. I knew because I was the small point of a love triangle that eventually I'd have to be sacrificed," the actor said.
Multiple characters tried to get the same job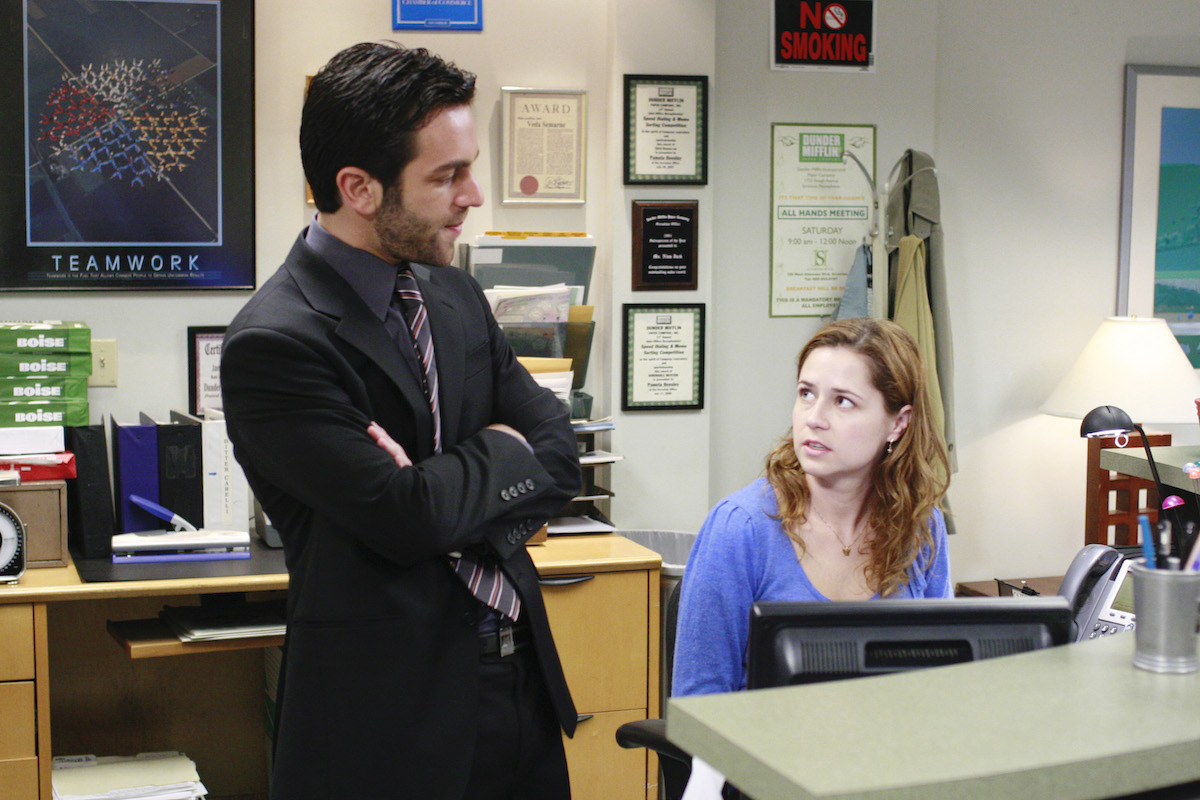 RELATED: 'The Office': Michael Scott's Iconic Diss to Dwight Was an Homage to 'Saturday Night Live'
Close to the end of season 3 showed multiple characters trying to get the same job once one opens up in corporate. Michael (Steve Carell), Karen, Jim and Ryan tried to apply for it.
The season ended with the shocking reveal that Ryan was the one who got the job. His first move was to dump Kelly Kapoor (Mindy Kaling). It was a surprising twist but why was Ryan chosen?
Ryan got the job partially to get rid of Karen
RELATED: Why 'The Office' Writers Had a Rule of Not Showing Characters in Their Homes
Fans pointed out that corporate was looking for someone who had four years of experience and Ryan didn't fit that. Paul Lieberstein explained why the writers chose Ryan on the Office Ladies podcast.
"I think we felt we would get a lot of fun comedy out of putting Ryan as Michael's boss for a while," Lieberstein said. "He was the temp that came in. He's clearly a really good bullsh*tter but incompetent. And I think that's how he got it."
He also said Karen wasn't picked for the job for a reason. "It was time for Karen to leave the show, and what we were doing with Jim and Pam for season 4," the actor explained. "And we thought it would be just a fun dynamic switch."
The change did show a different side of Ryan. He enjoyed having power over Michael and his downfall after that rise is interesting to watch.