'The Office': The Real Reason 'The Blacklist' Star James Spader Left Robert California Behind
In 2011, Steve Carrell left his iconic role as The Office lead, Michael Scott. The Dunder Mifflin Paper Company then welcomed a new man to the scene. James Spader played the ever-intense Robert California and fans loved it. Why did Spader leave the hit series?
How James Spader snagged the role of Robert California on 'The Office'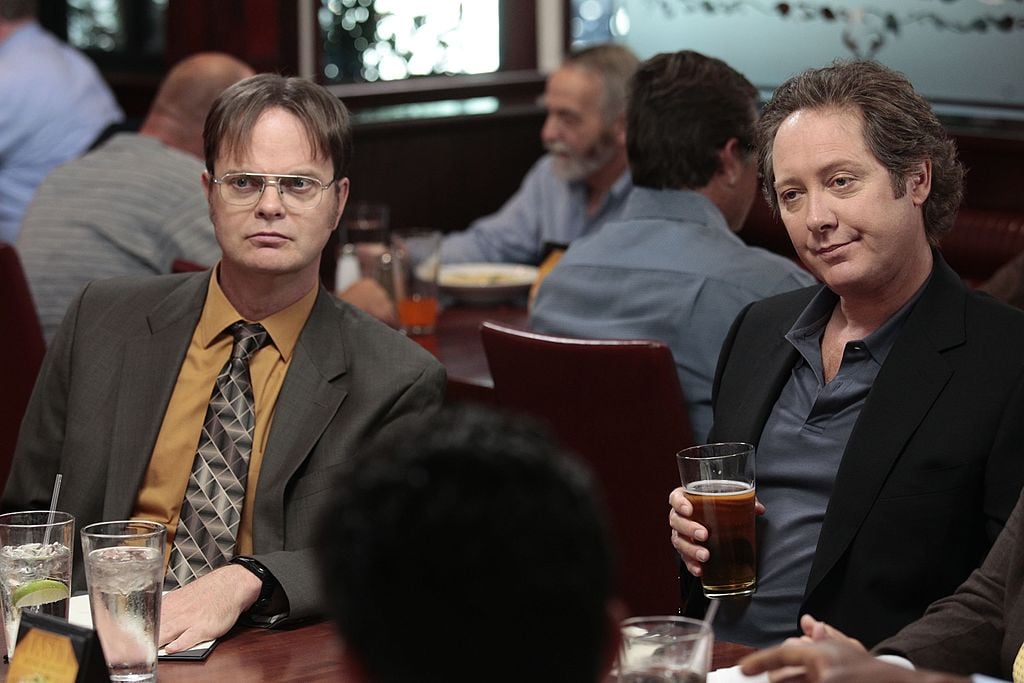 Dedicated fans of The Office, no doubt, still grieve the departure of Dunder Mifflin manager, Michael Scott (Carrell). When he left in 2011, producers scrambled to fill the void with a slew of cameos and celebrity guest appearances.
Will Ferrell came in as Deangelo Vickers but ultimately left. In his place, Dunder-Mifflin-Sabre CEO Robert California (Spader), traipsed in with a nerve-wracking intensity that changed the tone on the show.
"It really came about in spite of all efforts," Spader previously said via an NBC affiliate. He spoke of meeting with producers, Greg Daniels and Paul Lieberstein.
"They just seem like people that would be great fun to work together with at some point, and we didn't really even talk about The Office at that time. And then all of a sudden, out of the blue they called up and said, 'We've written a role that we'd love to have you do in the finale.'"
He continued: "They said, 'We're having a bunch of different [famous] names come in, and do stuff. So they sent it over. It was so funny and I thought that it would be great fun. They said, 'No obligation – just for the fun of it. Just come and do it.' I went and it was so much fun."
Spader admitted he didn't know what would come of it and looked forward to finding out with the rest of us.
"I love to be surprised. That's always been the way it's been in my career, even with all the film work," he said. I like to be surprised by things."
Here's why Spader left the show
The role of Robert California was a hit, despite the void Carrell's absence left among the cast and viewers. In a statement, executive producer Paul "Toby Flenderson" Lieberstein said Spader was only meant to do a one-off.
"James came to The Office to play a role that was two scenes long in the season 7 finale. He instantly brought so much life and intrigue to the part that those two scenes became a season. James always wanted this to be a one year arc, and he now leaves us having created one of the most enigmatic and dynamic characters in television. He's been a great friend to me and the show, helping us successfully transition into the post-Michael Scott years, and I'm grateful for that. I'm already looking for ways to work with him again."

Entertainment Weekly
The scene Lieberstein referred to was when Toby (Lieberstein), Jim (John Krasinski), and Gabe (Zach Woods) interviewed replacements for Michael. Spader's contract called for 15 episodes and that "he had always planned on a single-season arc," according to Variety.
Spader recalled the events in a similar way.
"I started to get calls every so often when they started to edit [the episode]. They said 'God, it's great — It's really great fun!' And then all of a sudden it aired and they called up a couple of days after that and it all happened very sporadically and very spontaneously," Spader said.
"They then called back and said, 'We want to have the character back so badly. Can we at least start talking about that?' So, we did just start talking about it, and now here we are."
Lieberstein added, "James always wanted this to be a one-year arc, and he now leaves us having created one of the most enigmatic and dynamic characters in television."
Why didn't Spader return?
With the success of The Office, some wonder why The Blacklist star didn't return to reprise his role. When Dunder Mifflin CFO David Wallace (Andy Buckley) bought the company, Robert California was allowed to travel and educate women around the world.
Season 8 of The Office was a transitional year for the cast and crew. This included Spader's part. As a means of recreating the show's format — which usually focused heavily on Michael — they switched between different characters every episode.
"It was just kind of fun, living in the moment and just enjoying his presence, and not really planning what it was going to be like in seasons to come," Lieberstein told Vulture. 
As for why Spader didn't ever return to Robert California's mysterious ways, some say it would've ruined California's exit. Others speculate the show had begun to fizzle in ratings and interest and Spader wanted out before it completely puttered out.
Regardless, Robert California is embedded in The Office's history, for better or worse. And anyway, Spader's newest role as Raymond "Red" Reddington on NBC's The Blacklist is some iteration of California — only, in criminal form.