'The Office': The Revealing Detail in Jim's Talking Head Interviews That Indicated His Future With Dunder Mifflin
The documentary style of The Office included "talking head" interviews that fans loved over the show's nine seasons. These small confessional moments could reveal yet another hilarious joke or give more insight into a character. Some of these talking head moments were very revealing, as was the case with the interviews featuring Jim, played by John Krasinski.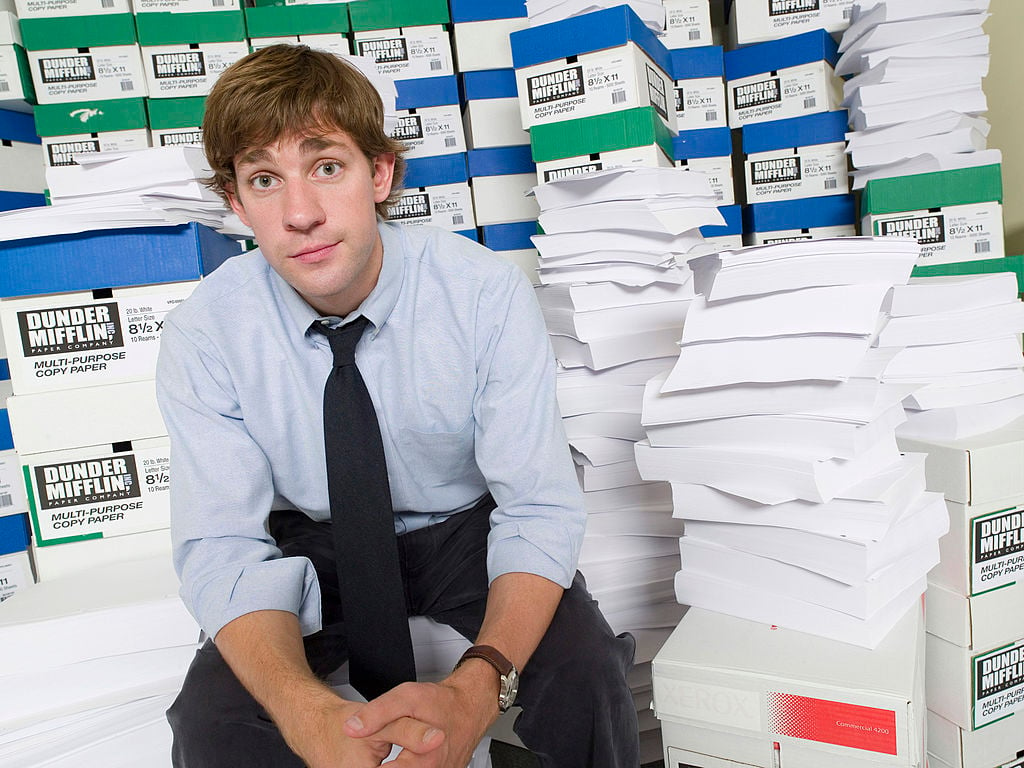 Jim's talking head interviews had a deep meaning
During the Office Ladies podcast, in which host Angela Kinsey and Jenna Fischer deep dive into each of the episodes, an interesting tidbit about Jim's talking head interviews was revealed. Jim's placement was unique in the series, as he generally would have a window to the outside behind him while other characters would be seated in front of a window that faced into the office.
The location is no accident, as Fischer revealed during the May 6 podcast episode when they discussed a season 2 episode. The outside window behind Jim means he has a future beyond the Dunder Mifflin office.
Fischer confirmed it was no coincidence
Fischer explained that she contacted showrunner Greg Daniels to find out why Jim's talking heads weren't in the same area as other office workers. "I asked him, 'Was this deliberate? Was this an accident?,'" she shared. "And he said that it was something that Randall Einhorn, our cinematographer, suggested to Greg starting with the pilot and Greg absolutely loved it."
She continued, "He said Randall's intention here was that it didn't necessarily have to be only Jim, but the idea was that any character that had a future outside of Dunder Mifflin or held some sort of internal optimism would sit in front of a window leading out into the world, but characters who didn't want to leave Dunder Mifflin, or who maybe were in more of a position of being trapped, would do their talking heads facing into the office."
Jim's talking heads in Stamford are revealing
At the end of season 2 of The Office, Jim prepares to head to Dunder Mifflin's Stamford branch. In season 3, viewers see how that journey plays out for Jim, as he's now separated from the life he knew in Scranton — and away from Pam, who he confessed he loved in the season 2 finale (and they finally kissed).
The documentary follows Jim to Stamford, where again he does talking head interviews but this time the window behind him faces inside.
Fischer confirmed that his location continues to quietly indicate that there are things in Jim's future that don't involve Dunder Mifflin. Jim's promotion to Assistant Regional Manager in the Stamford branch might have seemed like an opportunity for him to move forward, but he is actually stuck as the "Dwight" in this branch.
"The intention was that Jim had a future outside of Scranton and so his talking heads were against a window that faced out into the world," Fischer shared during the podcast.
"In Stamford, his talking heads face into the office," she noted, adding, "They face an interior window, not an exterior one… he does not have a future in Stamford, everyone."