'The Office': The Story Behind Why John Krasinski Wore a Wig and Jim Halpert's Big Hair Transformation in Season 3
Jim Halpert had a big hair transformation during season 3 of The Office after he had sported a shaggier look up until that point. John Krasinski, who played Jim, actually had to wear a wig for part of the season because of a movie role and he was finally able to shed the wig by the season's finale.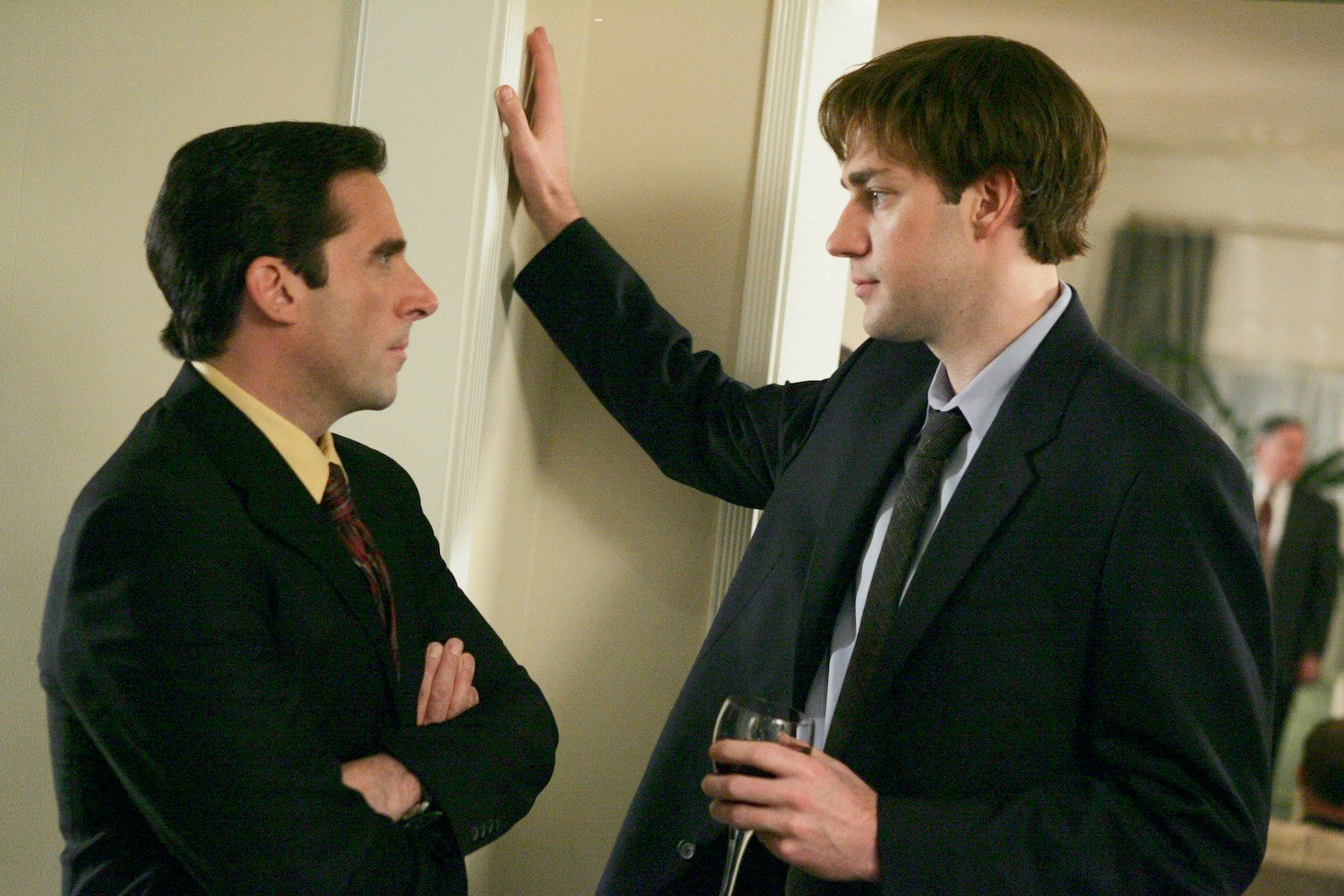 'Office Ladies' dive into 'The Office' season 3 finale
During the Nov. 11 episode of the Office Ladies podcast, hosts Jenna Fischer and Angela Kinsey discussed The Office Season 3 finale, titled "The Job." The episode focuses on a job opening in the Dunder Mifflin corporate office, which Jim (Krasinski), Karen (Rashida Jones), and Michael (Steve Carell) interview for.
After the cold open, the episode begins with Jim, sporting a short new haircut, entering the office. Kevin asks "What's different about you? You look worse," while Meredith says his haircut is "sexy" and "hot." Andy says that Jim's nickname is no longer Big Tuna and is now Big Haircut.
In a talking head interview, Jim explains, "Karen suggested that I get a haircut for the interview tomorrow so that I could look presentable and not, as she so lovingly puts it, homeless."
RELATED: 'The Office': This Subtle Steve Carell Move Made John Krasinski 'Lose It' During Filming
The story behind Jim's new corporate haircut
During the podcast, Fischer said there were a lot of fan questions about Jim's hair. "Was Jim's haircut a writer choice or was there another reason he got the haircut?," she shared.
Fischer revealed, "It was both. It was in the script, but it had to be in the script because John got a haircut."
Kinsey explained how Krasinski was working on the George Clooney movie Leatherheads "and it was set in a different time and so he had shorter hair."
She continued, "But it worked out perfect for the story because I think it's great that Karen's like 'you need a haircut, you're going to interview for corporate' and Jim did kind of have the shaggy hair."
"But there were a few episodes this season, some of you guys have asked, that as John's hair was sort of transitioning back from that haircut for the movie, that he did wear a wig," Kinsey added.
Fischer confirmed that, "after he got the super short haircut for the movie, he came back to The Office and he had to wear a wig for a while, while his hair grew out."
"And then finally, for this episode, I think they felt like it had grown out enough that it looked like a more modern-day haircut. This is John's real hair, folks," she added.
John Krasinski had to convince 'The Office' showrunner about the wig
The Andy Greene book The Office: The Untold Story of the Greatest Sitcom of the 2000s told the tale of Krasinski pitching the idea of wearing a wig. According to the book, The Office hairstylist Kim Ferry said that showrunner Greg Daniels wasn't on board with the actor wearing a wig.
"It would have meant cutting his hair into a 1920s hairstyle," Ferry shared of the movie role. "But continuity-wise and contractually-wise, actors are obligated to keep their hair how it is for a series unless they get producer approval, of course. But it would have been cutting his hair super short, which would mean getting rid of the wings on the side and his long hair."
She continued, "He came to me and said, 'Could we do a wig?' He went to talk to them and said, 'I really want to do this project.' And they were like, 'I think it would be obvious that it was a wig.' Greg really felt like it won't look like him."
Krasinski did, however, convince Daniels that the wig would work.