'The Office': This Awkward Moment Was Originally Supposed To Happen at Jim and Pam's Wedding
For fans of The Office, Jim Halpert (John Krasinski) and Pam Beesly's (Jenna Fischer) wedding was one of the most remarkable moments of the series. What many fans might not know is that their wedding ceremony initially involved Roy Anderson (David Denman).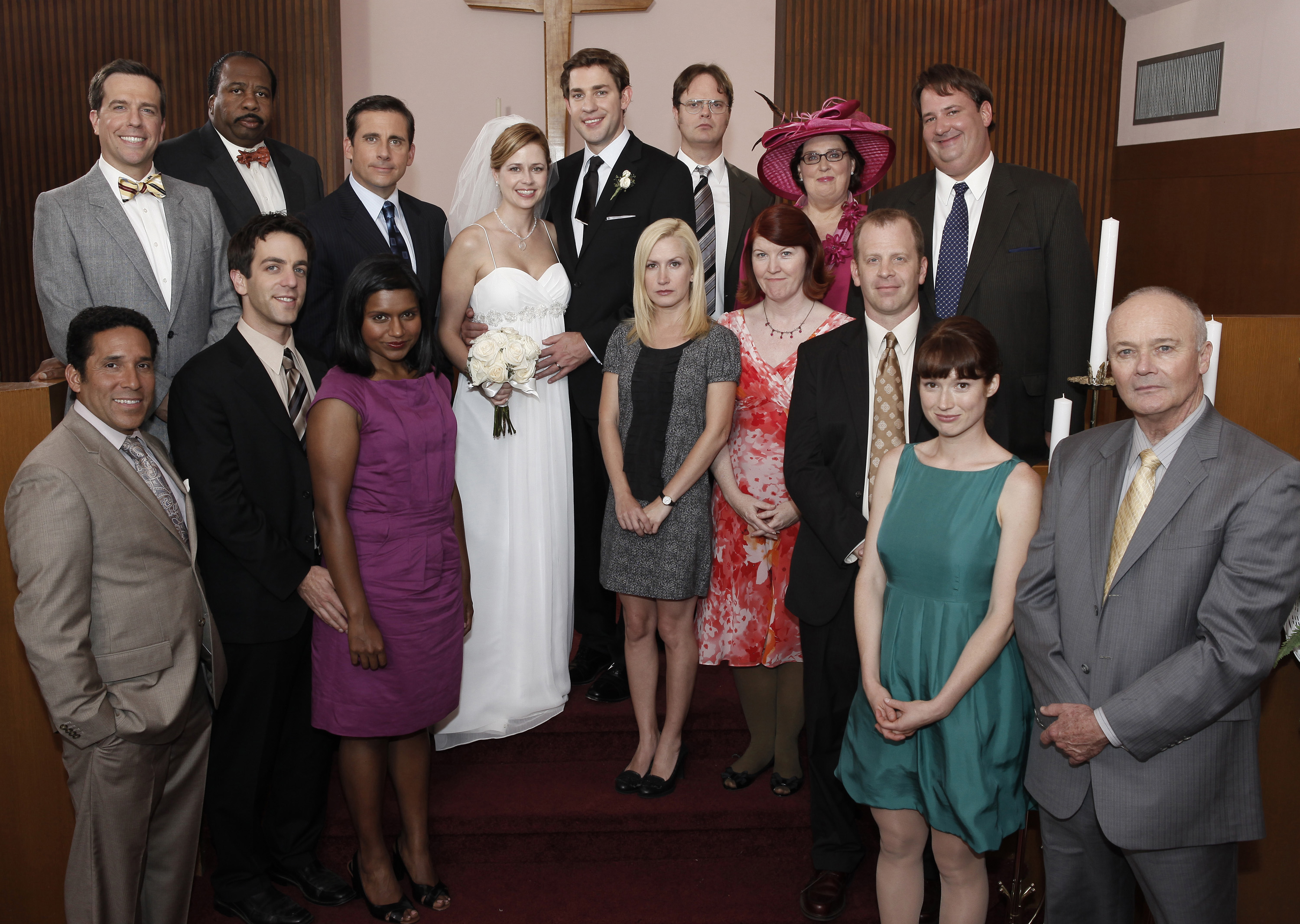 Jim Halpert and Pam Beesly's wedding was a big deal 
For fans and writers alike, any scene involving Jim and Pam felt super personal. When it came to creating these pivotal moments in The Office, writers were often at odds with showrunners. 
Originally, the writers wanted Jim and Pam's first kiss during the season 2 finale, "Casino Night," to be a personal moment. Writers wanted to lean into the documentary style of the series, catching Jim and Pam at the end of their intimate moment. 
On the other hand, director Ken Kwapis wanted the scene shot straightforwardly. Ultimately, he won. 
Jim and Pam's first kiss wasn't the only time a debate sparked behind the scenes of The Office. The same thing happened when it came time for Jim to propose to Pam. 
But when it came time for Jim and Pam's wedding, writers and showrunners knew they had to work together to create the perfect moment for everyone's favorite couple. 
Roy Anderson was supposed to interrupt Jim and Pam's wedding ceremony 
Krasinski was a guest on Office actor Brian Baumgartner's podcast, An Oral History of The Office. Together, they broke down Jim and Pam's wedding day, which fans will recall consisted of two ceremonies: one where Jim and Pam recited vows in front of friends and family, and a more personal ceremony on the Maid of the Mist under Niagara Falls. 
Initially, Greg Daniels wanted Pam's ex-fiancé Roy to interrupt the ceremony in a grand gesture — he was to ride in on a horse. More specifically, Roy was to ride a horse over the falls as Jim and Pam exchanged vows.
"Even saying it, it sounds insane," Krasinski admitted. "But part of you wanted to see it. Maybe it would have worked." 
As Baumgartner explained, including that scene would have ruined one of The Office's most beautiful moments between Jim and Pam. 
Still, Daniels thought it could work. 
"Right up until shooting, that [scene] was in there," Krasinski said. "I think Rainn said 'Even I think this is nuts.'" Krasinski remembered Daniels believing the scene could work until the very last minute, when he decided to cut the horse scene.
Jim Halpert and Pam Beesly's wedding needed an alternate ending 
Daniels' sudden decision to pivot left the writers with an important task — creating a new ending for Jim and Pam's wedding. 
At the time, a video of a wedding party dancing down the aisle to Chris Brown's "Forever" was going viral. The writers thought having the Dunder Mifflin Scranton employees doing their own version was the perfect addition to the episode. 
The first time the cast shot that iconic scene, showrunners thought it was perfect — there was no need for a retake. It came down to the editors, who had to cut both weddings in a way that fans would enjoy. And they did just that.