'The Office': This Couple's Unexpected Baby Was Planned Seasons Before It Actually Happened
Things ended between Dwight Schrute (Rainn Wilson) and Angela Martin (Angela Kinsey) with them getting married after having a baby. However, their story on The Office was going to have a different timeline originally. Angela was going to be pregnant earlier in the show. Find out when she was going to tell him she's pregnant and more.
Angela and Dwight had an affair on 'The Office'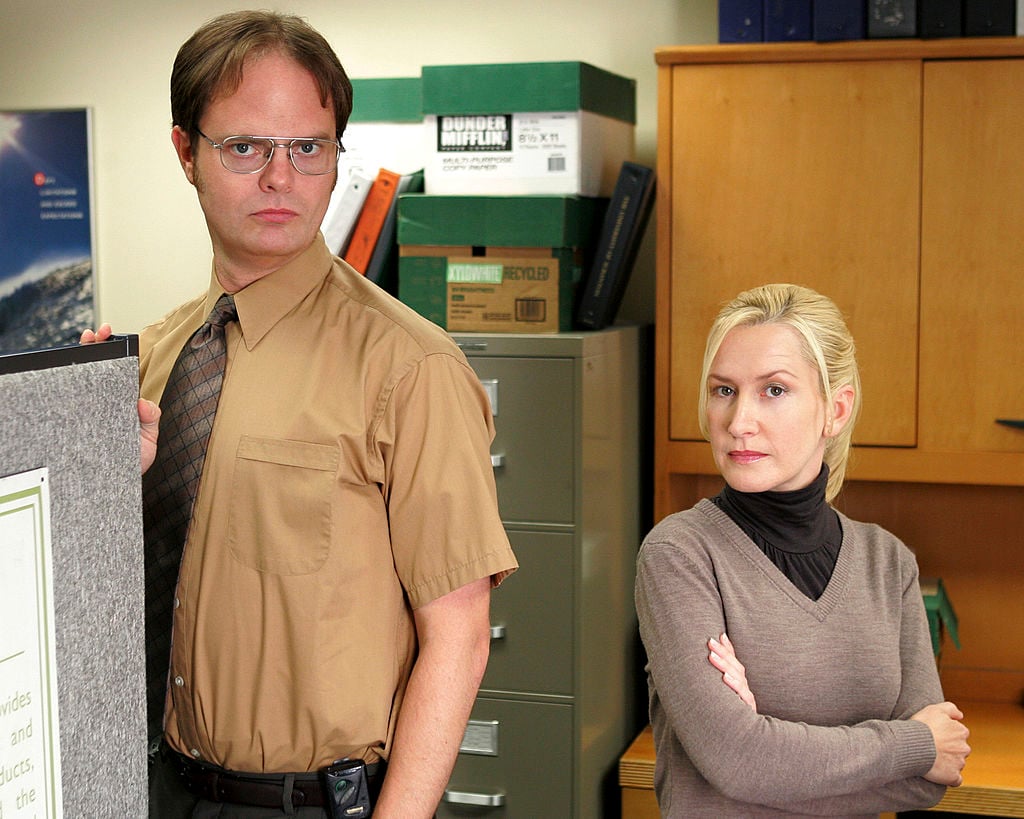 Angela and Dwight had a secret affair on The Office for years. It started somewhere in season 2.
Although some co-workers found out about it like Jim (John Krasinski), it still was mostly kept a secret. Angela dates other people despite the affair and gets with the Senator Robert Lipton (Jack Coleman) in season 7.
Angela eventually married the politician in season 8 and gets pregnant. Dwight is convinced he's really the father of the baby even though she claims her husband is the father.
Her marriage crumbles because Robert is having an affair with Oscar (Oscar Nuñez.) The show ended with Dwight being the father of her child and they get married.
They almost got their own spinoff
Dwight and Angela almost got their own show. There was an episode in season 9, which was a backdoor pilot for a spinoff called The Farm according to Screen Rant.
The episode was called "The Farm" and showed Dwight's family dealing with the death of his Aunt Shirley. Thomas Middleditch played his brother, Jeb and Majandra Delfino played his sister, Fannie.
The show would have followed the married couple's life together on the Schrute Farm. Jeb and Fannie would also help take over the land they inherit from their aunt. NBC decided not to move forward with the idea.
Angela was going to tell Dwight she was late in season 3
Angela's pregnancy was going to be revealed much earlier in the show. Kinsey talked about the season 3 episode "The Convention" with Jenna Fischer.
"There was a different scene at the table read," Kinsey said on Office Ladies. "I believe it was at the table read. It didn't make it into the shooting draft, where I was upset with Dwight that he was going. So that was the same. And Dwight and I have this exchange in the kitchen where I'm upset with him and at the very end I say, 'I'm late.' And it's like this cliffhanger."
Kinsey added, "OK that did not end up getting shot. That did not happen because I think, Jenna, as soon as we read it out loud everyone was like 'Uhhh!'" She believed creator, Greg Daniels thought it might be too soon to do.
"That would have been crazy," Fischer said. Kinsey also mentioned the pregnancy would have been linked to Dwight asking her if she had any prescriptions like birth control in a previous episode.
The episode ended with Angela being mad because she wanted to spend time with Dwight. It was probably a good move to pushback the story. But it's a sign that the characters were destined to be tied together in the end.