'The Office': This Dwight and Jim Scene Was So Funny, the Stars Couldn't Stop Laughing and Production Had to Shut Down
Fans of The Office have a lot of favorite moments that had them laughing so hard they cried — but for the stars, filming those scenes didn't always go down without a hitch. Rainn Wilson shared one particular scene from The Office that was so funny he and co-star John Krasinski couldn't stop laughing.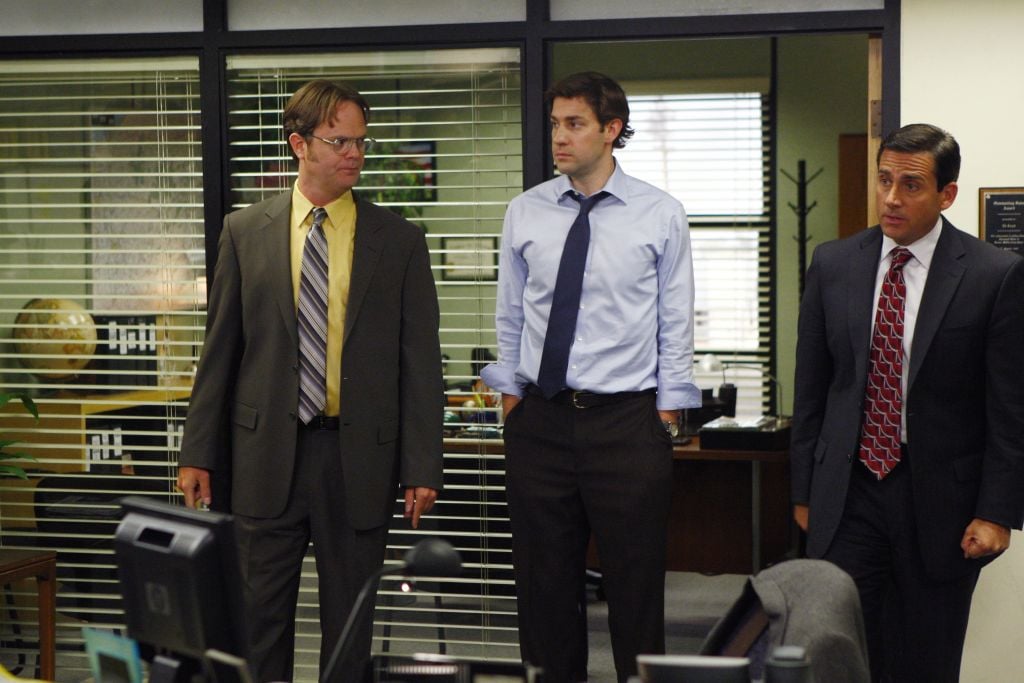 'The Office' characters plan a birthday party
In The Office Season 5 Episode 15/16 titled "Lecture Circuit," Michael visits various Dunder Mifflin branches, along with Pam, to lecture about how Scranton found success. Meanwhile, back in Scranton, Dwight and Jim have to head up the Party Planning Committee after Michael takes Angela and Phyllis off the committee after they became too powerful.
Kelly gets upset when Dwight and Jim forgot her birthday so they plan a party, but demonstrate they have no idea how to decorate or plan a party theme. Dwight picks drab gray and brown balloons that he says "match the carpet" that he doesn't inflate enough and hangs a banner that doesn't so much celebrate the day as it literally states the occasion. When Jim reads the banner, "It Is Your Birthday," Dwight argues, "It's a statement of fact" and "is more professional" without an exclamation point. "It's not like she discovered a cure for cancer," he insists.
Their discussion about the party theme goes nowhere. Jim notes, "So far, our ideal party consists of beer, fights to the death, cupcakes, blood pudding, touch football, mating, charades, and yes, horse hunting."
When they present Kelly with a cake that has a piece of Chiclet gum on it, they explain that it "represents a pillow or a television… Because the fun part is you get to decide on an hour of television or an hour of napping."
This scene had them cracking up
In his 2016 book The Bassoon King: Art, Idiocy, and Other Sordid Tales from the Band Room, Wilson shares some memories from his time on The Office. It turns out there is one standout moment for him when he and Krasinski couldn't get through a scene.
When asked, "How do you say all those lines with such a straight face?," he explained, "the fact is we never did. We 'broke' and laughed ALL the time. Just watch the bloopers."
"In fact we often had to hold the filming so that the laughter could die down enough to shoot," Wilson continued. "The worst culprit? Easy. Brian Baumgartner. You could sneeze wrong or say a silly word like rumpus or porcupine and he'd start to lose it."
The actor pointed to one particularly tough scene to film. "The longest inappropriate laughter was during the episode 'Lecture Circuit,' when Dwight and Jim are put in charge of the Party Planning Committee and Dwight hangs tiny brown and gray balloons and a banner that reads It Is Your Birthday," he shared. "John and I literally could not stop laughing. We laughed until we cried. Production needed to be shut down for a twenty-minute break while we gathered ourselves and returned to film the scene."
Fans spotted a continuity error in the scene
In a 2015 Reddit AMA, Wilson was asked, "What was the funniest scene to film for The Office? So funny that it needed multiple takes to finally complete?" He mentioned the party decorating scene, answering, "John and I on the party planning committee for Kelly's party. Hanging the brown and grey balloons. We COULD NOT STOP LAUGHING."
One Redditor pointed out an error with continuity that supports them doing multiple takes. "In the scene, Jim picks up a brown balloon, but later throws a grey balloon from the same hand, supporting the fact that it took multiple takes," they wrote.