'The Office': This Iconic Dwight Line Was a 'Killer Improv' Unscripted Moment by Rainn Wilson
It's one of Dwight Schrute's most hilarious lines on The Office and it was also totally unscripted.
The stars of The Office had the opportunity to improvise their lines from time to time and often, the ad lib made it into the episode. In Rainn Wilson's case, this iconic Dwight Schrute line was an improv slam dunk. During an episode of the Office Ladies podcast, Wilson and writer/co-star B.J. Novak revisited the hilarious line.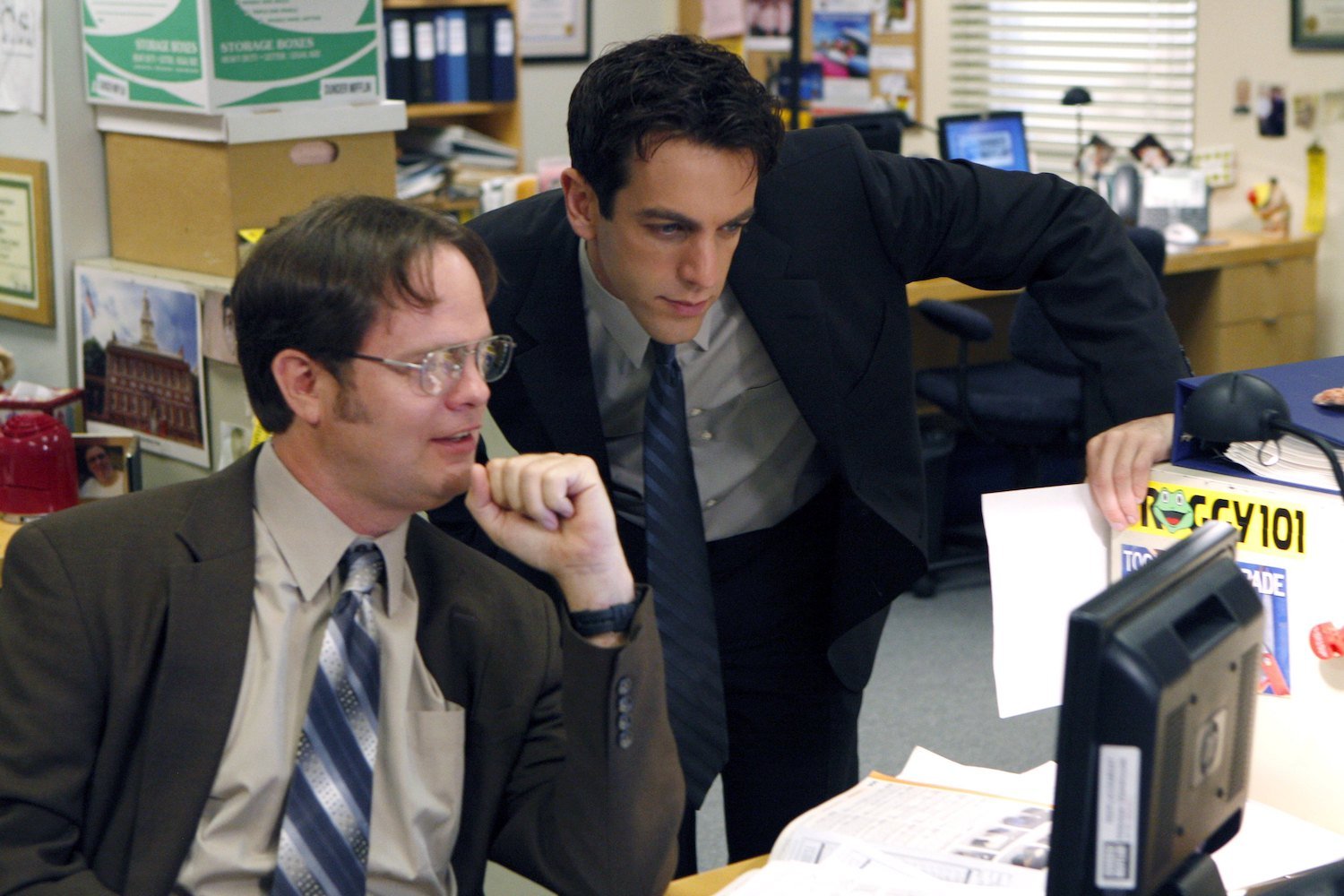 It was the first appearance of the beet farm
During the June 24 Office Ladies podcast, co-hosts Jenna Fischer and Angela Kinsey discussed season 3 episode 5 "Initiation," which involved, in part, Dwight taking Ryan to his beet farm to initiate him as a salesperson. He hopes to help Ryan avoid being a "slacker loser wiseass, like Jim" and have him join the "Dwight army of champions."
Ryan thinks he's going on his first sales call, but Dwight instead takes him to the farm for some real-world learning, which includes putting him through a number of challenges, quizzing him on Dunder Mifflin and asking what boss Michael Scott's greatest fear is. Ryan says, "Loneliness. Maybe women," to which Dwight responds, "Wrong. He's not afraid of anything. Also, I would have accepted snakes."
Wilson dropped comedy gold in this season 3 episode
While at the farm, Dwight asks Ryan to take a beet seed from his hand and attempts to keep it from Ryan but fails. The next line is totally improvised and a fan-favorite.
"And just as you have planted your seed in the ground, I am going to plant my seed in you," Dwight tells Ryan as he finishes planting it. Ryan answers, "I don't think you know what you're saying."
During the Office Ladies podcast, Novak and Wilson chatted about the scene, with Novak saying the improvised line "was a killer improv, I remember it so vividly." Novak added that he was a "very good backboard for it as a reactor," in regards to his response to Wilson's line.
Novak also felt the ad lib was genius on Wilson's part, saying, "with great respect, I considered it a dunk on me as the writer that he would just on the spot come up with the line that was probably better than any single line in the script that I had worked so hard on."
The actors felt they had the freedom to improvise
Despite The Office writers turning out amazing scripts, the actors were allowed to play around and improvise some material, a freedom that's not always given to actors.
Wilson called it "such a magical time and place to work" because they could improvise and bring their own ideas to the scenes. He shared that some writers wanted to stick more closely to the script, adding, "but in the editing room… they would just take what's funniest… and works the best and what was captured on the camera and make the episode about that."
"It was this really nice feeling," he added. "You could improvise all you wanted, it was probably going to get cut, but if you improvised and it added something and elevated it, it was probably going to make it. So everyone felt like they were a valuable contributor."