'The Office': This Rule During Talking Heads Was Broken Just a Few Times
Many fans of The Office have long wondered why they didn't hear the documentary crew ask the employees questions during the talking heads. During the Oct. 14 episode of the Office Ladies podcast, co-hosts Jenna Fischer and Angela Kinsey revealed the reason for that choice.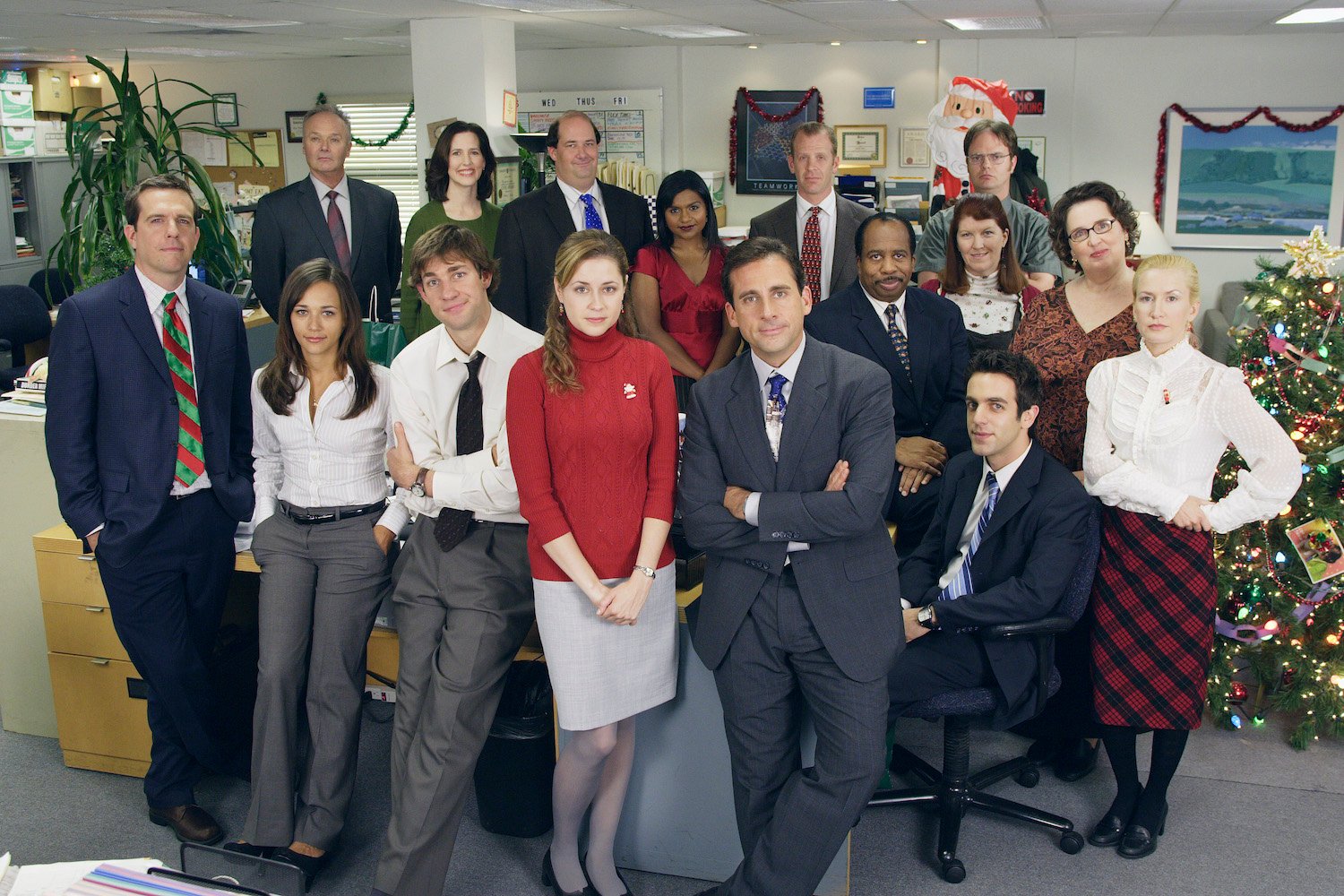 The reason the documentary crew wasn't heard on 'The Office'
During the podcast, when discussing the episode "Safety Training" from season 3, Fischer and Kinsey took some time to answer fan questions they received. A fan asked, "Can you explain the decision of the audience not hearing the questions posed by the documentary crew?"
The talking heads, the co-hosts clarified, only had the actors answering questions that the viewers never heard.
Kinsey shared, "Usually in a documentary, the camera crew wants to disappear. They want to really capture people's lives and they try not to interfere too much. I would guess … that they wanted it that way. They wanted it to really feel like a documentary."
Fischer confirmed Kinsey's thoughts and shared co-creator Greg Daniels' take on the choice. "I reached out to Greg and you are exactly right. He said they made the decision because he felt like the audience would be more invested and more connected to our characters if you didn't hear anyone asking the questions," she shared. "If your mind wasn't thinking about this crew of people filming them."
Fischer continued, "But he said they did wonder about this all the time. They wondered about, what are the circumstances when they might reveal someone from the crew."
"I remember, at least on set … but there was this big debate in the final season or ever if we reveal who the documentarian is who has been making this, who should it be," Fischer said. "And I remember the cast saying it should either be Greg Daniels or director Ken Kwapis."
She said there was also some debate that it should be cinematographer Randall Einhorn or Ricky Gervais.
Viewers do hear an off-camera voice on a few occasions
The rule for talking heads was broken a few time, however. "I guess there was a problem with this idea because Greg told me that there are a few times you do hear the voice for the documentarian and do you know whose voice it is? Dave Rogers," Fischer explained.
Fischer, however, couldn't recall Rogers, who was an editor on the show, being heard off-camera.
Rogers addressed this in a 2013 interview with OfficeTally.com, revealing it was his voice heard off-camera when Jim asked for a favor from the crew during the "A.A.R.M." episode.
Jim says, "Not enough? I don't know how else to explain it to her, so, you know what? I know it's against the rules but I'm gonna need a favor from you guys."
Someone is heard saying, "Okay. You got it, man."
Rogers said his voice was also heard in the "New Guys" episode when Jim and Pam do a talking head interview and ask if the crew has finished filming yet.
Pam: And that was our summer.
Jim: We good?
Off-camera: Yeah
Pam: Don't you guys have everything? I mean, it's just a paper company.
Off-camera: Well we're more following you guys, to see how you turn out.
Pam: Oh, yeah, because we were kind of dramatic in the beginning. Well I don't think anything's gonna change in our lives now. With work and two kids there's just-nothing interesting is going to happen for us in a long, long time.