'The Office': This Subtle Season 3 Detail Reinforced Pam Beesly's Meaningful Final Line of the Series and Most Fans Missed It
Eagle-eyed fans of The Office often notice subtle things during repeat viewings, but there's one small detail in the series that many viewers might not have noticed. During season 3, at Pam Beesly's art show, there's a clue in her art pieces that comes up again at the very end of the series. In fact, it's in Pam's final line of the whole show — and it wraps up what The Office was all about.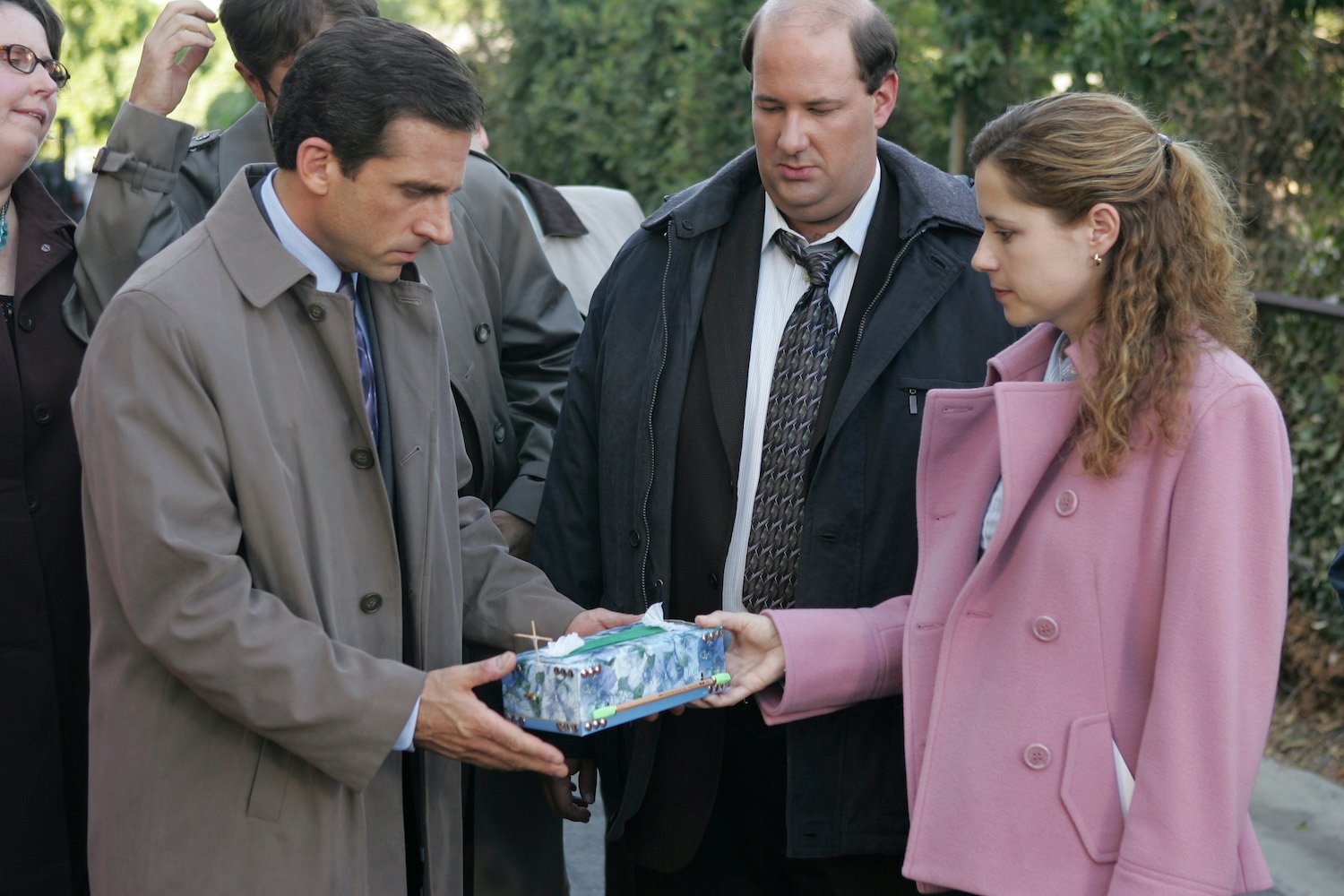 Pam's art show features some simple watercolors
During the Sept. 23 episode of the Office Ladies podcast, hosts Jenna Fischer and Angela Kinsey explored the season 3 episode "Business School," which includes a storyline about Pam's local art show. She has some watercolor pieces on display but sadly, most of her co-workers don't show up to support her.
Writer Brent Forrester told the Office Ladies hosts that there was "a crisis that happened around one of the watercolor drawings." The episode's director, Joss Whedon, believed that there was one image in the mix that he thought "was out of character" for Pam.
Production shut down so Whedon could find someone to paint a picture of a stapler.
This theory about Pam's watercolor stapler left Jenna Fischer speechless
Is one of the art pieces about Jim Halpert? Kinsey thought so — and her theory totally blew Fischer's mind.
The two explained how the stapler stood out to them in the background and Kinsey noted, "It was absolutely what Pam would have done because Pam, we already established, she's sort of drawing things in her world and she sketched a tape dispenser… it would make sense to me."
She continued, "And you know, Jim… I feel like that stapler also represents Jim. Jim put that stapler in Dwight's jello mold."
"I never thought of that," Fischer said.
Kinsey added, "I thought Pam painted that stapler because she was thinking of Jim."
"I just got chills," Fischer said after Kinsey's theory left her speechless.
Pam's art was simple but so meaningful for the whole show's message
During the podcast, the hosts discussed Pam's look for the art show, including her hair and outfit, which Fischer said she "absolutely loved." As for her art, Fischer explained that the "simple, ordinary items" Pam had created reflected "that whole theme of the show and Pam finding beauty in ordinary things."
That's exactly what Pam says in The Office series finale, in her final talking head interview — that just happens to be the final line of the entire show.
"I thought it was weird when you picked us to make a documentary," Pam says in the talking head interview. "But, all in all, I think an ordinary paper company like Dunder Mifflin was a great subject for a documentary. There's a lot of beauty in ordinary things. Isn't that kind of the point?"
The show's showrunner and co-creator, Greg Daniels, explained during the Sept. 15 episode of An Oral History of The Office podcast how that line really summed up the series perfectly.
"It's like saying that real life matters and real people are interesting so I think it was very connected to the whole fabric of the show from the get-go," he explained.