'The Office': This Tense Jim and Pam Scene 'Highlighted Their Bond' and Has the Sweetest Backstory, Jenna Fischer Revealed
There was a tense season 3 moment of The Office when Jim and Pam came together, even though he was dating Karen, for a common goal: to keep Michael Scott from getting hurt. The scene didn't have any of the Jim and Pam flirty moments that fans had seen between them in the past, but the show's writers and director used the tense moment to illustrate perfectly just how tight their bond was.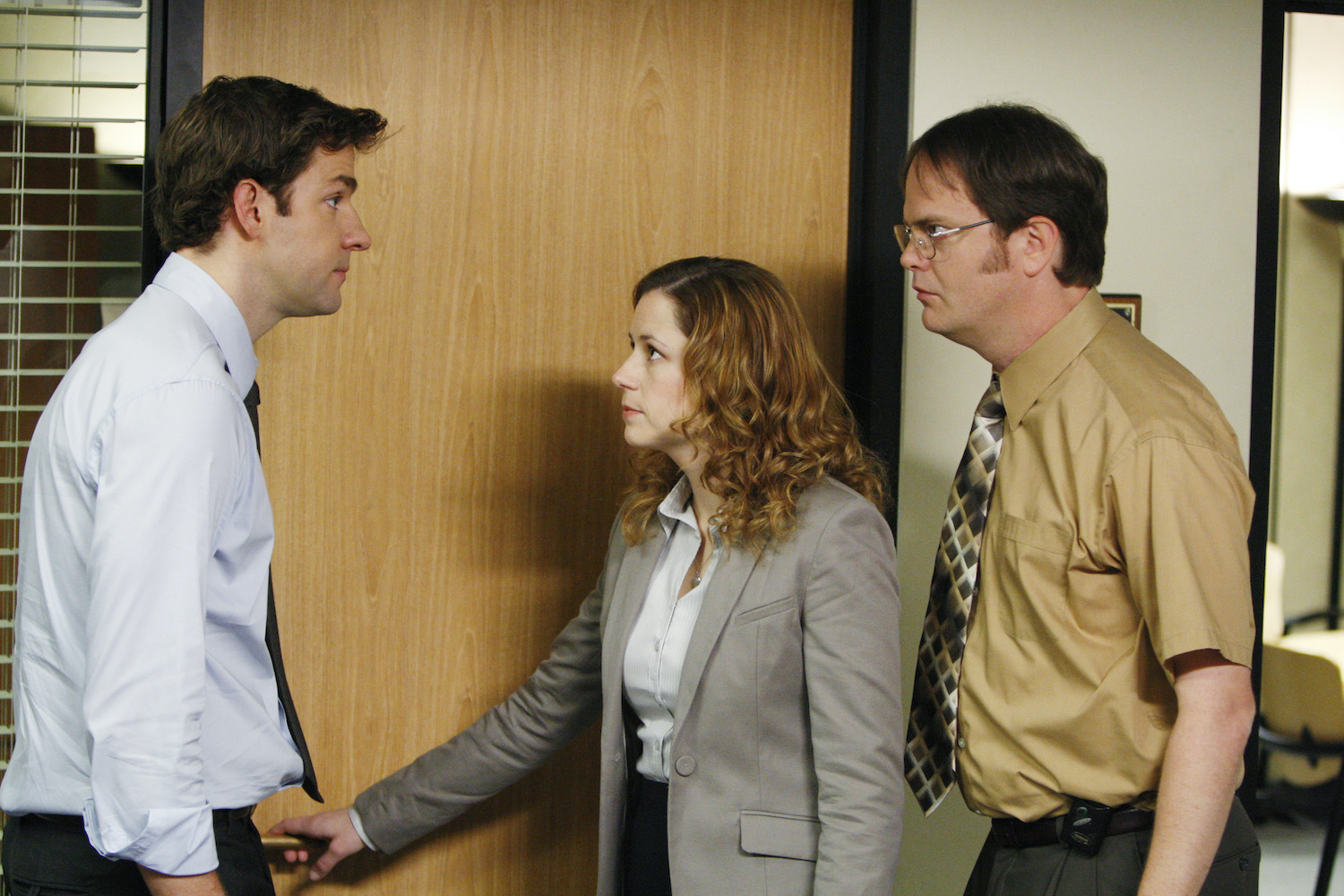 'The Office' episode 'Safety Training' got a little bit scary
During the Oct. 14 episode of the Office Ladies podcast, hosts Jenna Fischer and Angela Kinsey did a deep dive into the season 3 episode "Safety Training." The episode involves Michael's envy about the warehouse's safety training because it's much more exciting than Toby's boring office training.
Michael decides to create a dramatic demonstration about depression and suicide by creating a dangerous visual of someone jumping from the building's rooftop. He plans to use a bouncy castle to cushion his fall after delivering a dramatic speech and jumping to the inflated castle that is hidden from the employees.
RELATED: 'The Office': Fans Were So Conflicted About This Jim Storyline
Jim and Pam come together to make sure Michael doesn't get hurt
The bouncy castle is discovered and Jim and Pam immediately become concerned over the stunt, with Jim saying, "He's going to kill himself pretending to kill himself."
Interestingly, the Office Ladies note that Karen isn't near Jim in the scene at all and that Jim and Pam show team up for Michael's safety.
"All I could think of is 'Where's Karen?,'" Kinsey said of the scene. "Like Jim and Pam are sort of together in this moment. They're figuring out what Michael's up to and sort of brainstorming how to help him."
Fischer said a lot of fans had questions about that as well. She discovered "a whole plot for Karen" in the script which would have Karen trying to get to know her co-workers better and talking to people in the parking lot. That plot never was part of the episode, however.
The backstory behind this Jim and Pam scene is sweet
Kinsey explained that she discovered more about the Jim and Pam parking lot scene. She explained, "In the DVD commentary, B.J. [Novak, who wrote the episode] said he talked to Greg [Daniels, the show's co-creator] and Greg was talking to him about Jim and Pam in this scene. And he said, 'I sort of see them as a couple that have been together for a long time and they'd had a child together. And that child is Michael. And, you know, they're no longer together, they've moved on … but, like oftentimes, divorced couples who have kids, when there's a crisis with their child, they work together to help their child.'"
"They sort of have this shorthand with one another," Kinsey added, "And Karen wouldn't have known any of that history or Michael the way they know Michael."
"And so it made sense that Jim and Pam would be working together to try to make sure that Michael doesn't do something really stupid," she explained.
Kinsey said, in that context, "It makes perfect sense," coupled with the way Pam tried to lure Michael off the roof with the promise of a present — a tactic a parent might try with a child.
"I love hearing what B.J.'s thought process was when he was writing these scenes because something I really appreciated about them was that Pam and Jim were not laughing about this," Fischer noted. "This was not a joke to them. When they realized what Michael was doing, they come together very seriously to help him. This also was not flirty. This was not a flirty moment."
"But instead, really highlighted their bond," she added.
"It's like everything else didn't matter" between them, Kinsey said. "It didn't matter that they had hurt feelings over Roy, over Karen … everything that has happened between the two of them, none of that mattered. All that mattered was getting Michael off of the roof safely."