'The Office': This Theory Suggests Jan Took a Dark Turn After Her Breakup With Michael
Jan Levinson (Melora Hardin) and Michael Scott (Steve Carell) had a complicated relationship throughout nine seasons of The Office. Their on-again-off-again romance finally ended — eventually. There are plenty of fan theories circulating about what happened to Jan after the show ended. But, one might actually be wild enough to be true.
Jan and Michael's relationship timeline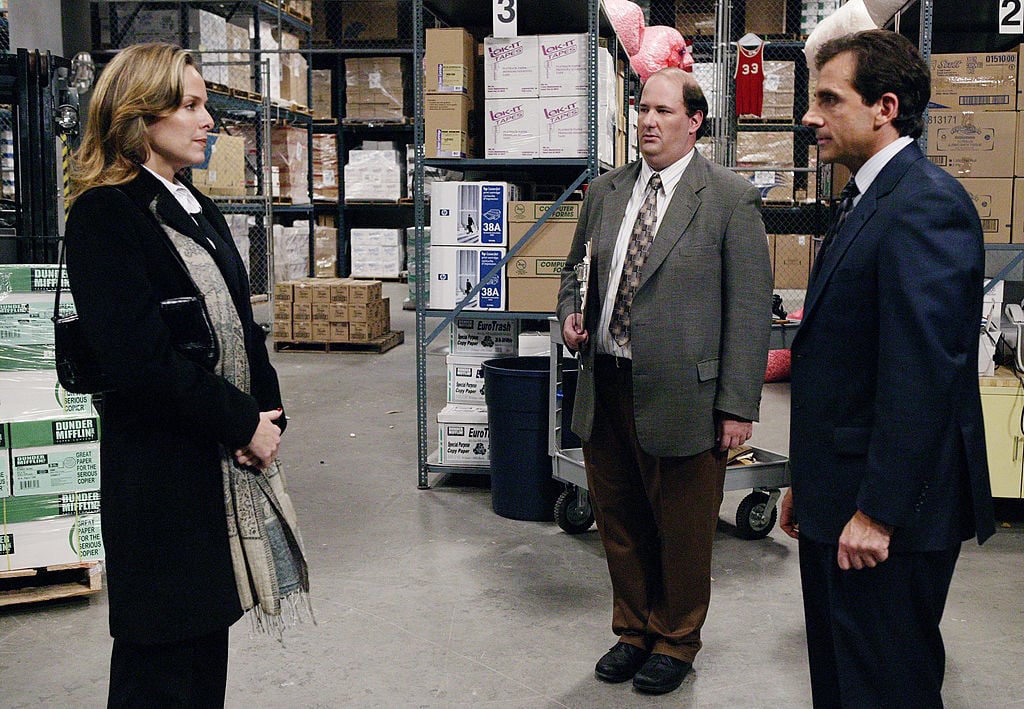 Romance wasn't the main focus of NBC's The Office, but the relationships gave the show another layer. Just like that of Pam (Jenna Fischer) and Jim (John Krasinski), another hot couple was that of Michael Scott (Carell) and Jan Levinson (Hardin).
Jan first came on as the Vice President of Northeastern Sales for Dunder Mifflin. She and Michael's paths crossed when the Scranton branch he managed had less than stellar sales numbers.
For the majority of two seasons, Jan and Michael only maintained a professional relationship, albeit with Michael's inappropriate "that's what she said" quips.
Then, toward the end of season 2, Jan's feelings changed. They became a couple after a trip to Jamaica. By season 3, Jan lost her job and moved in with Michael. That only quickened their demise. After a tense yet hilarious dinner party, the two broke up for good.
Michael eventually moved on with Toby's (Paul Lieberstein) replacement, Holly (Amy Ryan), while Jan used a sperm bank to have a baby.
The Office series finale wrapped things up with a nice bow, but some think Jan's life took a major turn.
Jan's connection to another 'hated' employee
Hardin reprised her role as Jan in the final season of The Office. By that point, she'd become the CEO of Scranton White Pages according to an NBC follow-up.
By the network's account, Michael and Holly had a happy life as the parents of four in Boulder, Colorado. Meanwhile, Jan maintained her Scranton White Pages job while working to get her daughter, Astrid, on Toddlers and Tiaras.
That's all well and good except for one uncanny connection between Jan and eccentric Robert California (James Spader), who first appeared as Michael's replacement from 2011-2012.
"How interesting would a scene between these two be? Just, I feel like it would have been one of the weirdest conversations in the entire show," one Reddit user pointed out.
Hardin and Spader worked on The Office at different times, but that didn't stop Hardin's Jan from taking a drastic turn from her Scranton White Pages career, according to multiple fan theories.
Here's what really happened to Jan
Much in the way that fans have speculated Robert California's true identity is that of Raymond "Red" Reddington in The Blacklist, Jan Levinson may have hidden her true self from Dunder Mifflin employees, too.
In season 4 of The Blacklist, Hardin guest stars as "Isabella Stone" (aka Judith Pruitt) — a woman who poses a major threat to Red. Judith was married to businessman Gavin Pruitt, who worked for Red.
When Gavin was convicted for crimes he claims he didn't commit, Red helped him fake his death and go into hiding — without telling Judith. She then became a "character assassin" and set her sights on taking down Red by "obliterating her target by any means necessary — scandal, public humiliation, extortion, theft, murder," Red said in the episode.
"Both Robert California and Jan? Wow, this is a great episode of The Blacklist," one fan tweeted.
"If Isabella Stone is Jan than could Red be Robert California @MeloraHardin #JamesSpader @NBCBlacklist #TheBlacklist #TheOffice," another added.
Considering both Robert and Jan appeared in The Office with offbeat personalities only to show up in the crime syndicate facing off, it's no stretch to theorize both led a life of lies within The Office universe.
What Hardin is up to now
The above is only one theory as to how Jan navigated the rest of her career after her time in The Office. In real life, Hardin remains close to her castmates, while working on other projects.
She may be remembered as Jan Levinson, but Hardin's credits thereafter include Scandal, Transparent, A Million Little Things, and The Bold Type. The mother of two has been married to The Bold Type co-star, Gildart Jackson since 1997.
All of that aside, Hardin and Spader have somehow solidified the idea that The Office where criminals go into hiding to prepare for all the comes in The Blacklist.