'The Office' Was Supposed to End With a Jim and Pam Plot Point
The two-part Office finale tied up a lot for fans when it came out in 2013. The episodes mostly detailed Dwight and Angela's wedding along with the events leading up to the big day.
Audiences watched Angela get kidnapped and placed into the trunk of a car in order to be reunited with her soon-to-be husband (a cherished Schrute family tradition) and the happy couple coming together as husband and wife while standing in their graves (another Schrute tradition).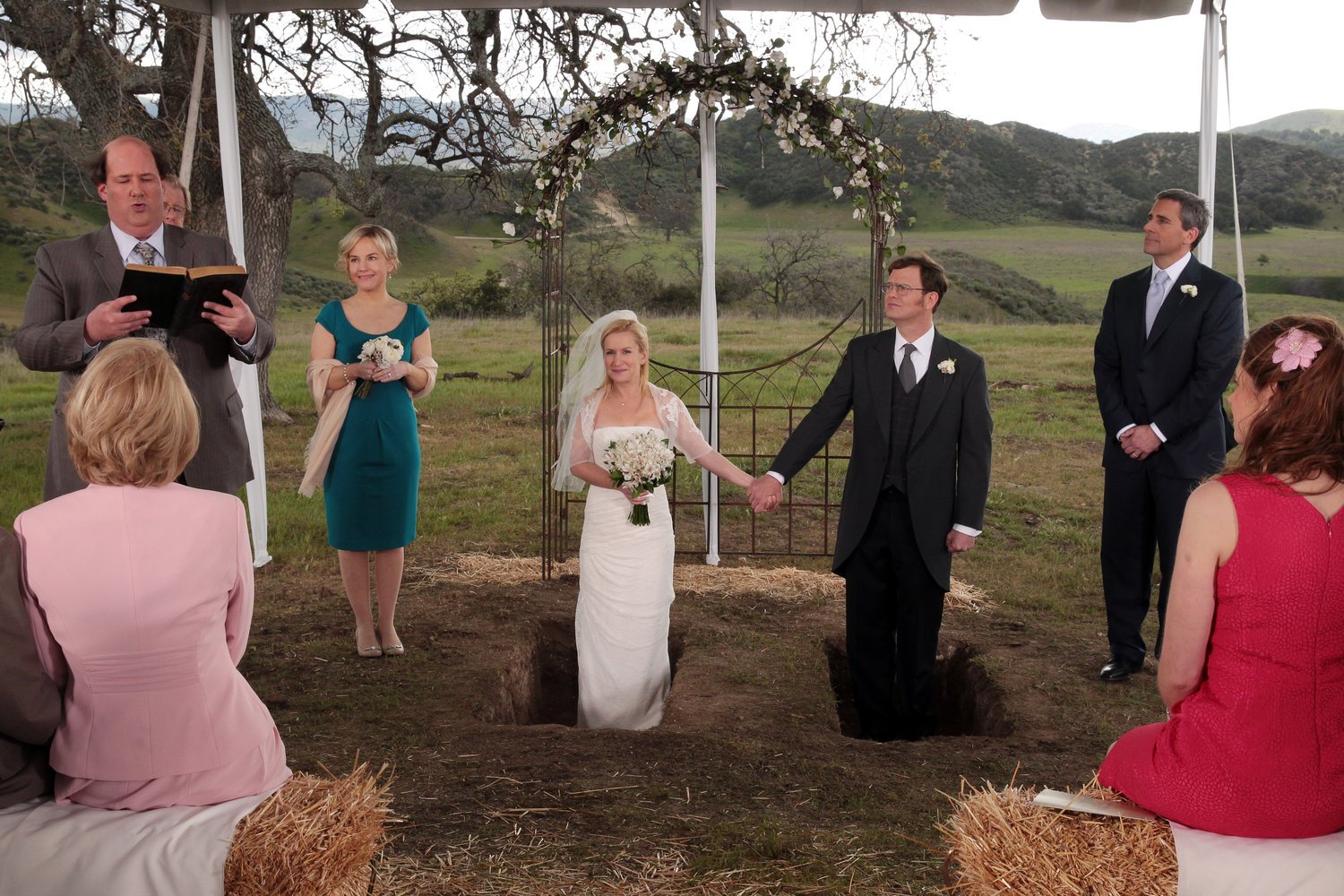 Of course, some other stuff happens. Pam puts her and Jim's house on the market so they can move to Austin and Jim can continue working for Athleap. Andy goes viral in the worst way and ends up working in the Admission's Office at Cornell. Stanley retires in Florida. And Erin finds her birth mother at the documentary cast panel. But the finale unquestionably mainly revolves around Dwight and Angela's wedding.
Dwight Schrute was almost not involved in The Office finale
Before Season 9 of The Office was finalized, there was a possibility that Rainn Wilson wouldn't be available for filming much of the season because Dwight Schrute was being considered for a spinoff called The Farm. So, initially, the plan was for the finale to revolve around Jim and Pam more than it did.
RELATED: 'The Office': Steve Carell Says Michael Scott Wouldn't Work in Today's 'Climate'
"For Jim and Pam–I felt like we didn't do arcs enough in the past years that involved them. I thought they were pretty central to the show. When you think about the end of the show, it seems to me that the show would have something to do with Jim and Pam and with Dwight, because those were, to me, the most central characters after Michael (Steve Carell) left. There was lots of discussion about what they'd do. Then we were planning for Dwight to have left in the middle of the season. So, we were kind of counting on Jim and Pam to end the series," said The Office executive producer Greg Daniels in an interview with Fast Company in 2013.
Wrapping up Jim and Pam
Daniels says he spoke to the cast about what they'd like to happen for their characters.
"I talked to all of the cast and they all had a wish list of things to happen to their characters. A lot of times it coincided with something that we as the writers had been thinking about," he said.
RELATED: 'The Office': John Krasinski Wants to Do a Reunion Episode Because He's Worried About Jim
On John Krasinski and Jenna Fischer's lists were to dive into some of their marital struggles.
"They wanted to do some of that. I thought it would be good to have more of an arc feeling and more stakes for their relationship," he said.
At the end of the day, The Office had an embarrassment of riches when it came to beloved characters. And though two episodes might seem like a lot of time, only so much can fit.
RELATED: 'The Office' Exec. Producer Greg Daniels On Why Dwight's Spinoff, 'The Farm,' Didn't Get Picked Up