'The Office': Watch the Never-Before-Seen Cold Open Featuring Michael Scott's 'Toilet Tragedy'
The Office had so many hilarious cold open scenes but there's one Michael Scott-centric show opener that never aired. Peacock shared a gift with fans by releasing the cold open clip that revolves around toilet humor.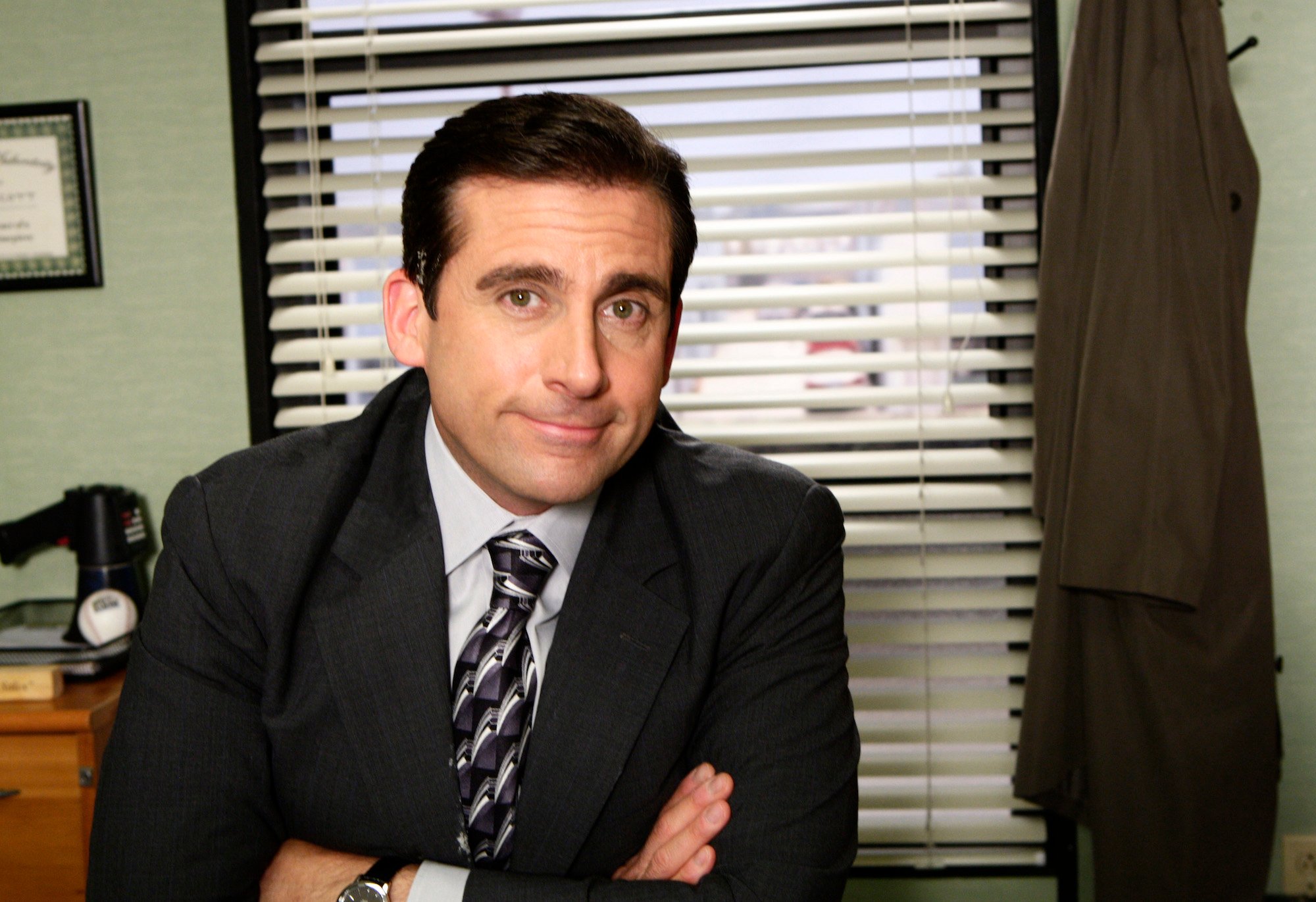 Watch 'The Office' deleted cold open scene featuring Michael Scott's 'toilet tragedy'
Peacock streaming service provides The Office superfan episodes which include deleted scenes like the cold open from the season 4 episode "Job Fair."
In the clip, Michael is screaming from the bathroom and Dwight rushes to help. The two emerge from the bathroom, with Dwight holding some of Michael's belongings on a towel. After claiming to "not want to talk about it," Michael explains how all of his things managed to fall in, beginning with his phone. It first fell on the seat but he accidentally bumped it into the toilet with his knee.
That started the ball rolling, as his Bluetooth fell next. "And then I got flustered and everything started falling in," Michael shares. "My wallet fell in, my tip calculator, my candy corn, my white strips — all fell into the toilet."
He admits, "I threw the keys in out of anger."
Michael adds, "This cannot happen again." Dwight notes, "That's what you said last time."
His co-workers find it funny and Dwight points out, "Technically, it is toilet humor, which you claim to enjoy."
Michael doesn't quite see it that way, however, saying, "It is not toilet humor, it is toilet tragedy."
Michael invents a toilet guard but the employees aren't impressed
Michael shares how the bathroom incident is "the best thing that ever happened to me" because it sparks him to invent a product. He emerges with his invention, saying, "Out of great tragedy is the mother of invention" which he claims "will change the way that we all do business … so to speak."
Michael presents his "mesh toilet guard," which includes a tennis racket head and a cleaning tool. No one wants to try his invention, however.
In a talking head, Creed notes, "Here's an idea: Add a handle to that puppy and you've got yourself a tennis racket."
Jenna Fischer and Angela Kinsey discussed the deleted cold open on 'Office Ladies'
During an April 2021 episode of Office Ladies, hosts Jenna Fischer and Angela Kinsey discussed the "Job Fair" episode and Kinsey asked Fischer if she noticed the episode didn't have a cold open.
"We have a scene before the credits, but it's on plot," Fischer explained. "It's on story. It's not one of those standalone comedic cold opens."
Kinsey gave a synopsis of the cold open, based on the script. Following Michael's bathroom mishap, Kinsey said he has "this light bulb moment."
She continued, "And he goes into his office and he comes out and he's like, 'Guys, I have invented this amazing invention.' And he says it's the mesh toilet guard to go over the toilet."
There's a callback to 'The Office' deleted cold open
The deleted cold open scene got a mention in another episode, when Michael references his idea for "toilet buddy – it's a net, a circular net you put inside the toilet."
Fischer and Kinsey discussed it during their Office Ladies deep dive into the season 5 episode "Golden Ticket." Fischer noted there was a "callback to a deleted scene … the toilet buddy."
Kinsey explained, "That's right, this is a deleted scene from 'Job Fair.' Remember, Michael comes out of the bathroom flustered because all the contents of his pockets fell into the toilet … And he says then, that he had this brilliant idea about this mesh toilet guard cover."
She continued, "Now Jenna in the episode, Michael calls it the toilet buddy. But in the shooting draft, it was called the toilet guard. And I think in the moment, Steve called it toilet buddy, because then he corrects himself as Michael. "He goes, 'Previously known as the toilet guard.' So I think that's just Steve staying in the moment but catching that he had flubbed a line."
RELATED: 'The Office' Star Jenna Fischer 'Really Loved' This 'Sleeper' Episode: 'Steve Carell Just Is Brilliant'