'The Office': What Jan Saw in Michael Scott, According to Melora Hardin
The Office fans loved watching the evolution of Michael Scott and Jan Levinson's relationship, even if they knew it was never going to go the distance. Melora Hardin, who played Jan, shared her thoughts on Jan and Michael's relationship during The Office Deep Dive podcast, including why she thinks Jan was into Michael.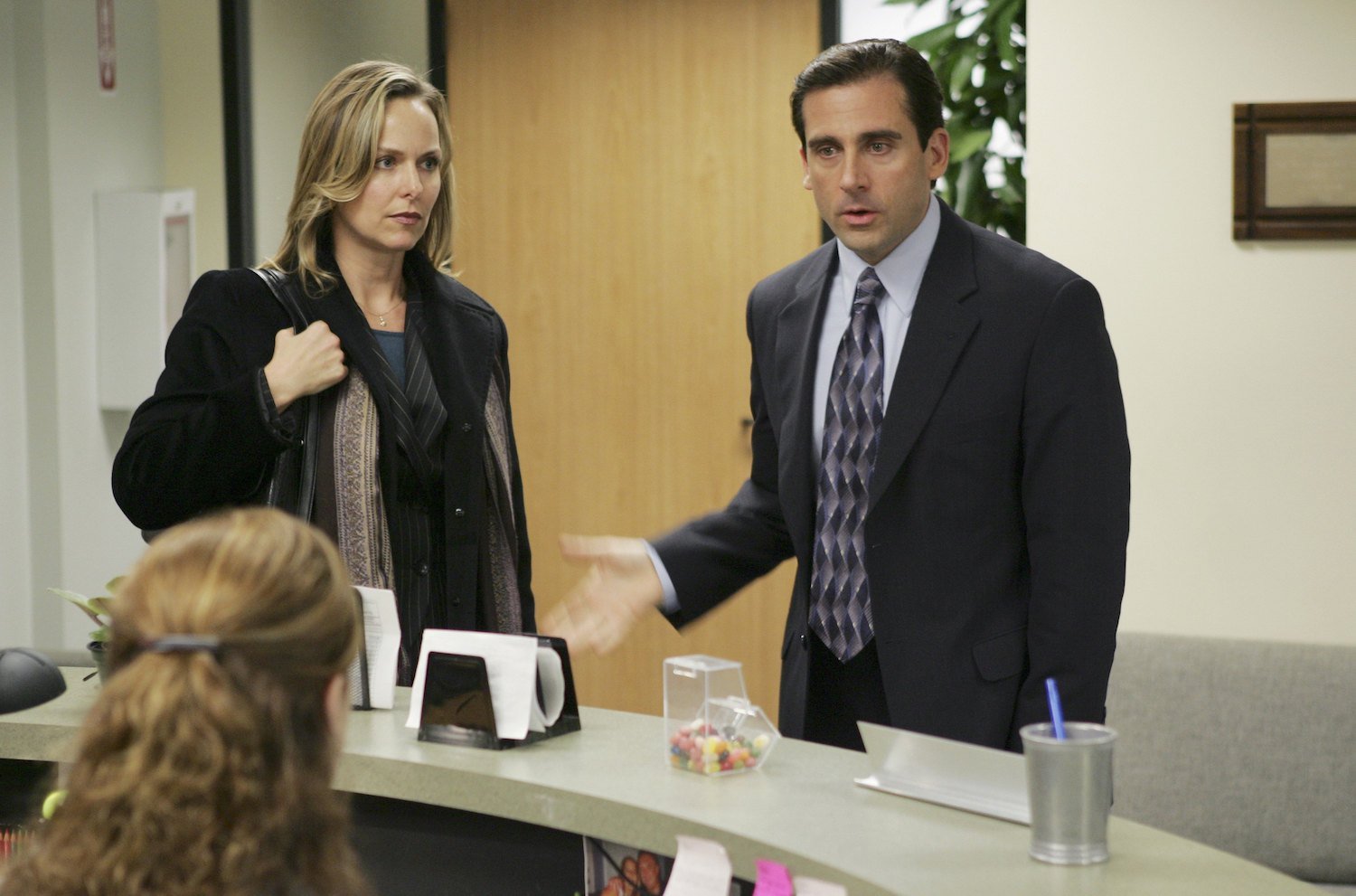 Why did Jan like Michael Scott on 'The Office'?
Jan and Michael never seemed to be the ideal couple, which created a lot of comedy moments between the mismatched characters.
During the June 15 episode of The Office Deep Dive podcast, host Brian Baumgartner spoke with Hardin about what she thought Jan saw in Michael.
The actor gave some insight into the characters' relationship. "I feel like she was really brought up in a man's world," Hardin said. "I think she became more masculine in her affects and her behaviors than she actually was inside. And I felt like some part of her was really sort of sad about the loss of her femininity. I feel like that Michael kind of puppy-like adoration of her made her feel more feminine and more womanly and more like she could just be softer with him."
She admitted that Jan wasn't softer with Michael on the outside, however. "I just think inside … he just wouldn't stop coming after her even when she was a total b*tch to him," Hardin explained. "I think that just made her feel loved and like she could let down a little bit of that masculine guard, that learned behavior."
Melora Hardin thinks Michael and Jan loved each other, but were dysfunctional
When Baumgartner asked if there was "real love" between Michael and Jan, Hardin said she thought so but, of course, their relationship was anything but healthy.
"Yeah, I do," she said. "I think it was completely dysfunctional, but I do. I think she didn't even know that she was in love with him. I think she was."
Baumgartner spoke about how Michael is looking for family and has a "need and desire to be loved," so "landing the boss… that, for him, is a huge win and I think raises himself up in his own mind."
Hardin shared that she really believed that Michael "was all wrong" for Jan, but that she still found him attractive. "I think she was really focused on climbing that corporate ladder and forgot about her need for companionship," the actor explained. "And I think he was all wrong in every way and there was something that was undeniably attractive about that for her."
Hardin further pinpointed how Michael adored Jan and was so proud of their relationship, but Jan didn't reciprocate that. "And she was just like, 'You are so stupid. But I like that.'"
"She kind of liked being his trophy even though she found him ridiculous, I think," she added.
There was a spark in the pilot between Jan and Michael
Hardin said that it seemed apparent from the beginning that Jan and Michael would have some kind of relationship. "It was really something that Steve and I and [creator] Greg Daniels noticed in the pilot," Hardin said, recalling they had lunch together and discussed how "there's some kind of an interesting spark between Michael and Jan. There's something about them."
They discussed how the relationship might become a reality if the show got picked up after the pilot.
"I think there was just a titillation that it added to the show in the same way that the Pam and Jim love story had a little bit titillation to it," Hardin noted. "And also because the Michael and Jan story was like, there was something really right about it but also something so wrong."
"It's just kind of delicious," she added.