'The Office': Why Angela Kinsey Slapped Rainn Wilson 13 Times for 'Casino Night'
Angela slaps Dwight in an episode of 'The Office' for kissing her. Find out why Angela Kinsey had to slap Rainn Wilson 13 times and more.
Angela Martin (Angela Kinsey) and Dwight Schute (Rainn Wilson) had an affair for a long time. Sometimes that led to awkward moments on The Office. One of them was when Angela slapped Dwight for kissing her. Find out why Martin ended up slapping him 13 times.
Rainn Wilson accidentally took down Angela Kinsey while filming 'The Office'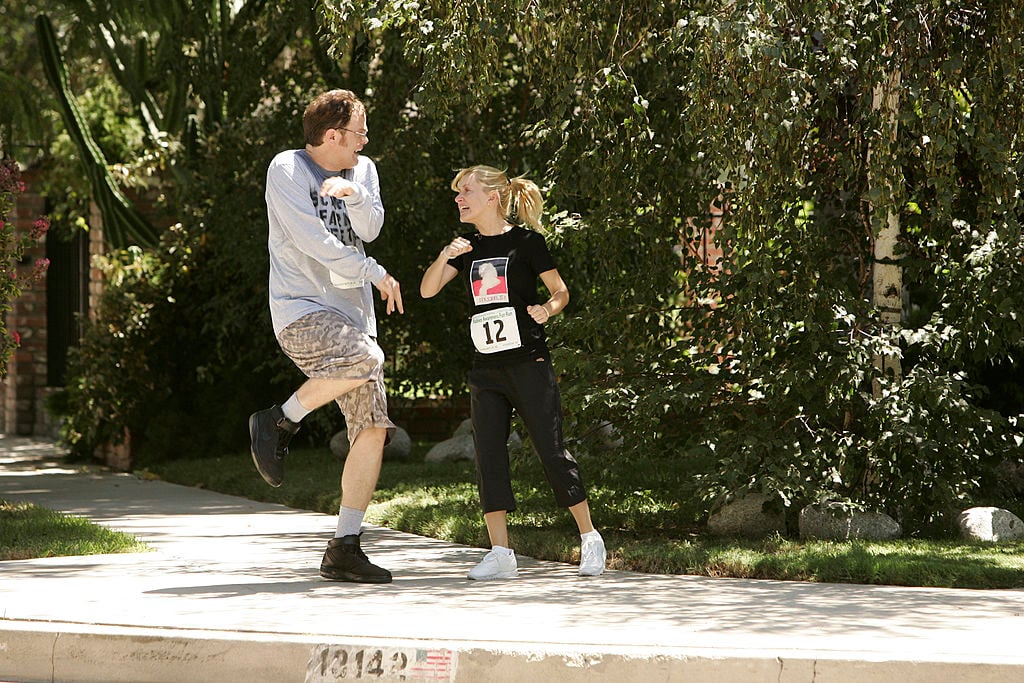 Wilson is known to get intense when he's filming a scene where Dwight gets physical. That was the case when he filmed the cold open for "Dwight's Speech."
Dwight and Michael are tossing around a football in the office. Dwight ends up pushing Ryan (B.J. Novak), shoves Creed (Creed Bratton), then pushes Stanley (Leslie David Baker.)
Kinsey said on the Office Ladies podcast, "I will never forget this cold open." That's because Wilson accidentally took her down because she was behind Baker.
"Let me tell you something, Leslie was not ready for that shove. … Rainn came at him full throttle and shoved him," she said. "Leslie went flying, he lost his balance completely. He went almost butt-over-head, but there was someone directly behind him: a tiny blonde person."
The two characters started a secret relationship in season 2. They then continue their relationship for some time even when Angela was technically in a relationship with someone else.
She slapped him 13 times for 'Casino Night'
Dwight kisses Angela on the cheek after he rolls the number he needs in "Casino Night." They are secretly together so this was a big deal and Angela slaps him. A fan asked if Kinsey got the slap right the first time on Office Ladies.
"No, I did not get it right the first time," Kinsey answered. She still has her journal that she wrote in while working on the show and revealed what she wrote about the scene.
"I wrote that I was really nervous to slap Rainn at first. You know my slap was kind of timid," she revealed. Kinsey was scared of hurting him and they weren't faking the slap.
"I guess my timid little slap wasn't working so Rainn said, 'Listen, Ange just go for it. I can take it.' So I started really slapping him and I wrote that it took us about 13 takes to get," she said. They also had an issue because of their significant height difference.
"It wasn't really easy for me to reach his cheek and one time my aim was really off and I missed his cheek and I slapped his ear so hard," she said. Kinsey said there was a ringing in his ear from it. Another slap landed on his glasses and she knocked them sideways. She pointed out that you can later see how red Wilson's face is from being slapped 13 times in the episode.