'The Office:' Why Ed Helms' Film Schedule Caused Some 'Arguments' On the Set
Legendary sitcom The Office launched several cast members into stardom. Steve Carell, John Krasinski, and Mindy Kaling are just a few of those now enjoying mega celeb status.
Ed Helms also hit it big with the NBC comedy as well as his 2009 box office hit The Hangover. Yet when his schedule for the movie began to conflict with his time playing Andy Bernard on The Office, some of his colleagues were less than thrilled.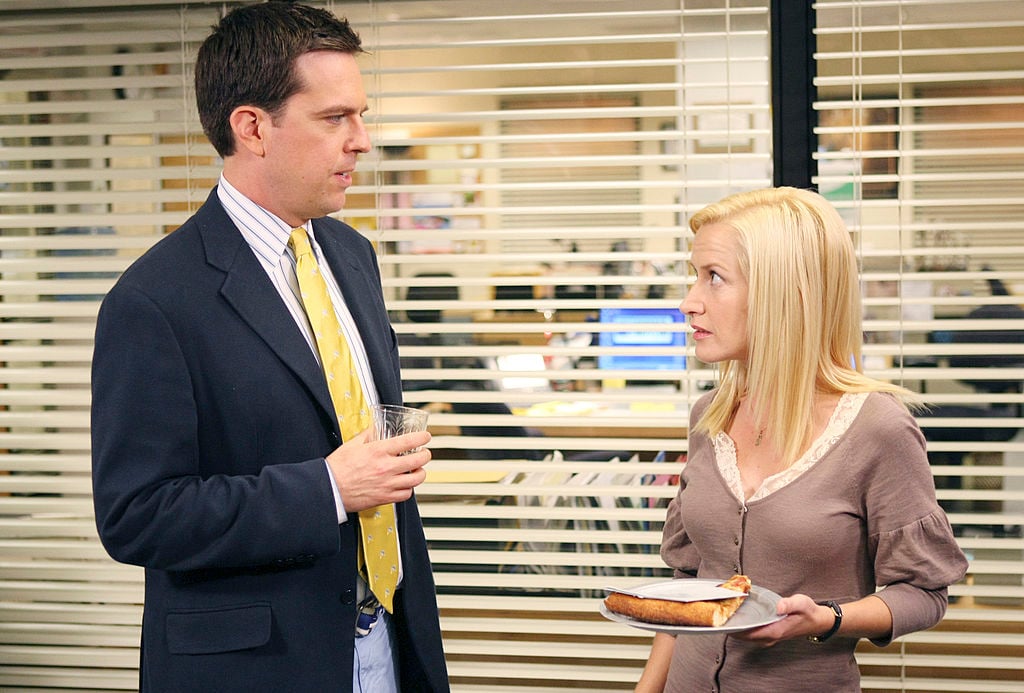 Stars of 'The Office' hit the big screen
With the sitcom's success, it was only a matter of time before some of the cast began getting film roles. Carell was already being sought for movie casting after starring in The 40-Year-Old Virgin, and soon his co-stars were fielding offers for roles as well.
"Agents and managers were constantly calling me and saying, 'My client needs out for this job,' " producer Randy Cordray recalled in Andy Greene's book The Office: The Untold Story of the Greatest Sitcom of the 2000s. "He's being offered a cameo, or a role, in a feature film during these dates. Can you accommodate?' So my job was to build the calendar each year taking all of this into account."
Arrangements were often made for Carell since he was the central character and in high demand from film producers. While The Office team was directed by executive producer Greg Daniels to try and accommodate all of the actors with scheduling other projects, it soon became a challenge.
"Greg felt that it was essential to try and accommodate these actors in these various roles and their scheduling conflicts," Cordray said. "Now, we had first position on all of these people… They were contractually obligated to The Office, so it was a courtesy to try and spring them from our shooting schedule to go do these other projects."
Ed Helms gets 'The Hangover'
When Helms landed a role in the comedy The Hangover, sitcom producers wanted to do their best to make room for the actor's time in Las Vegas where the film was being shot. Balancing both schedules soon became burdensome for production staff and Helms' co-stars.
"It caused an enormous amount of scheduling difficulties," Cordray revealed. "Whatever scenes Andy played with other actors, you had to cross-check the calendar to see if there were conflicts."
Soon, Helms' required time on his film set began to muddle his co-stars' agendas. "It made the show infinitely more complex and difficult to schedule and I can't say it did not affect other people's schedules," Cordray added.
'The Office' cast begins to lose patience
Since Helms had a substantial role on the NBC sitcom, the demands for his time on The Hangover became problematic for his Office co-stars and a big headache for producers.
"If there were conflicts people would say, 'Hey why can't I have that day off? I need to do this project.' " Cordray shared. "I'd have to say, 'I'm very sorry. That's a day that we only have Ed Helms. And you perform with Ed Helms in this scene…' They'd go, 'But Ed Helms is number thirteen on the call sheet, and I am higher than him.' "
While cast members gave more leeway to Carell's schedule since he had been with the show from the start, Helms didn't join the sitcom until season three and was seen as having less tenure, which caused tension when he required accommodations.
"I want to tell you I didn't have a lot of these arguments, but occasionally I did, and it presented scheduling difficulties," Cordray said, adding that he understood everyone's viewpoint. "When other actors would do projects, they would go, 'Hey, you made it work for Ed Helms. You need to make it work for me.' And that was a valid argument. I couldn't very well shoot that down."
Despite the frustrations with the show's timetable and juggling the actors' outside pursuits, The Office never lost footing and consistently pulled off comedic genius.