'The Office': Why James Spader Didn't Fit in With the Rest of the Cast in Season 8
James Spader replaced the one and only Steve Carell on The Office. While Spader is a talented actor, Rainn Wilson, who played the devoted Dunder Mifflin employee Dwight Schrute, says Spader didn't necessarily fit in with the rest of the cast on The Office. Here's why.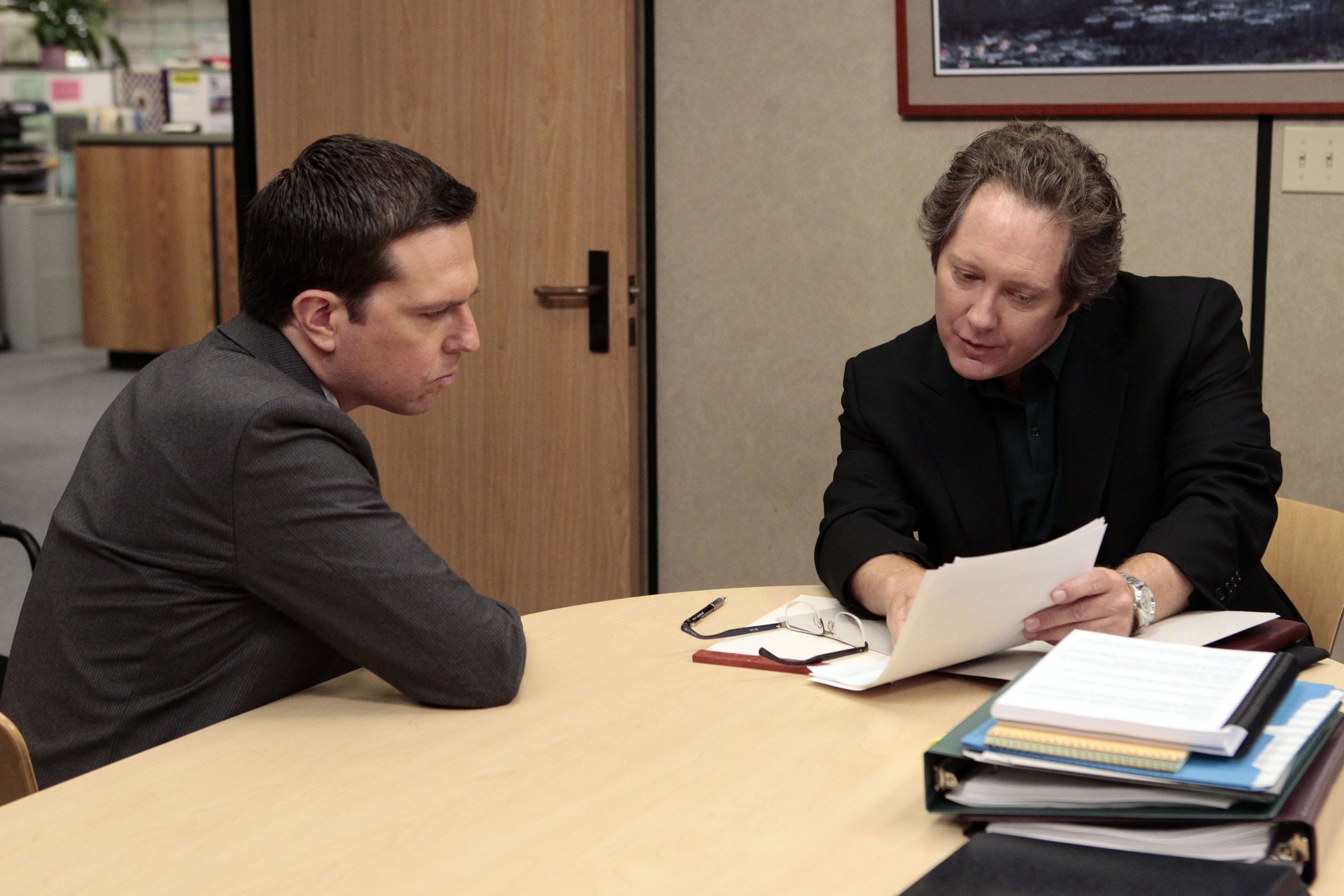 Steve Carell left after season 7 of 'The Office' 
Writer Greg Daniels saw Carell's exit from the show before it occurred in 2011. When the other Office cast members were renewing their contracts for the show's final two seasons, Carell did not. 
"At that point, it was pretty clear [Steve wouldn't be coming back]," Daniels explained on Office actor Brian Baumgartner's podcast, An Oral History of The Office. 
Paul Lieberstein, who played Toby Flenderson, also saw Carell's exit coming. "He could have made a lot of money [renewing his contract]," he said. Sadly, the landscape of television was changing. With streaming growing in popularity, major networks were focused on keeping up. And having Carell around for the conclusion of The Office wasn't a priority at the time.
"It made me so depressed how [the network] had blown something that they could have saved," producer Ben Silverman said.
Editor Claire Scanlon added, "Steve said he would have come back, but [the network] didn't even try."
James Spader became the new regional manager of Dunder Mifflin Scranton 
Many fans weren't sure the show could go on without Carell's Michael Scott. During the season 7 finale, viewers met several candidates in the running for Michael Scott's position. Spader and comedians including Jim Carrey, Ray Romano, Will Arnett, and Will Ferrell were interviewed for the position on the show.
Ultimately, the "search committee," which consisted of Jim Halpert (John Krasinski), Toby Flenderson (Lieberstein), and Gabe Lewis (Zach Woods), decided Spader's eccentric Robert California was the right fit for the job.
Robert California spent all of a day as the Scranton branch manager. As Jim explained in a talking head: "[Robert] took one look around and left. He drove down to Florida and convinced Jo to make him CEO. CEO. Her own job. He talked her out of her own job and I don't really know how someone does that."
James Spader has admitted his 'energy didn't fit' with the rest of 'The Office' cast 
On the surface, Robert California fit into the narrative of The Office. But behind the scenes, Spader's approach to acting didn't fit with the rest of the cast. According to Wilson, Spader could not improvise well. 
"If you threw [a joke] in [while filming], it would completely throw [Spader]," Wilson said to Baumgartner. "He had no idea what would come next or how to get back to his line." 
Jenna Fischer, who played receptionist Pam Beesly, added how Spader would want to rehearse his lines before shooting. He was joining a cast who worked together for over seven years, so no one rehearsed anymore. 
"Yeah, we stopped doing that season 3, James," Fischer joked on the podcast. 
Like Wilson, Baumgartner also said Spader's acting style was drastically different from The Office cast.
"Spader is a great actor," Wilson conceded. "He's one of the great character actors — he's so present and interesting and odd and deep-feeling but just a very different skill set. His energy just didn't — and he's admitted that after the show — it just didn't fit." 
Despite joining a cast who possessed a certain rapport, Spader did his best to make fans of The Office laugh through his role as Robert California.