'The Office': Why Jenna Fischer Called Jim and Pam's Tense Fight a 'Complicated' Moment for Her and John Krasinski
Jenna Fischer called this tense fight scene with John Krasinski on The Office complicated. Find out why she ended up in real tears.
At the heart of The Office was the relationship between Jim (John Krasinski) and Pam (Jenna Fischer). Over the seasons, fans watched as they dated, got engaged, pregnant, and married and enjoyed their many romantic moments. Then the final season introduced tension between Jim and Pam, with a memorable fight playing out in one season 9 episode. Fischer explained to Glamour a the time why that fight was "complicated" for her and Krasinski.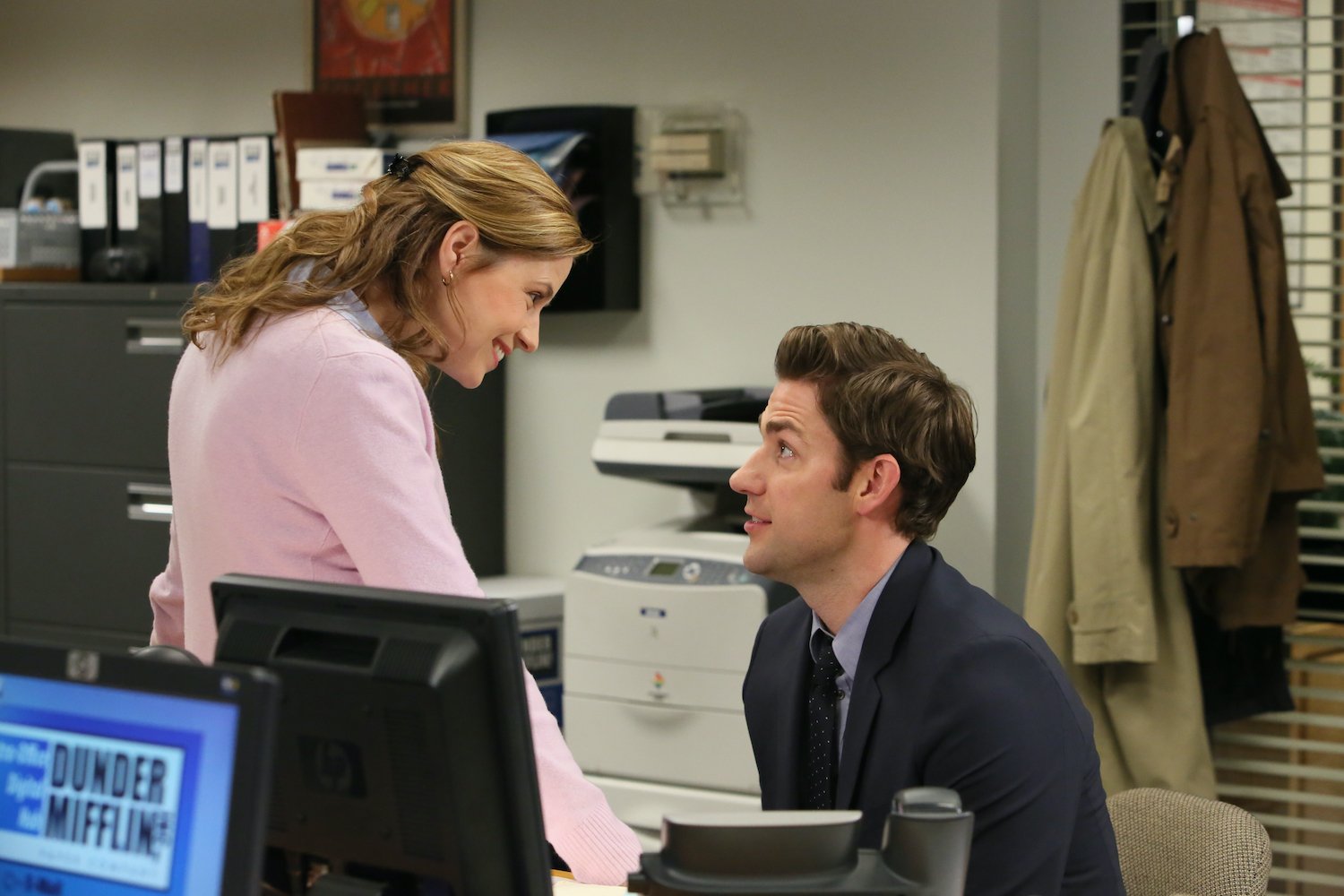 Jim and Pam's fight was a different side of the characters
When fans were first introduced to Jim and Pam, they witnessed their amazing chemistry — but circumstances didn't allow them to be together for some time. Pam was engaged to Roy and when Jim finally confessed he had feelings for Pam, she rejected him. Even though they shared a kiss, Pam couldn't entertain a relationship with Jim because she was going to marry Roy. Eventually, Jim and Pam's timing worked out.
In season 9 of The Office, Jim had moved to a part-time work arrangement so that he could pursue a start-up company in Philadelphia. Pam supported him, but the time he split between Scranton and Philadelphia put a strain on their marriage because he wasn't home as much with Pam and the kids.
Jim snapped at Pam when she messed up recording their daughter's dance recital and the moment was devastating to watch play out. It was the first time that viewers got to see the documentary crew too, as Pam asked the boom operator Brian, "what am I doing wrong?"
Fischer said the fight with Krasinski was complicated
In a 2013 red carpet interview with Glamour, Fischer was asked about the fight between her character Pam and Jim. The interviewer remarked, "By the way, I cried on Thursday night's episode… you were fantastic. I would imagine the emotions are real and on the surface like that just because it's the end of something so amazing after all these years."
"It's true and you know, John and I are so close and he's such a good man and to have him, kind of, be so angry and upset… like, even though I know it's fake, the idea that he would be upset with me made me very emotional, naturally," Fischer explained. "So, it was all… it was complicated and it was also really exciting."
Jim and Pam got in an earlier fight and Fischer cried real tears
During the March 25 Office Ladies podcast episode, Fischer shared some insight into a fight Jim and Pam got into during season 2 episode 15.
Jim shares his encouragement when Pam talks about an internship opportunity but her fiancée Roy is not supportive. When Pam talks to Jim about Roy's lack of support, he tells her, "You gotta take a chance on something sometime Pam. I mean do you wanna be a receptionist here always?"
"This episode is Jim and Pam's first fight," Fischer explained during the podcast. "It's a real fight."
Pam ends up in tears during her talking head interview — a moment Fischer said she really cried during.
"Guys, there are times as an actor where your heart just breaks for your character. I just felt her heart breaking and it made my cry," Fischer explained.
She continued, "It's in the same way where it makes you cry when you watch something. I wasn't thinking about my dead pet or something like that. I was thinking about how it must feel to have someone not encourage you, to feel trapped, and to feel so alone. And I thought about how the one person who was trying to help me I just pushed that person away."