'The Office': Why Jenna Fischer's Co-Star Described Her as 'Not the Jennifer Aniston'
The iconic NBC sitcom The Office remains legendary in the world of comedy. Launching the careers of several cast members, including Steve Carell (Michael Scott), John Krasinski (Jim Halpert), and Jenna Fischer (Pam Beesly Halpert), the series maintains its mass following thanks to streaming services.
One of the main storylines on the show highlighted the evolving relationship between Jim and Pam. Rather than going the glam route, Fischer purposely took on a more subdued look for the role of the Dunder Mifflin receptionist when she tried out for the part.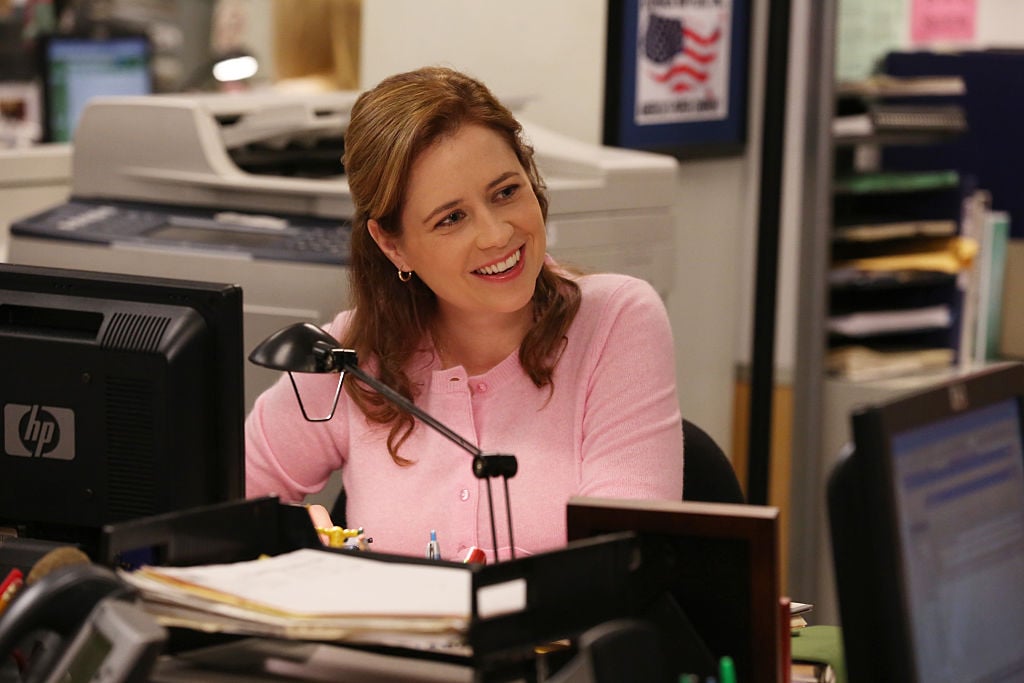 Jenna Fischer made Pam a woman of few words
According to Screenrant, Fischer used her previous experience as a receptionist and administrative assistant in her audition for The Office casting directors. Limiting her conversation during her performance to the point of giving just one-word answers, the actress's strategy won over producers.
"My take on the character of Pam was that she didn't have any media training, so she wouldn't know how to give a good interview," Fischer told Andy Greene, author of The Office: The Untold Story of the Greatest Sitcom of the 2000s. "The first question that they asked was 'Do you like working as a receptionist?' I took a long pause and said, 'No.' … I didn't speak any more than that. … The silence went on for what seemed like an eternity. And then, they started laughing. I committed to the same tactic."
Showrunner Greg Daniels was floored by Fischer's authentic performance. "After her first audition I was like, 'How did you do that? Are you a real receptionist?'" he said.
'The Office' star goes against the glam as Pam
Taking a wholesome approach to portraying the Dunder Mifflin receptionist, Fischer took the advice of casting director Allison Jones on forgoing the glam.
"When I got my first call to audition I spoke with her and she said her notes were to really downplay my looks, like don't at all try to be pretty, no makeup," Fischer said of Jones' directions in Greene's book. "I said, 'Really?' That's because usually casting directors say, 'Okay, be really hot. Be hotter and sexier than you need to be.' But she said, 'Be as plain as possible and dare to bore me."'
Jones knew Fischer would nail the part in actions and appearance.
"Jenna always seemed like the right type for it," Jones told Greene. "She's also hometown pretty. … Jenna has that sort of girl-next-door thing, and also not that exciting. … She's not threatening in any way."
Jenna Fischer and John Krasinski become the perfect match
While Krasinski had that "boy-next-door" look, some of his co-stars felt he radiated a certain level of celebrity, which was the perfect contrast to Fischer.
"John always had this sort of star quality to him," Kate Flannery, who played Meredith Palmer on the show, told Greene. "Jenna is a slightly unexpected heroine. She's not the Jennifer Aniston. Her beauty is more subtle. There was such a sense of balance there."
What resulted was one of the most iconic relationships in television history.
"I could get emotional just watching John and Jenna just filming a scene," co-star Creed Bratton shared. "It felt romantic. I could be across the room, glance up, and see the look. It was all in the eyes. They had a real special rapport."
The Jim and Pam love story lives on in the hearts of diehard fans of The Office!