'The Office': Why Mindy Kaling Called Steve Carell 'Nice' But Added 'It Is Scary'
Mindy Kaling portrayed Kelly Kapoor for all nine seasons of The Office. In tandem with her acting role, Kaling also served as a writer and co-executive producer of the hit sitcom. Working closely with Steve Carell (Michael Scott), The Office alum revealed she had some theories on what may be hiding under that nice-guy persona.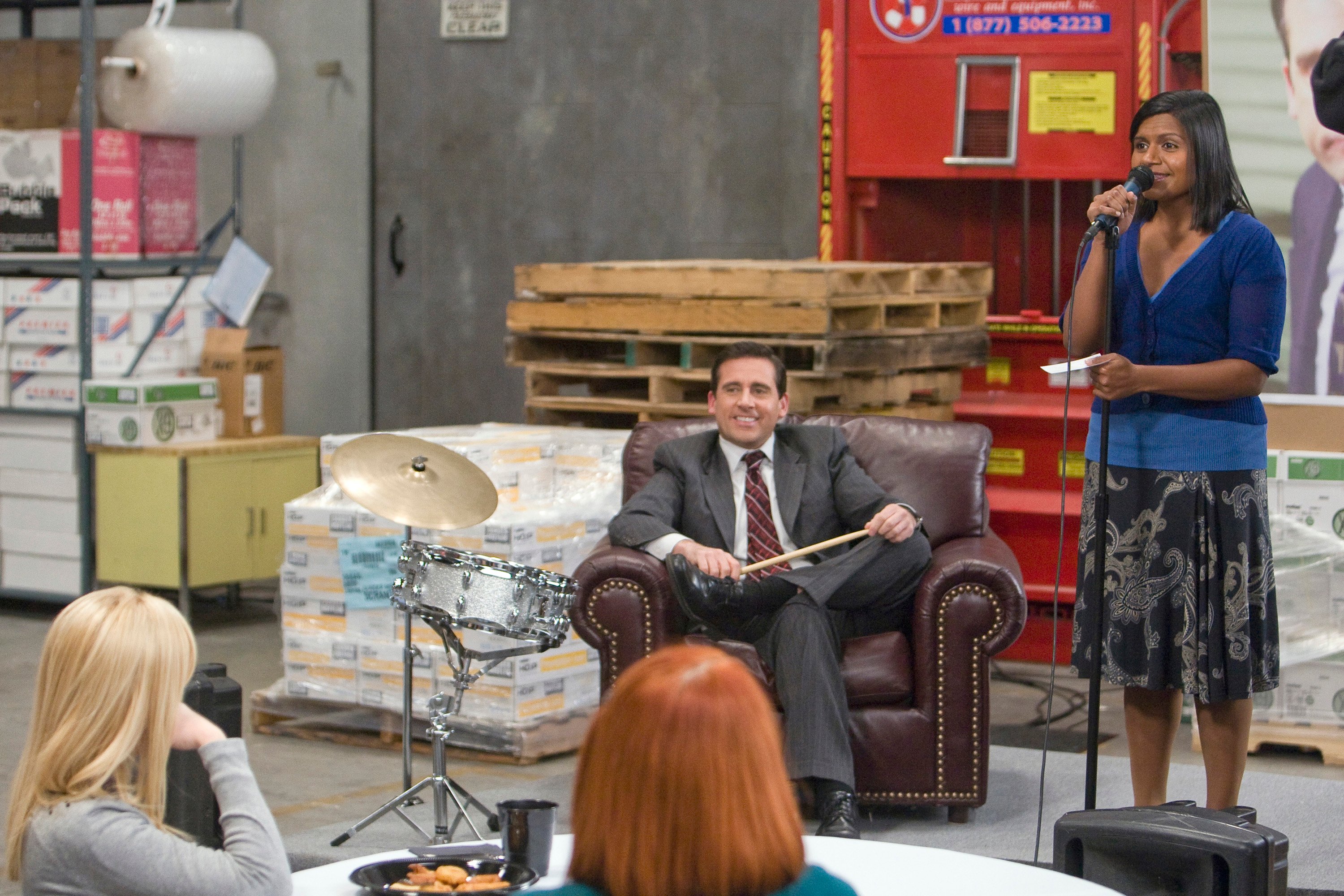 Mindy Kaling described Steve Carell's 'niceness' while filming 'The Office'
In her book Is Everyone Hanging Out Without Me?, Kaling attested to Carell's kindness and shared that his reputation of being so down-to-earth is the real deal.
"It has been said many times, but it is true," she wrote in 2013. "Steve Carell is a very nice guy. His niceness manifests itself mostly in the fact that he never complains. You could screw up a handful of takes outside in 104-degree smog-choked Panorama City heat, and Steve Carell's final words before collapsing of heat stroke would be a friendly and hopeful 'Hey, you think you have that shot yet?'"
Kaling also raved of Carell's intelligence, yet considered someone of his authentic caliber to be a bit off-putting.
"I've always found Steve gentlemanly and private, like a Jane Austen character," she remarked. "The one notable thing about Steve's niceness is that he is also very smart, and that kind of niceness has always made me nervous."
RELATED: Steve Carell's Wife Played This Character on 'The Office'
Mindy Kaling finds certain nice people 'terrifying'
The Office alum had her reasons for her assessment of Carell, as well as other exceedingly kind people who maintained a certain level of smarts.
"When smart people are nice, it's always terrifying," Kaling explained. "Because I know they're taking in everything and thinking all kinds of smart and potentially judgmental things. Steve could never be as funny as he is, or as darkly observational an actor, without having an extremely acute sense of human flaws."
Holding Carell in such high esteem, Kaling went out of her way to make sure he viewed her in only the best possible light.
"As a result, I'm always trying to impress him," she wrote, "in the hope that he'll go home and tell his wife, Nancy, 'Mindy was so funny and cool on set today. She just gets it.'"
Steve Carell never gossiped on 'The Office'
Kaling also called out Carell's flat-out refusal to ever speak disparagingly of anyone, even if others were in the midst of a gossip session. She took it upon herself to break him of that rule.
"Getting Steve to talk sh*t was one of the most difficult seven-year challenges, but I was determined to do it," Kaling said. "A circle of actors could be in a fun, excoriating conversation about, say, [French economist] Dominique Strauss-Kahn, and you'd shoot Steve an encouraging look that said, 'Hey! Come over here… We're trashing Dominique Strauss-Kahn to build cast rapport!' and the best he might offer is 'Wow. If all they say bout him is true, that's nuts,' and then politely excuse himself… That's it… He just would not engage."
RELATED: 'The Office:' Steve Carell Reveals the 'Best Piece of Advice' He Got From Ricky Gervais
The Mindy Project star chalked it up to Carell's maturity and class, but still, noted that he may be taking it all in for a hidden reason.
"Carell is just one of those infuriating, classy Jane Austen guys," she explained. "Later I would privately theorize that he never involved himself in gossip because — and I am 99 percent sure of this — he is secretly Perez Hilton."