'The Office:' Why Rainn Wilson Says Being Known as Dwight Is 'A Struggle'
The Office created some of the most memorable characters on television. From socially inappropriate office manager Michael Scott to acapella master Andy Bernard, the cast of the iconic sitcom brought a host of legendary personalities to life.
Rainn Wilson, who played the bear-loving, beet-farming Dwight Schrute on the show, revealed that being identified with such a high-profile role can have a downside.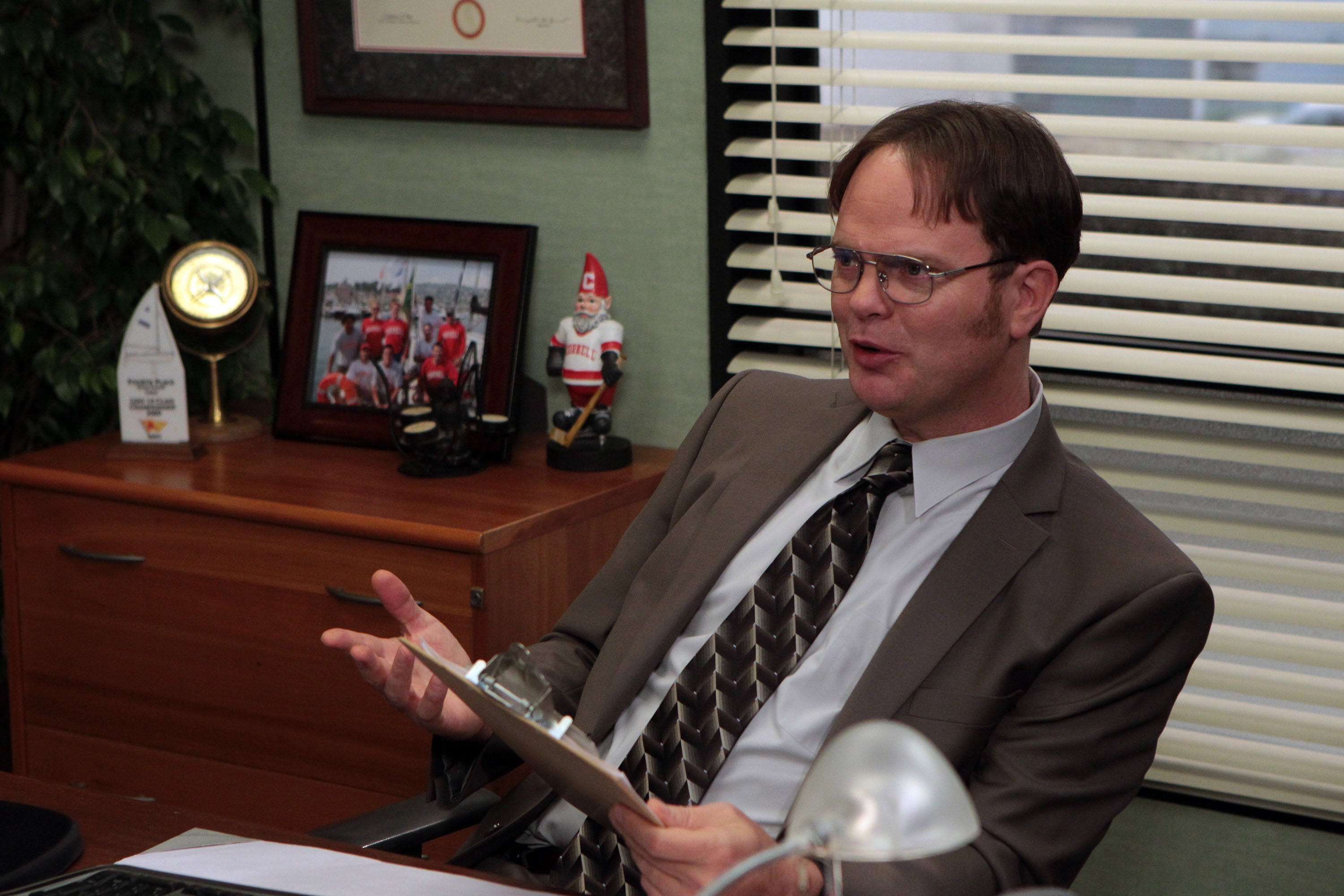 Rainn Wilson reflects on his time with 'The Office' cast and crew
In an interview with NPR, Wilson raved over the team he worked with while on the sitcom.
"I do sometimes [miss The Office]," he said. "I really miss collaborating with an awesome group of people — the writers were fantastic — and taking a scene and trying to bring it to comedic life. We always made sure that the scene kind of tickled us in some way."
Wilson acknowledged that The Office was a unique environment and recalled his co-star, Steve Carell, commenting on its potential for success.
"I don't know that I'll ever have that experience again the way that we had it on The Office," he revealed. "I remember early on, when we shot the pilot, we had lunch, and Steve Carell did a little toast. He said, 'You know, guys, this is probably going to be the job that we're known for for the rest of our lives.' And this was 2004. And all of a sudden, in season two, we started to take off."
No beet talk for 'The Office' star
Though Wilson is clearly appreciative for his time on the iconic show, he's a bit weary of comparisons to the offbeat paper salesman.
"I am not Dwight Schrute, okay?" Wilson said in a Crooked Media podcast, according to Entertainment Weekly. "I played a character for 200 episodes, and it was an awesome character, and he was a beet farmer. That doesn't mean you should hand me beets or make beet jokes every time I go into Starbucks and ask if they have like a beet latte or something like that."
Apparently Wilson has a list of 'don'ts' when it comes to being approached by viewers of The Office, though he does appreciate their loyalty.
"Don't hand me reams of paper, and don't say 'fact' to me, and don't ask me which is bear is best," he continued. "And thank you for watching the Emmy-winning show The Office."
The problem with playing Dwight Schrute
In the NPR interview, Wilson shared that playing such a distinct role often comes with the drawback of getting typecast.
"I'll be honest with you, it's a struggle being known as Dwight — playing an iconic character," The Office star admitted. "I did theater for ten years before I even came out to LA. In New York, and the regions, and tours, and Broadway, and off-Broadway. I was doing experimental theater and Eugene O'Neill and Shakespeare and all kinds of different things. And then I stumbled into doing comic characters."
Yet despite Wilson's range of work, he is often pigeon-holed into roles that mirror the odd Dunder Mifflin employee.
"Because Dwight was kind of broad and a little off-center, I think a lot of people in show biz think that's all I do and that's all I'm capable of doing," he said. "So it has been a bit of a struggle to try to educate people on some different facets of me as an actor."
Despite the sometimes negative aspect to portraying the infamous Dwight Schrute, Wilson realizes the many benefits. "Fortunately I made some money doing [The Office], so I get to kind of pick and choose a little bit more," he told NPR. "It's both a challenge and a great opportunity."