'The Office': Would Jim And Pam Still Be Together? John Krasinski Weighs In
The Office is one of the most popular television shows of all time, a blend of humor and pathos that truly transformed the lives of viewers. Although The Office is no longer on the air, fans still obsess over the show and watch reruns on a regular basis.
The actors who starred in The Office are forever linked with the roles that they played on the iconic show. This is especially true for John Krasinski and Jenna Fischer, who played Jim and Pam, the show's beloved couple.
Keep reading to learn why the couple was so popular with fans and what Krasinski recently said about whether or not Jim and Pam would be together today.
'The Office' excelled at creating real characters
The Office premiered in 2005 and while it wasn't an instant hit, it steadily grew in popularity, ultimately becoming a cult classic. The show was filmed "documentary-style," a blend of character interviews and situations that made for very unique television.
Another factor that made The Office so popular was the characters that the show created: Michael Scott, played by Steve Carell; Dwight Schrute, played by Rainn Wilson; Jim Halpert, who was embodied by Krasinski; and Pam Beasley, played by Fischer.
Krasinski perfectly captured Jim's funny, practical joke-loving personality. Meanwhile, Fischer was the ideal candidate to play Pam, a shy employee with big ambitions. Over the years, all the way until the season finale in 2013, fans followed along with the struggles and triumphs of their favorite characters.
Jim and Pam's relationship history
In the very first episode of The Office, viewers learned that Jim had a crush on Pam. There was only one problem: Pam was already engaged.
Still, viewers became invested in the budding relationship between Jim and Pam and held out hope that the two would eventually get together. The natural chemistry between the actors was underscored by clever writing.
In fact, The Office creator Greg Daniels created a rule early on for Jim and Pam's relationship. His rule, designed to keep viewers interested and to make the relationship feel real, was that there could only be one reference per episode to Jim and Pam's relationship. 
As the show progressed, so too did Jim and Pam's relationship. There were awkward romantic encounters, missed signals, and plenty of hurt feelings. Still, the two eventually realized that they belonged together and embarked on a sweet relationship that viewers loved.
Would Jim and Pam be together today?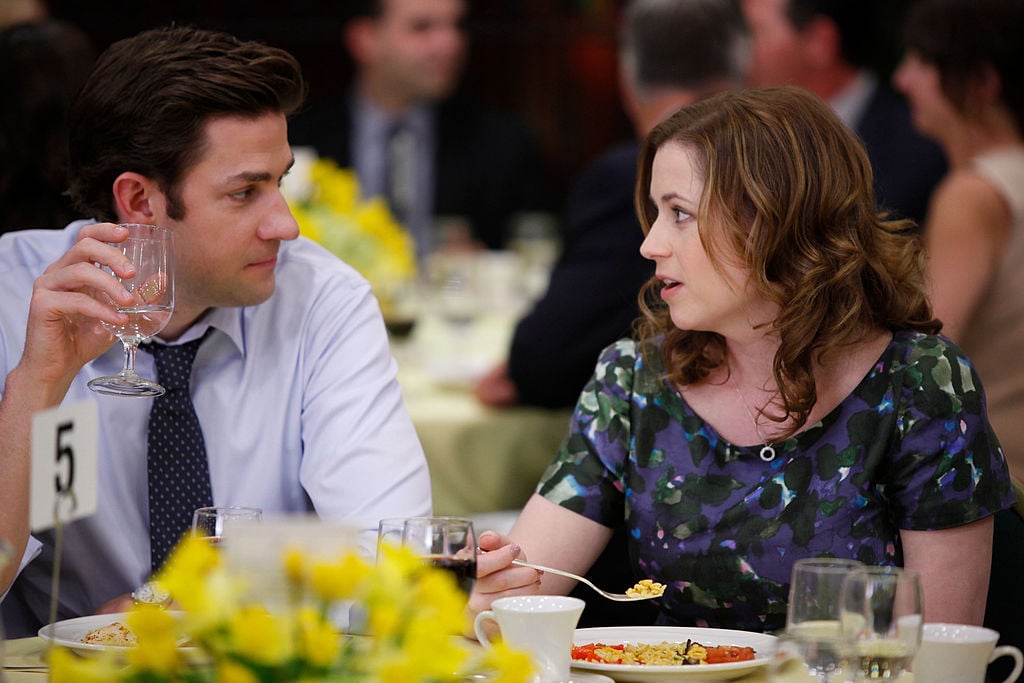 When The Office went off the air in 2013, viewers were left to speculate about what the ultimate outcome of Jim and Pam's romance would be. Still, the actors involved have never quite let go of the beloved characters, and occasionally speak out about them, and where they would be today.
Krasinski, who has gone on to become an esteemed director as well as actor, was recently asked about whether or not Jim and Pam would still be together. The reporter interviewing Krasinski referenced a recent poll, where 77% of respondents voted that Jim and Pam would still be together today. 
Krasinski immediately responded: "We HAVE to still be together." His belief echoes Fischer's, who also believes that the beloved couple would still be happily involved.
No doubt fans of The Office were thrilled with Krasinski's response, although he didn't shed any light on whether or not the actors would ever reunite for a reunion show. It is clear that the characters of Jim and Pam are still very important to him.