'The Office' Writer Reveals The Hilarious Reason Angela Pursued Charles
Why was Angela Martin so enamored with Charles Miner to the point where she was willing to pursue him? Aaron Shure, who wrote for 'The Office', reveals the truth.
If there's one thing Charles Miner is aware of, it's the effect he has on women. The Vice President of the Northeast Region of Dunder Mifflin certainly wasn't the best judge of character. However, that didn't stop many of his female employees from fawning over him. Played by Idris Elba and introduced in season 5 of The Office, Charles was a pretty polarizing figure in the office. However, he was certainly well-loved by Kelly Kapoor and Angela Martin.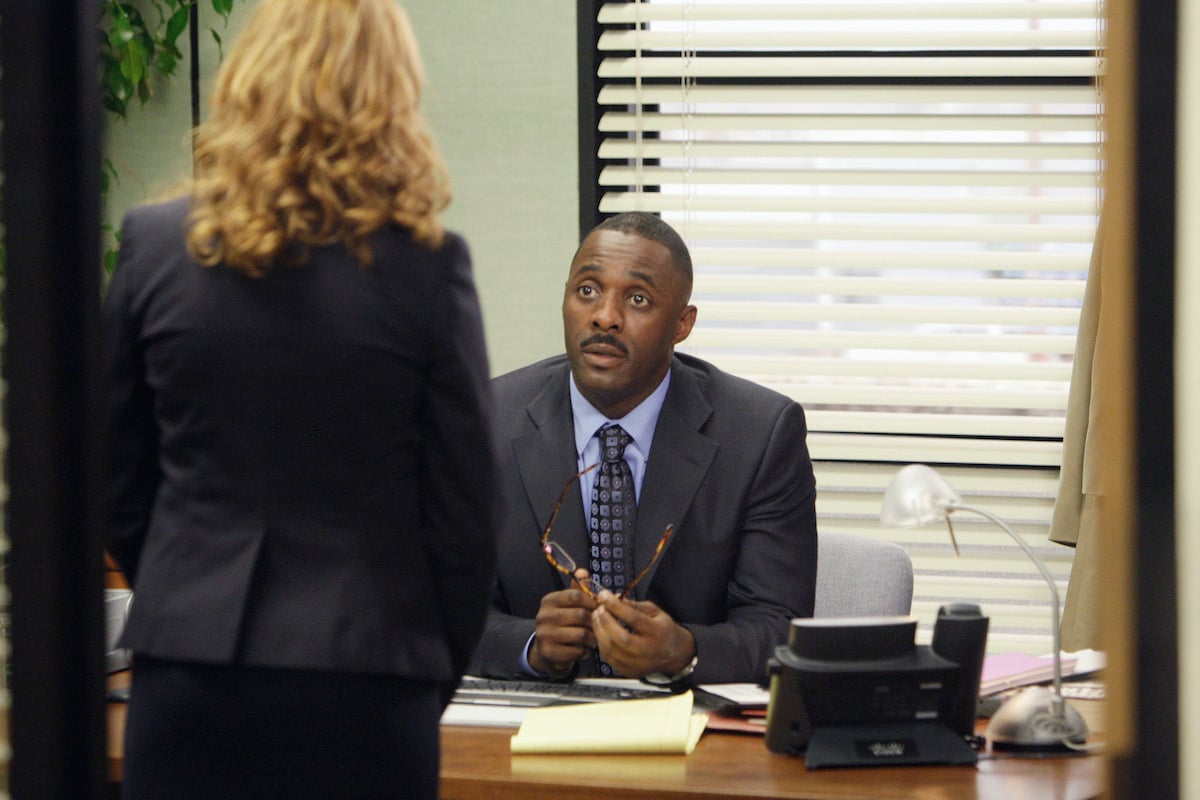 But where did the idea of Kelly and Angela competing for Charles' affections even come from? Considering their personalities and drastically different tastes in men, it seems unlikely that they would go after the same man. However, when you factor in Charles' stern nature and overall looks, it seems probable that both women would pine for him. Fans of The Office have Mindy Kaling to thank for the competitiveness between Angela and Kelly.
'The Office' writer, Mindy Kaling pitched the idea of Angela and Kelly fighting over Charles
In an interview with Office Tally, Aaron Shure, who wrote for The Office, revealed that Kaling picked her character, Kelly, and Angela to fight over Charles. "I think Mindy suggested that idea for purely professional reasons and Angela [Kinsey] bravely accepted the acting challenge," Shure said.
It makes perfect sense that Kelly would do everything in her power to pursue Charles. On The Office, the character had a history of being boy crazy long before Charles' character was introduced. However, it was far more unusual for Angela to pursue someone she found attractive. With the exception of trying to blackmail Dwight, Angela seemed content to have any romantic interests go after her. So what was so special about Charles?
The real reason Angela pursued Charles
During the aforementioned interview, Shure revealed the true reason that Angela was so infatuated with Charles. The Office writer claimed that Charles' character is quite similar to the animals that Anglea reveres. "I'm not sure she's even admitted it to herself, but perhaps she's responding to his cat-like movements and feline aloofness," Shure claimed.
Any fan of The Office knows that Angela is completely obsessed with cats. From licking them to breaking things off with Dwight after he killed Sprinkles, the accountant has a deep love for all things feline. So it makes complete sense that she would pursue a human whose personality is standoffish and intelligent like that of a cat.
'The Office' cast and crew loved working with Idris Elba
But while Elba's character, Charles, may have been rigid and cat-like, the actor was anything but. He fit right in with the rest of the cast, even pranking them when he first arrived. "He's much more fun-loving and approachable than you would expect from his tough-guy roles, and I think we tried to incorporate a little more of that in subsequent episodes," Shure shared about Elba. Clearly, the cast and crew of The Office had fun with Elba and his character. He certainly inspired a lot of fun jokes.