'The Pioneer Woman': Ree Drummond Gets Real About a Photo With Her Husband
The Pioneer Woman Ree Drummond shared some behind the scenes secrets about an adorable photo she took with Her 'Marlboro Man' Ladd Drummond. Here's what she shared about that sweet picture.
The Pioneer Woman loves taking photos with her family. Ree Drummond doesn't mind letting her fans see pictures of herself with her husband, Ladd, their children, and her pets. She enjoys allowing viewers to get an inside peek at her life. Drummond posted a photo of her and Ladd on her website. She revealed some funny secrets about the photo.
Ree Drummond says the wind almost knocked Alex over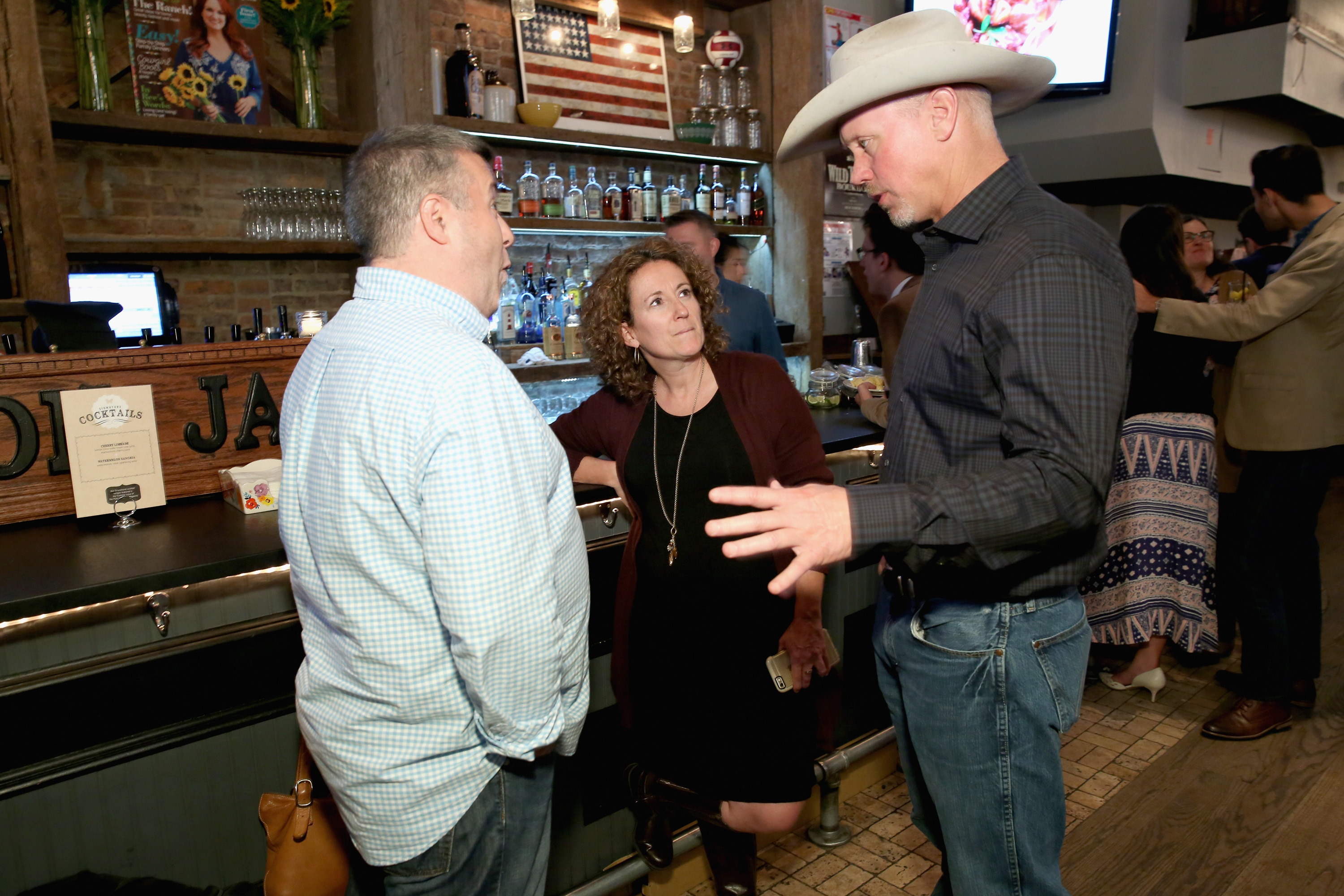 Although everything looks serene in this photo Drummond shared on Instagram, she says things were chaotic weatherwise. She says the wind was blowing so hard that her daughter, Alex Drummond, had to take the photo in the doorway instead of outside. She says if she had stood outdoors, her hair would have been blowing all over the place, which might not have made such a great picture.
"Alex, Ladd, and I found ourselves together at the Lodge the other day, and she snapped some photos of us right inside the doorway," says Drummond on The Pioneer Woman website. "The reason she took the photos of us right inside the doorway was that the wind was blowing at 25 mph (with 40 mph wind gusts), and my hair would have not just blown across my face, it would have blown off my head and straight to Salina, Kansas."
Drummond thanked her daughter for "taking one for the team." She says the wind was so strong that it was "bonkers." Drummond describes how Alex tried not to fall over while the wind howled outside.
The Pioneer Woman was surrounded by fake flowers
You might be in awe of the stunning flowers in the photo. However, Drummond fesses up and admits the flower aren't real. So, you don't have to be jealous of her breathtaking floral arrangements. Drummond jokes she has not been gardening. No work went into those flowers.
"Another funny thing about this photo: The beautiful flowers you see in the foreground…are not real," says Drummond on her website. "Just being honest here! We had just been shooting photos for The Pioneer Woman summer apparel collection, and since it's been a cool April, we don't have any flowers yet. So, lest you think I am spending my days tootling around my garden, just casually cutting perfect stems for assorted vases on my front porch…yeah. Not happening. Not even close."
The blue vase crashed to the floor
Another revelation Drummond makes is that there was an accident during the photo shoot. It looks like things went without a hitch, but that's not the case. The Accidental Country Girl says there was a little mishap with the blue vase. The wind was so powerful that it knocked over the glass vase and it was sent crashing to the floor. Drummond jokes that she has a "chaotic" life.
"I should also be honest that during this photoshoot, this turquoise vase you see blew off its stand and shattered on the porch," says Drummond. "We had a heavy rock sitting in the middle of the fake flowers trying to weight it down…but I guess the heavy rock wasn't heavy enough! Why is my life so chaotic?"
RELATED:'The Pioneer Woman' Ree Drummond's funniest bloopers
Follow Sheiresa Ngo on Twitter.