'The Price Is Right': Are Bob Barker and Drew Carey Friends?
After hosting The Price Is Right for thirty-five years, Bob Barker in 2007 handed over hosting duties to comedian and actor Drew Carey.
Carey's clearly been doing a more than respectable job, considering that he's in his thirteenth year at the helm of the classic game show.
So, after all these years, are Barker and Carey friends?
Carey took over for Barker in 2007
Drew Carey, 62, found out he would be the game show's new host just before he was to appear on Late Show with David Letterman and announced it from Letterman's stage.
He told the Associated Press that year, "I realize what a big responsibility this is," he said. "It's only a game show, but it's the longest-running game show in American television and I plan to keep it that way."
RELATED: Wendy Williams Is Being Slammed After Making Joke About the Death of Drew Carey's Ex-Fiancée
"My agent called me and said 'I was talking to CBS casting today' and in my head I was thinking, 'Oh, 'CSI' guest star?' And he said what would you think about replacing Bob Barker on 'The Price is Right?'", the actor recalled.
The CBS entertainment president at that time, Nina Tassler, announced her excitement at having Carey become the new face of the legendary game show.
"He is one of the most well-liked personalities working in entertainment, and I have no doubt his humor, charm, and enthusiasm will endear him to 'Price is Right' viewers," she said.
Barker's criticism of Carey and the game show's perceived snub of Bob Barker
Upon Drew Carey's assuming the mantle at the game show, his predecessor made an unfortunate remark that was pounced upon by the press.
Barker compared Carey's performance on the daytime show unfavorably to his own, causing many to wonder if he was secretly unhappy with his replacement.
"He does the show differently than I did," Barker told a TMZ cameraman at that time. "I tried to make the show really exciting and uh, he doesn't do that. He plays the games."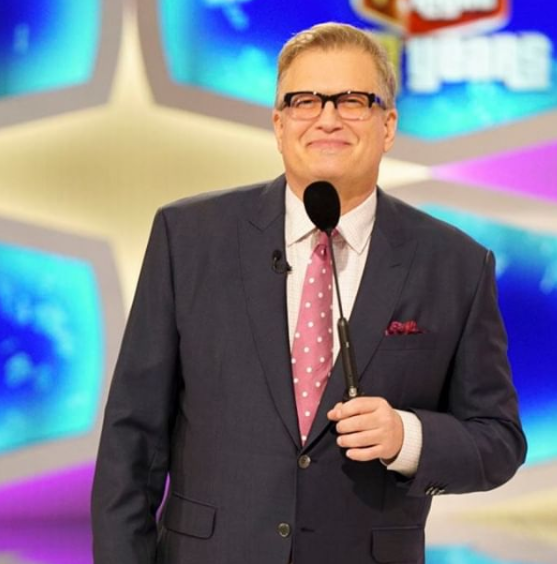 RELATED: 'The Price Is Right': The Staggering Amount Host Drew Carey Makes Per Episode
Then in 2012, Barker expressed his disappointment at not having been invited to the game show's 40th anniversary celebration, telling EW at the time that the show had "chosen to ignore me, which is fine."
The now-96-year-old was featured in clips of the special, but was not asked to participate. Barker guessed this was because of his criticisms of the show's prizes from Sea World and Calgary Stampede. The animal activist had expressed in the past that he felt these prizes were "notorious for animal abuse." 
Carey was disheartened to learn of Barker's comments, telling TMZ that year, "I feel really bad about that. It wasn't because of animosity or anything like that. . . It just didn't occur to anybody to invite him personally to be on the show because it was a salute to the contestants. Nobody has anything against Bob Barker."
Are the two men friends?
Barker, for his part, called the attention to his comments about Carey senseless, saying that he has stakes in the company and a personal interest in having Carey succeed.
"He's a charming man, and kind and gracious," Barker told EW. "To think that I would say anything derogatory about him is idiocy. I would not criticize Drew Carey. I would not criticize this show. I would not criticize CBS … because I have a sizable royalty that I am paid every year this show is on, and it's going on for years."
Whether the two are friends isn't apparently clear, but Barker told Good Morning America of his good will toward his successor and the good advice the older television personality gave Carey when he assumed hosting duties.
"I told him, 'I'm going to tell you exactly what Ralph Edwards told me when he hired me to do 'Truth or Consequences,' " Barker said. "He said, 'Bob, you go out there and you do "Truth or Consequences" the way you want to do it.' And that's what Drew has done. And the viewers will accept it or they won't. Time will tell.'"
RELATED: 'Wheel of Fortune': What Really Happens After You Win on the Game Show?