'The Real Housewives of Atlanta' Resumes Filming With New COVID-19 Precautions
The Real Housewives of Atlanta started filming for Season 13 in July 2020. During this time, cast members Cynthia Bailey, Kandi Burruss, Porsha Williams, Drew Sidora, and Kenya Moore gathered together with COVID-19 precautions in place. Unfortunately, the show swiftly ended filming in November 2020 when a production member tested positive for the virus. At the close of several weeks, the cast and crew returned to filming.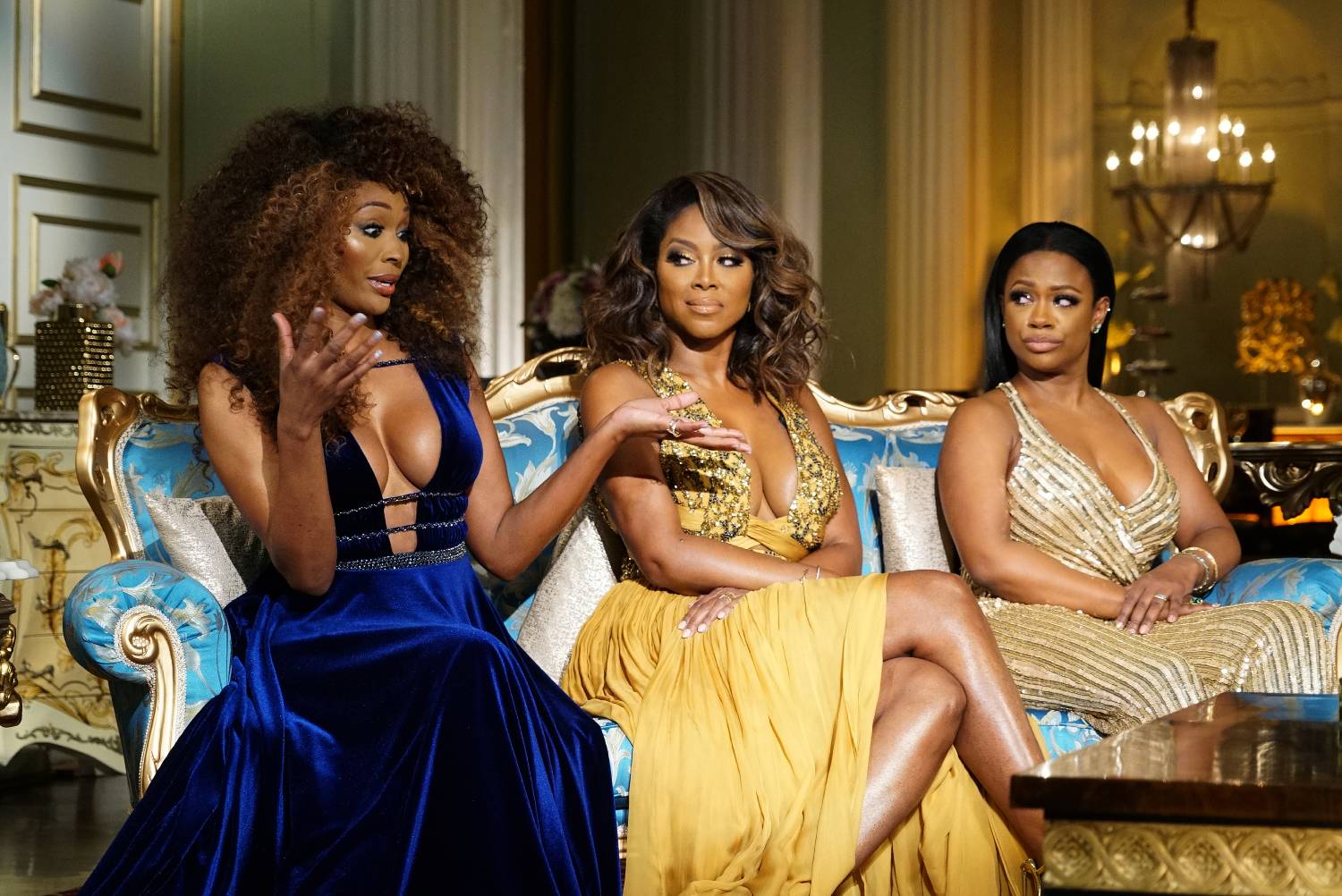 'The Real Housewives of Atlanta's' production team added 'a lot of rules' to filming, according to Kandi Burruss
When COVID-19 cases continued to spike throughout summer 2020, RHOA stepped up its filming protocols. The show tapped its Season 12 reunion virtually and stayed on hiatus for several weeks. So, when RHOA's cast and crew reunited for the first time since COVID-19, Burruss said they had multiple precautions. For instance, the cast has been getting tested numerous times a week.
"It's a lot of rules because more than anything, they care about our safety," Burruss told Extra. "We're getting tested all the time. That's what we have to do to be to continue to tape together. We have to make sure everyone's status is negative."
'The Real Housewives of Atlanta' implemented new sanitization guidelines after a crew member tested positive for COVID-19
Despite their best efforts, RHOA's cast and crew had to shut down production midway through the season. In November 2020, reports surfaced that a member of the show's staff received a positive COVID-19 test. Following the positive test, Bravo forced the team to halt production. 
According to Page Six, RHOA resumed filming a few days after Thanksgiving. Once they started back shooting episodes, an insider shared that the cast and crew have new guidelines to uphold. Some of them include "spending more time together outdoors, avoiding crowds and having daily health checks and getting tested regularly."
Secondly, Bravo expects the cast and crew to have  "enhanced hand hygiene" at all times. Lastly, cast and crew members practice "enhanced sanitization protocols for the equipment" when filming on location. 
'The Real Housewives of Atlanta's' crew member's positive COVID-19 test reportedly 'freaked out' its cast members
The cast of RHOA allegedly feared for their health in November 2020. After someone on the show's team tested positive for COVID-19, peach holders Moore and Williams were reportedly concerned about their safety. According to Hollywood Life, Moore and Williams' worries were more focused on their daughters, Brooklyn Daly, and Pilar Jhena McKinley, respectively. 
"Kenya [Moore] and Porsha [Williams] were freaked out because they have kids," an insider revealed. "Kenya, in particular, is very nervous."
The source continued to say that the positive result affected the whole cast. Burruss and Bailey allegedly weren't as "freaked out" as other cast members. Back in October 2020, Bailey assured Hollywood Life that Bravo made multiple attempts to keep everyone safe while filming. 
"Bravo's been doing a really good job just following the rules the best we can, and so we did a road trip," Bailey said. "We haven't been able to travel on airplanes because it's a whole thing if we do. Also, we get tested every week."