The Real Reason Brie Larson Says Michael B. Jordan Felt 'Like Family'
Brie Larson and Michael B. Jordan star in the new drama 'Just Mercy.' Read on to find out why Larson felt her co-star was just 'like family.'
Although she previously won an Academy Award for her performance in Room, Brie Larson, in some ways, didn't truly become a household name until 2019. Of course, that year brought her billion-dollar superhero hit Captain Marvel as well as that character's appearance in Avengers: Endgame.
In today's day and age, this kind of mainstream franchise is perhaps the secret sauce an actor needs to ascend into superstardom. While Larson may have her critics, she remains a popular collaborator behind the scenes. The actress, for instance, has a famous friendship with Samuel L. Jackson. And by the sounds of things, she also hit it off with Michael B. Jordan.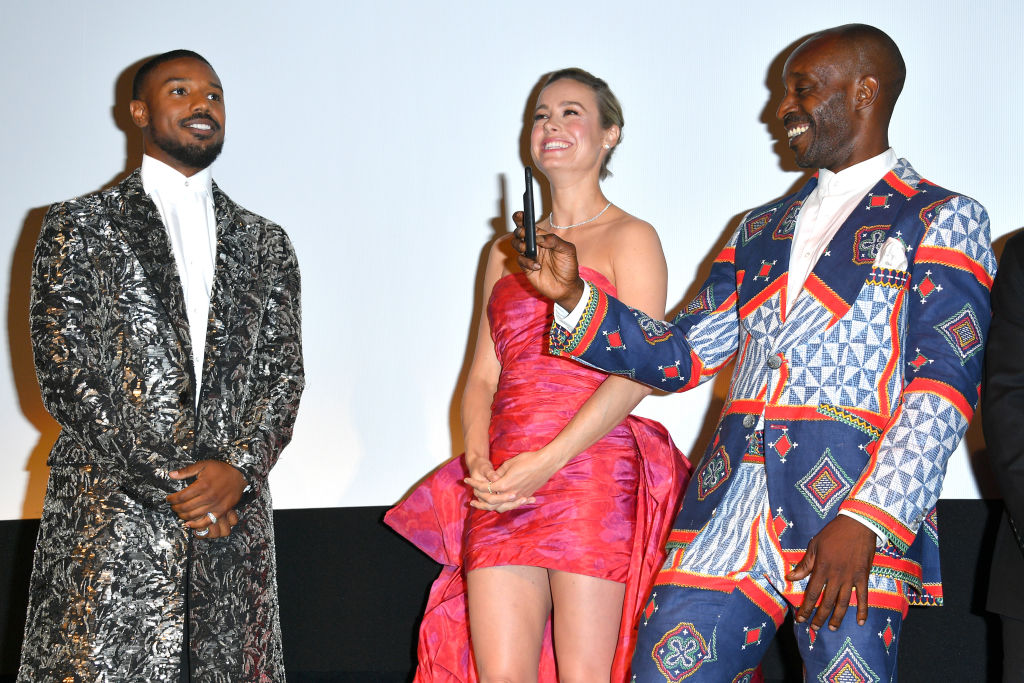 From Marvel to 'Just Mercy'
Jordan, of course, leads the Creed films and, like Larson, has a history in the Marvel Cinematic Universe. Although he never crosses paths with Larson's Captain Marvel on-screen, Jordan played the villainous Erik Killmonger in the Oscar-winning Black Panther. Now the two stars share the screen for the first time.
In their new film Just Mercy, Jordan plays a young attorney determined to free a wrongfully convicted black man (Jamie Foxx) in 1980s Alabama. Based on a real-life story, the film is directed by Destin Daniel Cretton, who has previously worked with Larson on films like Short Term 12 and The Glass Castle.
In Just Mercy, the Oscar-winning actress takes on the role of local advocate Eva Ansley. And just as Larson and Jordan are allies in the film itself, the two acclaimed performers had an instant connection on the set as well. In fact, they even had a bit of history they could draw upon to craft their characters' working relationship.
How Brie Larson felt about Michael B. Jordan
In a recent interview, Larson shared a bit about how she and Jordan formed a friendship years before they would share the screen together in Just Mercy.
"Michael has always felt a little like family because, when we were releasing Short Term 12, his film Fruitvale Station was coming out at that same time," Larson said. "So we were paired a lot together and were super-supportive of each other's projects. So it wasn't very hard to have that type of rapport."
Both of those films proved to be turning points for their respective actors. Just as Larson has worked with Cretton numerous times, Jordan went on to work with Fruitvale Station director Ryan Coogler on both Creed and Black Panther. The parallels don't end simply with the actors' careers. In fact, Larson said Jordan actually has a lot in common with his Just Mercy character, Bryan Stevenson.
I'm so privileged to have had the opportunity to share this experience with him, also because of who Michael is. He stands in real life for these issues that we're depicting onscreen, and he is an incredibly compassionate and caring person who wanted to do things that had never been done before with this film — in particular with diversity behind the camera.
Notably, Jordan not only stars in Just Mercy but serves as a producer on it as well. So it stands to reason the project would so directly represent the actor's values.
What are critics saying about 'Just Mercy'?
Released on Jan. 10, Just Mercy isn't exactly the type of blockbuster film that catapulted either of its two stars — not to mention the Oscar-winning Foxx — to household names. But it is garnering pretty heavy critical praise for how it tackles the sensitive issues at hand.
On Rotten Tomatoes, the film is currently 82 percent Fresh among critics, making it the second best-reviewed new release after 1917. According to the Critics Consensus, "Just Mercy dramatizes a real-life injustice with solid performances, a steady directorial hand, and enough urgency to overcome a certain degree of earnest advocacy."
Hopefully, the film will continue to attract audiences in the weeks to come. After all, the message of compassion it delivers is one everyone needs to hear.