The Real Reason Giada De Laurentiis' Divorce Was So Expensive
Giada De Laurentiis' divorce from Todd Thompson was no simple matter. Here's why the split seemed to cost her millions.
She's everyone's favorite Italian chef from the Food Network, and we've been watching her cook her cuisine for years. We're talking about Giada De Laurentiis, of course. From her easiest Italian dishes that can be whipped up in just a few minutes to her more ambitious pursuits like Iron Chef, there's no doubt she's a force to be reckoned with in the kitchen.
It's not just her culinary skills that fans are curious about, however. We remember when Giada's ex-husband, Todd Thompson, would make appearances here and there on the show. And while Giada and Todd finalized their divorce years ago, it turns out it was quite an expensive ordeal. Here's what happened.
Giada and Todd finalized their divorce in 2015
Since Everyday Italian premiered on the Food Network, we've heard Giada discuss her relationship with her husband at the time, Todd. Back in 2014, Glamour reported that after 11 years of marriage, the famous couple decided to split. Giada announced the split on her Facebook for her fans to see. "Although our decision to separate comes with a great deal of sadness, our focus on the future and overwhelming desire for our family's happiness has given us the strength to move forward on separate, yet always connected paths," she wrote.
While Giada always gives the impression that she has it all together, in 2018, she spoke to People about how difficult the separation really was. Not only did she have herself and her career to consider, but their young daughter, Jade, was also in the mix. "After I got divorced, I spent about a year and a half alone, not dating, just figuring things out. I had been with Jade's dad for 25 years. I didn't know what it meant to not be married," she said.
The couple never had a prenup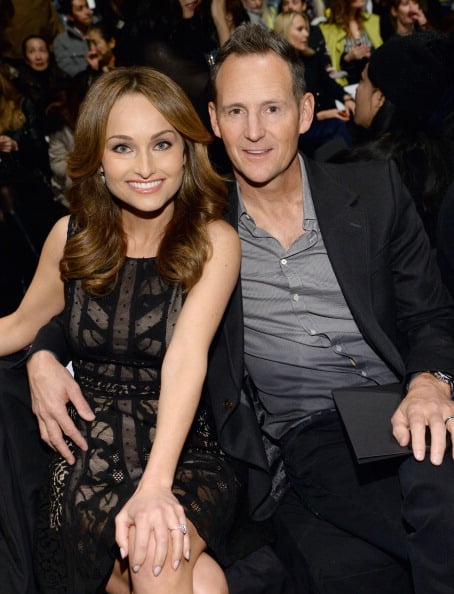 To add to the stress of divorcing in the public eye, there was also the issue of not having a prenup that Giada had to deal with. A prenuptial agreement would have allowed Giada to differentiate her property from Todd's. And while Todd certainly does well for himself as a designer for Anthropologie, it's certain Giada was the bigger breadwinner for the family, thus costing her a lot of money in the divorce.
According to TMZ, the final divorce judgment stated that Giada was to allow Todd to have $9,000 per month in child support for Jade, their house in Pacific Palisades worth $3.2 million, and $300,000 in art and furnishings. Also, due to the fact that there was no prenup in place, Giada was also ordered to give Todd 50% of unpaid advances to cookbooks that weren't even published yet. In the end, just the advances alone equalled millions.
Even with this huge payout to Todd, it doesn't seem like Giada was hurting too badly. TMZ noted her net worth was somewhere in the $20 million range, so she could certainly manage.
Will Giada marry again? Some think so
Even after speaking about how difficult the divorce was for her, fans seem to think Giada could marry again in the future. Giada has been dating TV producer Shane Farley for over three years, and she's spoken to People about how wonderful their relationship is. The two first met back in 2013 and reconnected years later — and it's clear now they're totally in love. Giada even said she "felt like a kid again" around Shane.
As for remarriage, nothing has been announced as of yet. But Us Weekly reports when asked about walking down the aisle a second time, she told the publication, "Ah, you know what? You never know in this life. I'm never going to say never."
Check out The Cheat Sheet on Facebook!