Brie Larson Controversy Explained: Why People Are Hating on the 'Captain Marvel' Star
See why people are hating on Brie Larson, and why there's gripe regarding her casting as Captain Marvel.
Brie Larson – on a press junket for the highly anticipated upcoming film Captain Marvel – has been the subject of many a Reddit forum and youtube comment space. Though starring as the character destined to save the Avengers, not everyone is excited for Larson's performance.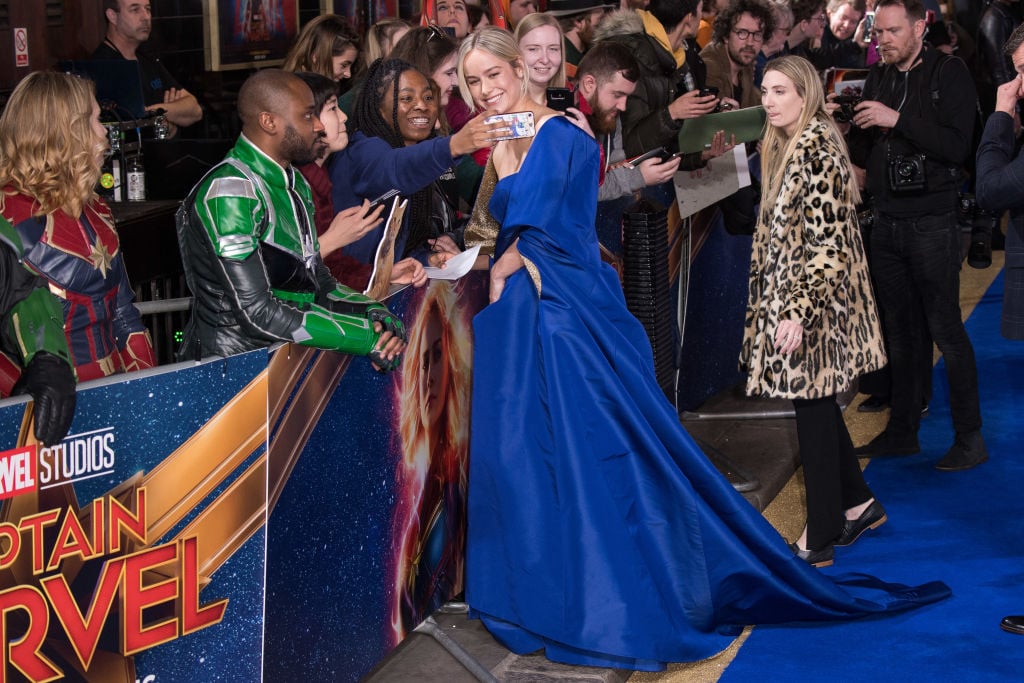 After receiving grossly negative reviews on Rotten Tomatoes, prior to the film's release, Rotten Tomatoes removed the audience commentaries from the site. Since the film has not been made available to the public, it became clear that trolls (based on their own reservations regarding Larson and a brief trailer at best) were attempting to negatively impact the film's box office performance.

While Rotten Tomatoes stood up against this as the site is designed to promote conversation and actual critical commentary, "haters" have not slowed down in any capacity. So, what's causing all the backlash?
Though boiling down to multiple factors, the major criticisms peg Larson as a Social Justice Warrior (SJW) on a mission to promote herself over the film. Some criticizers are also unimpressed with her performance in the trailer, often calling her stoic or emotionless.
Brie Larson: Social Justice Warrior

Brie Larson, with her newfound influence as Captain Marvel, is putting her power to good use. Promoting the need for more diverse interviewers and film critics, she's been utilizing the Captain Marvel platform to spread awareness regarding the predominantly white, male influence hovering over Hollywood.
The problem: as opposed to supporting diversity in a pro-representation manner, her recent statements have been anti-oriented. To explain, she stated, "I do not need a 40-year-old white dude to tell me what didn't work for him about A Wrinkle in Time," according to IndieWire. She has since clarified her intentions, but taking back something you've already said can prove difficult, as has always been the case for celebrities with large social presences.
Critics also argue that not only Larson but the film itself, is putting too much emphasis on the fact that Captain Marvel is female; they often reference the specific teaser in which the word "her" appears before the letter "o" is added to the end of the word to spell hero.

If you decide to scroll through Reddit, you will see the frequent comparisons made to Wonder Woman. Many are arguing that those behind Wonder Woman took the "superior" approach:  allowing the character to speak for herself in the film, rather than focusing on the female angle as part of the film's promotion.
Brie Larson: Bad acting?

Given that Brie Larson recently took home the Academy Award for her performance in Room, it's unlikely that she would struggle to provide a convincing performance as Captain Marvel.

Since the release of the first teaser, many have argued that she is not right for the part. From those reporting that she seems stoic to those saying "she simply doesn't look the way I envisioned," Brie Larson can't seem to catch a break.
While people are subject to their own opinions, there's one likely reason that Brie Larson may appear a little straightfaced. Given that Larson is playing a character whose life memories and emotions have been wiped by aliens, expecting a Sophie's Choice approach probably would not have been apropos.

To argue that Brie Larson is a bad actress on the basis of a trailer simply isn't fair. We do not know the story, and we do not yet know the reasons behind any of her acting choices. Once the movie comes out – and after you approach it with an open mind – feel free to take to Rotten Tomatoes and criticize the performance. However, if you've done so beforehand, you've likely already jeopardized your credibility.