The Red Carpet Captured Dakota Johnson and Melanie Griffith's Awkward Mother-Daughter Interview
Dakota Johnson is the epitome of Hollywood royalty. Her famous family tree is a who's who of movie stars. Just one of the A-listers she's related to is her mom, Melanie Griffith, an actor who hit the big time in the mid-'80s. 
When Johnson decides to go into acting, her family was there to support her. But there was one interview on the red carpet that showed that her mom's support has its limits.
It made for an awkward moment, but it showed fans that even if they're famous, mothers and daughters are all similar in some ways. 
Dakota Johnson's famous family tree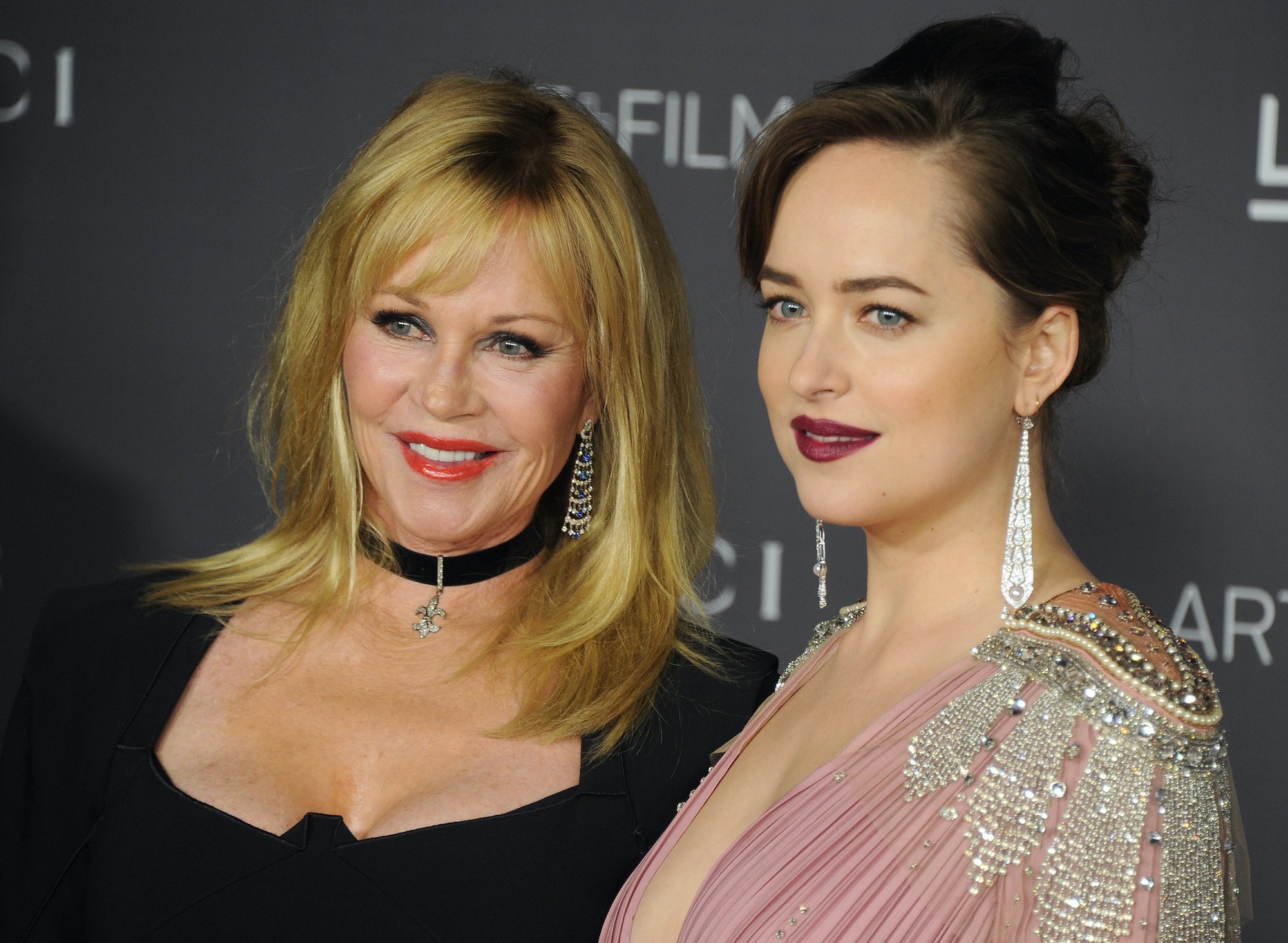 It's not just that Johnson was born to famous parents. According to Cinema Blend, Griffith's mom is none other than Tippi Hedren, a model who was made into a famous movie star by the director Alfred Hitchcock. 
Of course, Johnson's parents were also stars. When Griffith was only 14, she met Don Johnson, who was 22 years old and had a powerhouse career ahead of him in movies and TV. Despite the age difference, the two dated and even lived together. They got engaged, but they broke up in 1976. That wasn't the end for them, however. They reunited in 1989, married, and quickly had baby Johnson.
The family tradition of fame didn't end there. When the couple divorced after seven years of marriage, Griffith went on to marry another star, Antonio Banderas.  They were married for 20 years before calling it quits, but the couple remains good friends. 
With all this Hollywood pedigree, it's no surprise that when Johnson decided to go into acting, she had all the support a fledgling actor could want. 
A movie star like her mother
According to Biography, Johnson's first movie role came along when she was nine. She played Griffith's daughter in the movie Crazy in Alabama. In 2006, when she was 17, she was chosen to be Miss Golden Globe and pass out the sparkling statues, an honor that usually goes to the children of the stars. That exposure led to modeling jobs, and then to a few movie and TV roles. 
Johnson's breakthrough role came in 2015, when she landed the part of Anastasia in the steamy movie Fifty Shades of Grey. The film's success led to two sequels, Fifty Shades Darker, and Fifty Shades Freed. The franchise drew both criticism and praise for its representation of an S&M relationship. Some people were concerned that it was abusive, while others insisted that it was very sexy. 
An awkward red carpet moment
Insider reports that the year Fifty Shades of Grey came out, Johnson was tapped to present at the Academy Awards. When she made her way down the red carpet before the event, her mom was by her side. The duo stopped to speak with Lara Spencer from ABC. 
The interview started out well enough, with Griffith gushing about how proud she is of her daughter. But then Spencer asked her if she'd seen Johnson in Fifty Shades of Grey. 
"No," Griffith replied somewhat quickly. 
"Maybe one day," Johnson countered. But Griffith didn't seem comfortable with the movie's subject matter and she held her ground. 
"I don't think I can; I think it would be strange," she insisted. "She's a really good actress; I don't need to see that to know how good she is."
"All right! You don't have to see it," Johnson responded, sounding frustrated. "Jeez. I'm like, 'You can see it,' and you're just like, 'No.'"
"If she tells me to see it, I'll see it," Griffith conceded. Johnson reacted with the kind of eye-roll that most mothers are familiar with. 
The uncomfortable exchange may have been their least favorite part of the evening, but for fans, it was refreshing to see the glamorous mother and daughter in such a relatable moment.