The Sad Reality Behind Jennifer Aniston's Contagiously Positive Outlook on Life
There are plenty of truly inspiring celebrities in the world. Whether they are wowing us with their charitable donations to causes that matter, overcoming tremendous obstacles to stand as role models, or using their platform to raise awareness about tragedy, many celebrities recognize that their fame gives them power and responsibility when it comes to influencing others.
Among the most inspirational celebrities is Jennifer Aniston. She's had her love and family life mercilessly picked apart by tabloids, and through it all she has stayed upbeat, happy, and contagiously positive. A closer look at the star's optimism, though, reveals a sad foundation that made her promise she would rise from a rough start to make the world a better place.
Jennifer Aniston's heartache has been publicly exploited
Aniston has had a long and successful career that has kept her in the spotlight for decades. Born to acting parents, Aniston became active in drama as a teenager and became a household name with the immense success of Friends, earning herself a Golden Globe and Emmy in the process.
Aniston has also been a staple in some classic comedies including Office Space, The Break-Up, and Along Came Polly. She frequently portrays a girl-next-door type who provides an impressive mix of comic relief and lead romantic interest. 
Unfortunately, Aniston has not always been in the headlines for her impressive acting work. Instead, the tabloids have more often focused on her personal life.
Her marriage to and eventual divorce from Brad Pitt consumed the public's attention for years. Adding insult to injury, many of the stories focused on speculation about her fertility and plans for children. Aniston has frequently found herself in the center of personal and hurtful stories that have put her private life on full display. 
Jennifer Aniston is known for being upbeat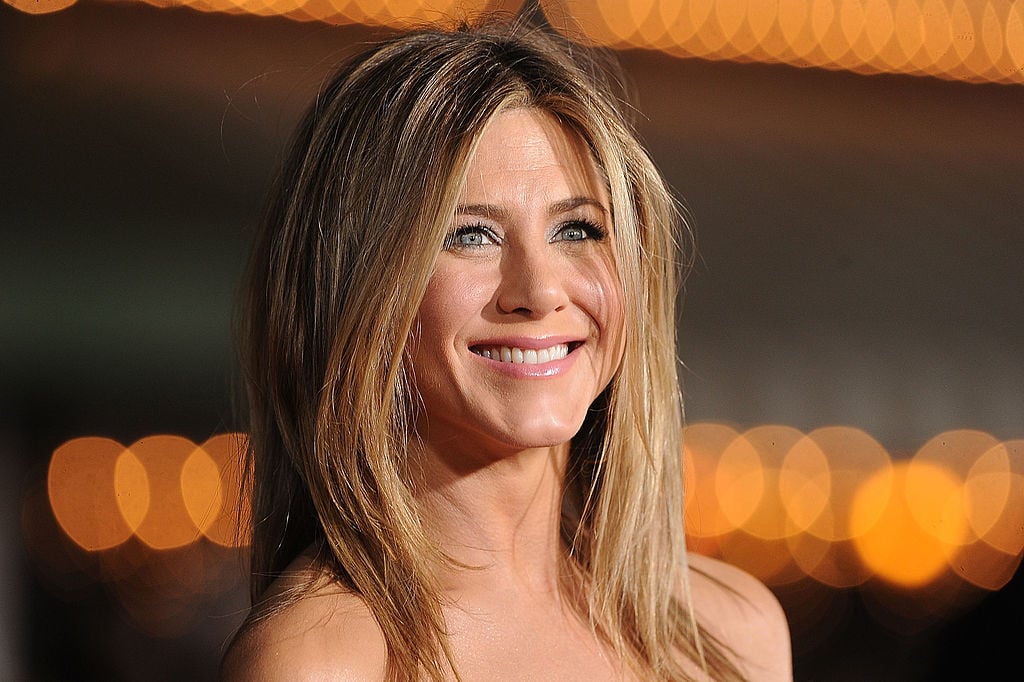 Despite that often cruel media treatment, Aniston is well-known for her positive attitude. In a story for Elle, writer Carina Chocano points to Aniston's good nature as a kind of power: "It's a soft, persuasive power, the kind that gets you on her side. It's not only that she's remarkably nice and easy to relate to, it's that she's smart, careful, deliberate, precise—both as a person and an actor."
For her part, Aniston chooses to focus on the positives in her life and says that if she didn't, she would be at fault for failing to see their beauty.
"What brings me happiness? I have a great job. I have a great family. I have great friends. I have no reason to feel otherwise. If I did, I would need to go get an attitude shift, a perspective shift," she explains. 
Jennifer Aniston uses her own childhood as motivation
While it might seem that Aniston is pulling from an endless reserve of positivity, her motivation for that upbeat energy comes from a dark place. Speaking to Chocano, Aniston explains that she uses her own childhood as a motivation of what she doesn't want to become: "I have chosen to use what I grew up with as an example of what I do not want to be or live in."
She's talking about the fact that she grew up in an unstable home. She explains more about this upbringing by saying, "I think that it comes from growing up in a household that was destabilized and felt unsafe, watching adults being unkind to each other, and witnessing certain things about human behavior that made me think: 'I don't want to do that. I don't want to be that. I don't want to experience this feeling I'm having in my body right now. I don't want anyone else that I ever come in contact with ever to feel that.'"
Ultimately, growing up in a home with negativity and a sense of unrest helped Aniston recognize what was most important to her, and it's a kind of positivity she has worked to create and maintain ever since.