The Sad Reason Why Elton John Wore a Diaper and 'Pissed' Himself During a Concert
Learn the devastating reason why Elton John wore a diaper during an Atlantic City concert.
Elton John is one of the greatest performers of all time, responsible for such hit songs as "Your Song," "Rocket Man," and "Someone Saved My Life Tonight." John has remained relevant in the music industry well into his seventies, touring the world and mentoring other artists such as Lady Gaga.
The iconic singer also recently wrote a tell-all biography, in which he revealed a devastating medical condition that nearly took his life. Keep reading to learn about John, including how he became famous and how a medical condition caused him to suffer an embarrassing moment on stage. 
How did Elton John become famous?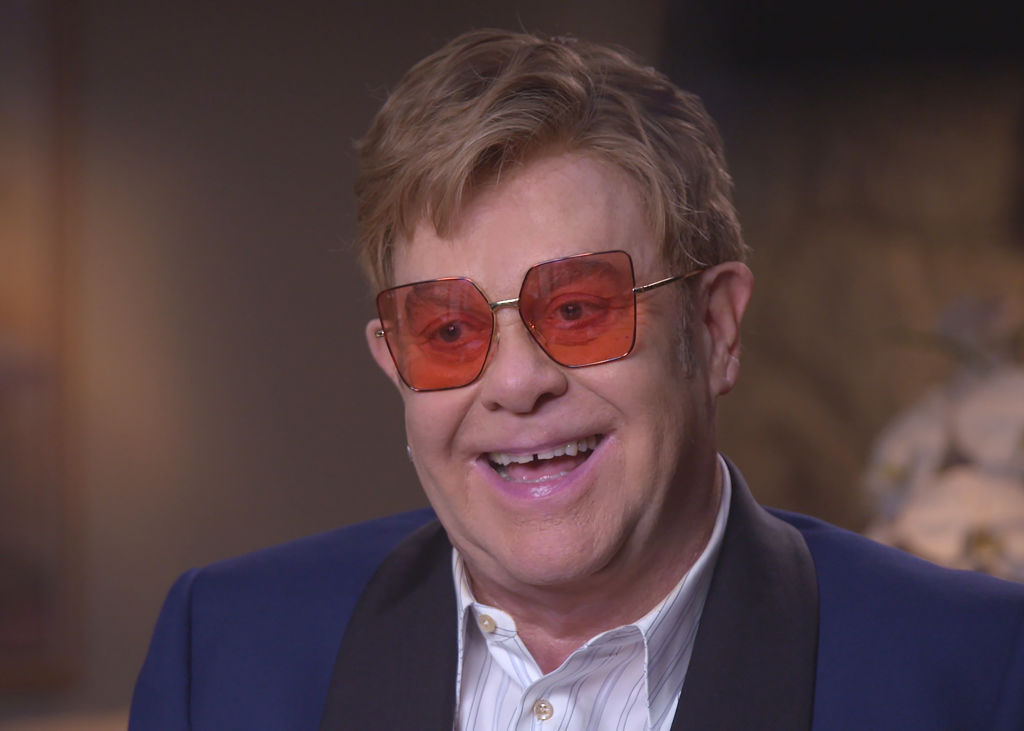 John was born Reginald Dwight in 1947 in Middlesex, England. He was raised in a strict household, and his father notoriously tried to steer him towards a more "normal" career and away from show business.
Still, John found himself drawn to music and began playing the piano when he was very young. He quickly proved himself as a musical prodigy and even won a scholarship to the Royal Academy of Music.
By the time he was a teenager, John started working as a pub pianist around town. He worked several other odd jobs, including as an errand boy for a music publishing company.
In the late sixties, John partnered with the lyricist Bernie Taupin. They began working together writing songs, with John providing the melodies and Taupin penning the lyrics.
The duo began recording songs, and then albums, achieving greater success with each successive hit. Songs like "Levon" and "Goodbye Yellow Brick Road" became pop standards and John started getting worldwide recognition.
The music icon's flamboyant stage costumes and gung-ho performances earned him a reputation for incredible showmanship. And, by the mid-seventies, John was a superstar. 
Elton John was diagnosed with prostate cancer
John worked consistently all throughout the eighties, nineties, and into the new millennium. He collaborated with dozens of other influential artists, maintained a hugely popular Vegas residency, and formed a happy relationship with his partner: David Furnish. 
Still, John has had his share of struggles. Towards the beginning of his career, he battled a drug addiction that threatened to consume his whole life. The 2019 biopic Rocketman chronicled John's problems with depression and drug abuse, as well as the difficulties of growing up with a strict, unloving father.
John has also had some serious medical problems. In his recent biography, he revealed that, in 2017, he was diagnosed with prostate cancer. Instead of treating the disease with chemotherapy, he opted for surgery.
While the surgery was a success, John wrote that he contracted a serious infection following the surgery, which caused him to have to spend nearly two weeks in the hospital. There were other consequences of the surgery that he would have to deal with in the weeks and months that followed. 
Why did Elton John have to wear a diaper on stage?
In a November 2019 interview, John talked about how the surgery to remove his cancer caused him to have problems with bladder control in the weeks that followed. He revealed that he was forced to wear a diaper on stage for his scheduled performance and that the audience never even know that while he was singing, he was "pissing himself."
Fortunately, John has been able to maintain his sense of humor about a difficult situation. His setbacks haven't really slowed him down, and John continues to work as hard as ever, maintaining a legacy that began more than four decades ago.