'The Sandlot': Chauncey Leopardi Was Given a Very Serious Note Before Squints' Kissing Scene
The Sandlot is full of memorable scenes. One of them is when Michael 'Squints' Palledorous (Chauncey Leopardi) fakes an emergency to give his older crush a surprise kiss. Leopardi was given a very serious note on how to perform that kiss correctly.
Squints kisses Wendy Peffercorn in 'The Sandlot'
RELATED: 'Mighty Ducks: Game Changers': 5 Movies on Disney+ to Watch Before the Finale
The main characters of The Sandlot focused on baseball. But they also took time to enjoy the pool in the summer. That's also when they get to interact with girls.
Hamilton 'Ham' Porter (Patrick Renna) is seen being the flirtatious one. He says hi to multiple girls, blows a kiss at one, and even calls them "sexy." But the narrator makes it clear that the boys would have "peed our pants" if one of the girls approached them.
They all had a crush on the lifeguard, Wendy Peffercorn (Marley Shelton). The boys all stop swimming to watch her as she puts on sunscreen on her arms and legs in a scene.
"I swim here every summer of my adult life. Every Sunday, there she is," Squints says. He decides he can't take it anymore and does something desperate to get her attention.
He is later in danger of drowning, so Wendy saves him by pulling him out of the pool and does CPR. He opens his eyes when she's not looking, then closes them. When she puts her lips on his again, he pulls her in for a kiss. 
Wendy is rightfully not happy about this and calls him a pervert. She then throws him out of the pool.
Chauncey Leopardi was given a very serious note before Squints's kissing scene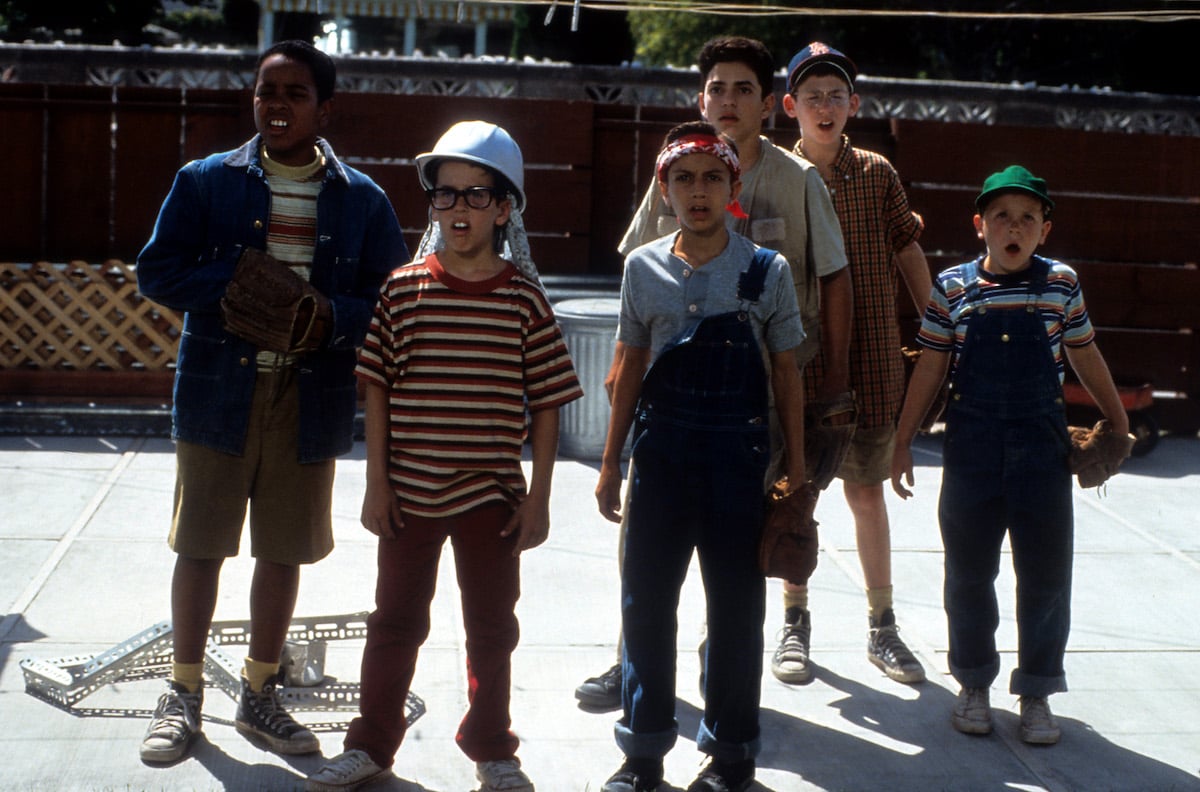 RELATED: Disney Plus: '90s Movies You Should Totally Watch on the Streaming Service
David Mickey Evans wrote and directed the movie. He told Sports Illustrated what it was like to film the kissing scene.
"Two weeks out from the pool scene with Marley [Shelton, who played Wendy Peffercorn], [Leopardi] was clearly becoming anxious," Evans said. "'Dave, when we gonna shoot that scene? We gonna shoot that scene today? When is it?' I purposely wouldn't give him a schedule or call sheets."
The day finally came and the director made sure to give Leopardi a very serious note on how to kiss. "I shot all those scenes in order to keep things clear in their head, and then we finally got to the part where they pull him out and throw him on the ground," the director said. "Before we rolled I said, 'Listen to me,' and he grew really serious, and I continued, 'You keep your tongue in your mouth, understand?'"
Leopardi kissed just like how he was told. "He asked how it went. I said, 'Pretty darn good, man, I'm going to print that one.' And then he said, 'OK … let's do it again,'" Evans revealed.